New FCC Rule Requires Phone Companies to Block Some Robotexts
Last updated May 11, 2023
After years of focusing on illegal robocalls, the Federal Communications Commission (FCC) is trying to stop the flood of spam robotexts that have become what the agency calls "an increasingly pervasive consumer threat."
That's because illegal robotexts are more than annoying—they're often malicious.
Listen to audio highlights of the story below:


"Scam artists have found that sending us messages about a package you never ordered or a payment that never went through along with a link to a shady website is a quick and easy way to get us to engage on our devices and fall prey to fraud," FCC chairwoman Jessica Rosenworcel said in a statement.
In March, the commission issued its first rules targeting illegal robotexts. It ordered mobile service providers to block certain text messages that are "highly likely to be illegal" because they come from phone numbers that are "unlikely to transmit text messages," such as invalid, unallocated, or unused numbers.
Phone companies will also be required to block texts that pretend to come from individuals, companies, or government agencies that register to block outgoing texts to combat robotext crime. In other words, the IRS could tell phone companies to automatically block any messages that appear to come from an IRS phone number (the IRS does not send text messages to taxpayers).
Mobile wireless providers will also be required to establish points of contact to help those who send legitimate text messages but get blocked.
The new rules, which should take effect early in 2024, will not apply to messaging apps, such as WhatsApp, Facebook Messager, Snapchat, and WeChat.
In its order, the FCC acknowledged industry efforts to reduce the volume of spam texts. But based on the increase in consumer complaints and the consumer harm from robotext messages, the commission decided additional measures were needed.
"We choose to act now and, for the first time, require text blocking by all mobile wireless providers so that all subscribers have the same basic level of protection," the commission stated. "As the number of illegal text messages grows, so does the risk to consumers. Our action ensures protection for all wireless consumers, regardless of which mobile wireless provider they use to receive messages."
Text Message Complaints and Losses Skyrocket
Complaints to the FCC about text message scams jumped from around 3,300 in 2015 to 18,900 in 2022, a nearly 500 percent increase.
"These robotexts are making a mess of our phones," Rosenworcel said. "They are reducing trust in a powerful way to communicate."
Scammers have been migrating to text messaging in recent years because it works. Unlike robocalls, robotexts are hard to ignore.
FCC data shows that "consumers read nearly all texts, and do so nearly immediately; whereas calls from unknown callers are often ignored by consumers." In addition, robotexts can promote links to phishing websites or websites that can install malware on a consumer's phone.
Last year, fraudsters sent 226 billion spam texts—a 157 percent increase from 2021's then-record 88 billion messages, according to a report by Robokiller, an app that blocks spam calls and texts. Clearly, scammers haven't abandoned robocalls, they made more than 78 billion of them in 2022, but robotexts are "far and away the leading scam threat," the report noted. "If there's one thing you need to know about scammers, it's this: They'd rather text than call you."
No one knows for sure how much money is lost to scams that start with spam texts. Last year, complaints to the Federal Trade Commission reported losses of more than $325 million, a 400 percent increase from 2018. But most victims never file a complaint, so the losses are likely much higher. Based on its data, Robokiller estimates that malicious text messages cost U.S. consumers more than $20 billion last year.
"These criminals are really good at what they do," said Aaron Foss, founder of the Nomorobo robocall and robotext blocking service. "Robotexts allow the fraudsters to get their messages literally into the hands of potential victims."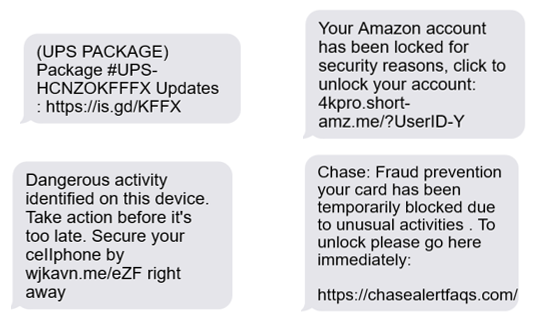 These screen shots above, provided by Nomorobo, show how robotext scams often start—with urgent messages that appear to be from your bank or credit card company, a well-known retailer, or package delivery service. They encourage immediate action and urge recipients to click on a malicious link.
More Can Be Done
Consumer groups applaud the FCC's new rules, but in comments filed with the commission this week urged more needs to be done. They're asking the commission to find a way to regulate text messages that contain links that take people to dangerous websites or that download malicious codes onto their devices.
"The FCC needs to identify a way of regulating those texts and limiting the texts that contain those links that have not been properly vetted," said Margot Saunders, senior attorney at the National Consumer Law Center (NCLC). "This is where the harm takes place."
NCLC wants the FCC to require text registries, companies that facilitate the transmission of texts, to evaluate all links included in those messages. Once the system is adopted, Saunders told Checkbook, the FCC should prohibit texts with web links that are not passed through those approved registries.
The FCC is considering additional rules, such as preventing "lead generator websites" from taking your request for information and sharing your phone number with other companies, including those not even related to the one you interacted with, often leading to a flood of unwanted calls and texts.
"This is what's causing the explosion of telemarketing calls and texts," Saunders said. "You click on the link saying get my car insurance quotes now, and it can lead to 8,000 different telemarketers to call or text you with telemarketing messages. And we're saying the FCC has in the past already written regulations that prohibit that behavior. They just need to confirm that those regulations mean what they say."
Protect Yourself
A variety of call/text screening apps and services are available from phone service providers and third-party companies. Some are free. CTIA, the trade group that represents the wireless industry, has a list of tools and services available from wireless providers on its website.
But this is a game of Whack-A-Mole. More rules and better filters can help reduce the number of spam texts you receive, but as with robocalls, criminals will find workarounds.
Bad guys are already using existing technology built into mobile phone networks that enables them to send test messages that originate from email addresses. When they do this, your inbox displays an email address rather than a phone number. How do you block that?
That's why you need to be suspicious of all text messages from anyone you don't know.
"It could be real. It could be a scam," Nomorobo's Foss warns. "If that number is not in your contact list, don't trust it!"
You can report suspicious and unsolicited texts to the FCC or forward the texts to SPAM (7726), and then delete them. If you fell victim to a scam, file a complaint with the Federal Trade Commission.
If money was stolen from your bank account, including via an illegal debit card transaction, contact your bank. If there was a fraudulent charge to your credit card, contact your credit card company. You are not responsible for fraudulent payments or charges.
More Information:
Contributing editor Herb Weisbaum ("The ConsumerMan") is an Emmy award-winning broadcaster and one of America's top consumer experts. He has been protecting consumers for more than 40 years, having covered the consumer beat for CBS News, The Today Show, and NBCNews.com. You can also find him on Facebook, Twitter, and at ConsumerMan.com.