New Report Warns of Bad Actors in the Interstate Moving Industry
Last updated July 15, 2020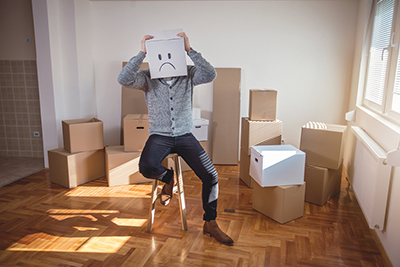 Hiring a moving company is a big decision that involves more than money. You're trusting that company to get your possessions from here to there on time, without damage, and at the agreed upon price. All too often that doesn't happen, especially for long-distance interstate moves.
The Better Business Bureau receives an average of 13,000 complaints and negative reviews about movers each year. More than 1,300 moving companies have an "F" rating from the bureau due to unresolved or unanswered complaints.
Even the best movers make mistakes now and then, but some companies—the industry calls them "rogue operators"—are run by fraudsters who target people making a move. Hire them, and you're in for trouble.
A new BBB report, Know Your Mover, looks at the problems associated with interstate movers and exposes how these scammers price gouge and hold customers' belongings hostage to extort outrageous prices.
"There's an organized group of crooked movers that pretend to be all over the United States and Canada," said Steve Baker, BBB international investigations specialist and author of the report. "They have nice websites. They're very friendly on the phone. They quote a price lower than you're going to get anywhere else. But once they've got your goods loaded onto the truck, they double or triple the price, and they won't deliver your goods unless you pay extra."
That's what happened to Eli Lemister when he moved from Ohio to Chicago last year. Lemister had never made an interstate move, so he did what many people do––went online and found a company through a moving referral website. Lemister told Checkbook he wasn't aware of moving fraud, so he didn't research the company he chose.
After carefully describing all the items he was moving, Lemister was quoted a price of $1,670. Sounded good, so he paid the $200 deposit (they said was required) via Zelle.
Note: Most P2P payment apps, such as Zelle, do not offer the fraud protection of a credit card, so this is a risky way to pay for goods and services.
The movers showed up late, driving an unmarked rental truck—that should have been a red flag. After everything was loaded onto the truck, the movers told Lemister the load was bigger than anticipated, so the price would now be $5,980 (more than triple the original price quote). The movers also demanded cash on the spot.
"I was totally blindsided by this. I couldn't believe it," Lemister recalled. "My entire life was in this truck, my house was empty, and they're telling me I owe then an additional $4,300. Very few times in my life have I been shocked and I was in shock."
After some heated haggling, the driver agreed to hit the road for an additional $1,200 in cash (all the money Lemister had on him).
When the truck arrived in Chicago, the moving company called and told Lemister he wouldn't get his goods unless he paid more.
"It was basically a hostage situation with my stuff, and the only way to get it was to pay a ransom," Lemister told Checkbook. "I felt like I was getting robbed."
Not seeing another option, he gave the movers another $3,300 in cash. Final price: $4,900 for a move that was estimated to cost $1,670.
Based on his experience, Lemister shared this advice: "Take the time to find a reputable company… Don't trust a good-looking website or a salesperson who sounds friendly on the phone. Anyone who wants to be paid in cash and won't accept a check or credit card, that's another red flag."
A Serious Problem
The moving industry is plagued by scammers who take advantage of people who are in a rush and don't know how to find a reputable mover. The crooks advertise heavily on the internet to get prime placement on search results.
"Anyone doing an internet search is very likely to encounter [a scammer]," the BBB report warns.
The fraudsters create professional-looking websites that boast about their professional staff and years of experience, along with fake reviews, and in many cases, a federal license number. Displaying a license number does not mean that mover is honest. In many cases, that license has been revoked, the BBB found.
Because moving scams are so lucrative, criminal enterprises have created sophisticated operations masquerading as legitimate businesses. They claim to have an office in your area, but these are typically virtual offices or mail handling services. They also tend to change names frequently, which makes it difficult for consumers to get reliable information about them.
For example, when BBB investigators looked into Global Movers, they discovered it was connected to other moving firms in California, Colorado, Kansas, Tennessee, Texas, and Washington. Later, during a separate investigation into complaints about Delta Movers, the BBB discovered that it had the same owners as Global Movers. In its advertising, Delta Movers claimed to have been in business for 20 years, though it had only been incorporated a month earlier, and its website claimed an A+ rating BBB rating, when it actually had an "F" rating.
"Wind up using a crooked mover and there's a strong chance your goods are going to get lost and stolen," BBB investigator Baker told Checkbook. "They hire unskilled, temporary workers who don't really know what the heck they're doing. Victims report they had thousands of dollars of broken stuff and couldn't get any money from these companies to cover their losses."
How to Protect Yourself
You need to be careful when choosing a mover. A quick online search is not enough to verify that a company is legitimate.
Checkbook evaluates local moving services; many handle long-distance relocations, or work with national networks to coordinate them.
For long-distance moves, avoid companies that are not registered with the U.S. Federal Motor Carrier Safety Administration (FMCSA), which regulates interstate and international movers. Use the FMCSA's database to check if an interstate mover is licensed and insured (as required), and to see its complaint history.
Note: Of the 4,780 complaints FMCSA received last year about interstate movers, 57 percent involved overcharging.
As we further discuss in our movers section, for any type of move it's important to know your rights and to get at least three estimates to make sure you're paying a reasonable price.
An in-person estimate is always best. Rogue operators rarely want to do that, the BBB warns. But during the COVID-19 crisis, you may not want someone coming into your home. Most legitimate moving companies also offer a virtual option where you can use your smartphone or tablet to show the estimator what you'll be moving. Using a photo-imaging tool that cubes all the items, the estimator can establish the weight to provide an accurate quote.
For a long-distance, interstate move, ask companies for estimates based on weight (not cubic feet) in advance. Interstate movers are required to do this; moving companies that provide estimates using volume are almost surely scammers. Rogue operators prefer to give estimates in cubic feet because volume is easier to manipulate than weight, so they can demand additional charges once the truck is loaded.
Also ask companies to provide written estimates for any charges to pack your belongings, including boxes, if you want that service.
Once your belongings are loaded, the standard practice is to weigh the truck before your shipment is loaded and then weigh the truck again to find the actual weight of what's being moved. Interstate movers then calculate final charges based on the weight of shipments and travel distance. So if a company can accurately estimate the weight of your belongings, it can supply firm pricing upfront. If you can, get binding estimates or not-to-exceed pricing from prospective companies, which protects you from surprise cost hikes.
If you get burned by a shady interstate moving company file a complaint with FMCSA. It may not be able to solve your problem, but your complaint could trigger a federal enforcement investigation. You can also file a complaint for local or interstate movers with the Better Business Bureau. You may be able to help from MoveRescue.org, a resource sponsored by United Van Lines and Mayflower.
More from Checkbook
How to Hire a Mover, Plus Ratings of Local Moving Outfits
Contributing editor Herb Weisbaum ("The ConsumerMan") is an Emmy award-winning broadcaster and one of America's top consumer experts. He is also the consumer reporter for KOMO radio in Seattle. You can also find him on Facebook, Twitter, and at ConsumerMan.com.