Online Pet Scams Soar During Pandemic—Here's How to Protect Yourself
Last updated December 21, 2020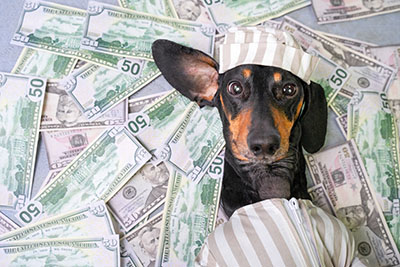 Pet adoptions have skyrocketed during the pandemic, as people stuck at home decided it was a good time to add a furry family member. This desire for companionship has enriched fraudsters who troll the internet looking for people who want to buy a pet.
Victims pay hundreds of dollars or more to adopt a dog or cat from a scam artist who doesn't have that animal. The pictures and descriptions of the animals for sale or adoption used in online and social media ads are often copied and pasted from other sites.
"This has absolutely saturated the internet," said Steve Baker, investigations specialist with the Better Business Bureau. "I don't think there's any way you can do an internet search for a puppy and not find this."
Pet scams are expected to cost consumers more than $3 million this year, according to the Better Business Bureau, up more than 600 percent in the last three years. The median loss is currently $1,109.
So far this year, more than 3,200 people in the U.S. and Canada have complained to the Better Business Bureau's Scam Tracker about online pet scams. That's double from last year, and up nearly 500 percent from 2017, when the bureau published a study about the growing problem. Fraudulent listings for Yorkshire terriers and French bulldogs are particularly pervasive, according to PetScams.com.
Note: While puppies are the most common bait in a pet scam—which is why they are commonly referred to as "puppy scams"—the fraudsters also try to sell non-existent kittens. About 12 percent of the pet scam complaints to the BBB this year were about kittens or cats. The Federal Trade Commission also received 185 reports of parrots being ordered but not delivered during the first half of 2020.
Paying to Ship the Non-Existent Pet Is Typically Required
The fraudsters advertise their non-existent pets on Facebook, in newspapers, on free-pet websites, and on Craigslist.
Once you fall in love with that adorable furball and agree to pay, the fraudsters know you're emotionally committed, so they throw some costly curveballs.
You must pay the cost of shipping that adorable furball to you, they'll say, and you need to use a bogus air transport service that was created by the con artists as part of the scam.
Fraudsters are now making COVID-19-related money requests for items such as special climate-controlled crates, insurance and a (non-existent) COVID-19 vaccine, the BBB warns. Some victims say they wanted to pick up the pet but were told that wasn't possible due to COVID-19 restrictions.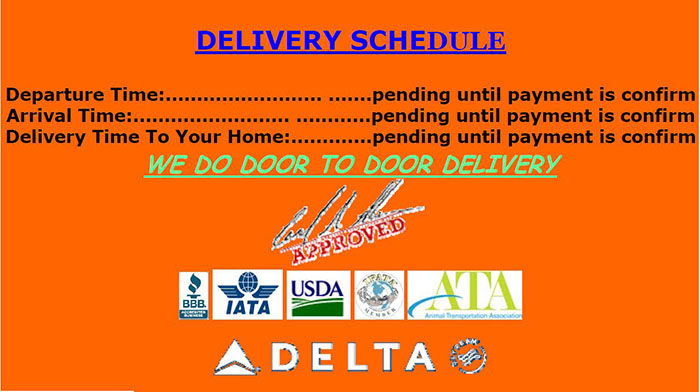 This bogus shipping email shown above uses logos from Delta Airlines, the Better Business Bureau, the USDA, and various industry groups to build credibility. If the company claims to be a member of the IPATA (International Pet and Animal Transportation Association), visit the IPATA website and verify that. (Image courtesy IPATA )
The criminals who run pet scams don't accept credit cards or PayPal, the safest ways to pay online. They want you to pay with gift cards (a sure sign of a scam) or wire transfer (Western Union or MoneyGram). Mobile payment apps, such as Zelle and CashApp, are becoming more popular, the BBB tells Checkbook. That's because once the money is transferred, it's nearly impossible to get it back. Click here for more on payment app policies and safety.
Sadly, victims of pet scams lose more than money; they are also robbed emotionally.
Danny Shelton went online looking for a puppy, after his dog died. He found a cute Weimaraner puppy online. The site looked professional and the puppy was cute, so he wired $700 by MoneyGram to the breeder in Atlanta. When Shelton, who lives in Illinois, said he would drive to Georgia to pick up the puppy, he was told it had to be shipped by air, and that would cost another $1,400. That's when he knew he was dealing with a con artist.
"It was devastating," Shelton told Checkbook. "Seven hundred dollars is a lot of money, but it was embarrassing, and painful not to get the puppy."
Anatomy of the Scam
Earlier this month, the U.S. Department of Justice charged Fodje Bobga, a citizen of Cameroon (who is going to college in Romania) with wire fraud in connection with an alleged puppy fraud scheme that targeted Americans.
A criminal complaint filed in federal court in Pittsburgh says Bobga used the website lovelyhappypuppy.com to "sell puppies and capitalized on people looking for companion animals online during this difficult time."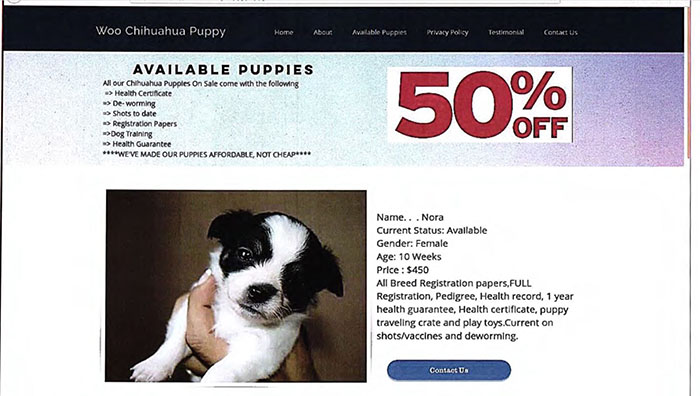 The above image, from a U.S. Department of Justice complaint, shows how the website lovelyhappypuppy.com was used by pet scammers to lure victims into paying hundreds, sometimes thousands of dollars, for puppies that were never delivered.
Following each purchase, Bobga and his co-conspirators provided a false tracking number for a shipment that would never take place, the complaint alleges. Then, pretending to be the shipping company, Bobga and his accomplices would contact the customer and claim transport was delayed and more money was needed.
Recently, some victims were told they needed to pay even more money for delivery because the pet had been exposed to the coronavirus.
"The perpetrators used false and fraudulent promises and documents regarding shipping fees and coronavirus exposure to extract successive payments from victims," the complaint states. Among the fake documents used were a "refundable crate and vaccine guarantee document" that was purported issued by the "Supreme Court of the United States of America," and bore a bogus court seal and court clerk signature.
Victims who wired the hundreds, sometimes thousands of dollars, never received a pet.
Protect Yourself
You can do things to look for the warning signs of a scam, such as:
Reverse image search of the pet photo to see if it's a stock image or stolen photo. Using Google Chrome, place the cursor over the photo and right click, then choose the option "search Google for image." You also can search images at tineye.com. If that picture shows up in a number of places, you know you're dealing with a cybercrook.
Search a distinctive phrase in the description or testimonial to see if it was lifted from another site. Fraudsters often cut and paste that language from real breeder websites.
Always ask to see the pet in person before you send any money. This is the best way to protect yourself. "A scammer won't let you do that because the pet doesn't exist," Baker told Checkbook. "If they use COVID as an excuse, ask for a video call, a Zoom call, with the owner and the puppy. No scammer will ever do that, so it's a good way to smoke them out."
Better yet, consider adopting a homeless pet from a local shelter. There are plenty of wonderful dogs and cats and other critters at shelters all around the country that need loving homes.
If you've been the victim of a pet scam, file a complaint with the BBB Scam Tracker, and the Federal Trade Commission.
It's a good idea to file a complaint, even if it won't help you get the money back. Complaints help law enforcement go after the crooks.
You might also want to contact Petscams.com. The site tracks complaints, and catalogues the latest websites built by scammers, in order to "cause as much disruption to their activities as possible."
More Info:
Contributing editor Herb Weisbaum ("The ConsumerMan") is an Emmy award-winning broadcaster and one of America's top consumer experts. He is also the consumer reporter for KOMO radio in Seattle. You can also find him on Facebook, Twitter, and at ConsumerMan.com.