Publishers Clearinghouse Settles FTC Lawsuit About Its Popular Sweepstakes
Last updated June 29, 2023
Publishers Clearing House (PCH), which runs one of the best-known contests in the country, will change its online business practices and refund $18.5 million dollars to customers who "spent money and wasted their time" entering the company's sweepstakes as part of a settlement agreement with the Federal Trade Commission (FTC).
In its lawsuit, the FTC accused PCH of using a variety of "deceptive" practices known as "dark patterns" to mislead consumers about how to enter its sweepstakes, or to make them believe that a purchase was necessary to win or would increase their chances of winning.
This settlement "should send a clear message that manipulative design techniques are a no-go under our laws," said Sam Levine, director of the FTC's Bureau of Consumer Protection.
Last week the FTC sued Amazon for allegedly using dark patterns to sell Prime subscriptions and making it difficult to cancel.
PCH did not admit any wrongdoing, and in a statement said it "disagreed with the FTC's assertions," but agreed to settle the case "in order to avoid the ongoing expense and distraction of litigation."
Until the court approves the settlement, it's not clear how many people may be eligible for a refund or how they would apply.
No Purchase Necessary?
Since 1967, Publishers Clearing House has used sweepstakes to generate billions of dollars in revenue from magazine subscriptions and merchandise sales. The FTC never questioned the integrity of the contest. Rather, the FTC asserts that PCH used illegal "dark patterns" to trick people into making a purchase.
By law, companies cannot require purchases to enter contests. If they did, it would be an illegal lottery. PCH ads disclose "no purchase necessary," and the company insists people who visit its website know that. Responding to the lawsuit, Christopher Irving, PCH's vice president for consumer and legal affairs, points out that "the majority" of its millionaire winners "never ordered with their winning entries."
In its complaint, the FTC said PCH used "manipulative phrasing and website design to convince consumers they needed to buy a product of some kind to enter the company's sweepstakes or increase their chances of winning."
The "deception starts," the complaint alleged, on the homepage, where visitors found an "Official Entry Form" with a button that read, "WIN IT!" or "Win for Life!" (See below.)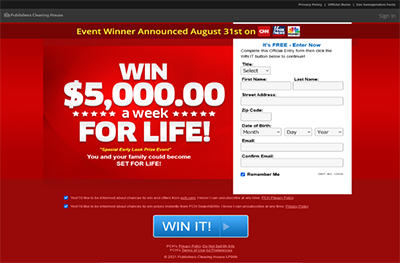 Clicking the button did not enter the consumer in the sweepstakes. Rather, it started what the FTC called "an arduous journey through pages or advertisements and sales pitches."
According to the complaint, PCH used "tricky wording that conflates ordering and entering to lead consumers to believe they must make a purchase to enter, or that purchase will increase their chances of winning, neither of which is true." Those who made it to the actual entry form and completed it, the FTC said, would then receive emails from PCH making them believe they needed to immediately complete a "final" or "last" step to complete their entry.
In reality, the FTC charged, those who clicked on the link to finalize their entry found themselves back in a cycle of pages and deceptive sales pitches, including "JUST ONE ORDER IS ALL IT TAKES." (See below.)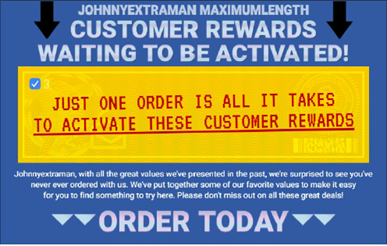 When PCH included disclaimers or clarifying information on its shopping pages, it was in a small, light font that could be easily overlooked, the complaint noted.
Other Allegations Against PCH
The FTC complaint also alleges PCH used several other dark patterns:
Failure to disclose the true price of goods by hiding shipping and handling costs until well after the purchase was complete, and it was too late to stop the shipment. These hidden fees, the FTC said, averaged more than 40 percent of the product costs.
Promising "no risk" purchases from the PCH website without disclosing that the customer would be responsible to pay the return shipping costs on unwanted items.
As part of the proposed settlement, PCH agreed to make some key changes to its marketing and sales operations.
The company is prohibited from implying that a purchase is required to enter a sweepstakes or that a purchase will increase the chances of winning. And it will make "clear, conspicuous, and unavoidable disclosures on every shopping page" that a purchase is not required to enter the contest and will not help someone win. Those pages will also include a link that takes consumers directly to a page where they can enter the sweepstakes without any sales messaging.
In many cases, the company will be required to have the consumer use a checkbox or similar means to acknowledge that ordering will not help them win or improve their chances of winning.
PCH will also disclose the full price of all items—along with any additional fees for shipping and handling—before a customer commits to making that purchase.
Privacy Policy Changes
The FTC also charged PCH with making misleading statements in its privacy policy prior to January 2019. The company said it did not rent, license, or sell consumer data to third parties, when in fact, it did share this information with other companies, the FTC said.
As part of the settlement, all consumer data PCH collected before January 1, 2019, will be destroyed, and the company is prohibited from misrepresenting the consumer data it collects and shares.
More from Checkbook:
FTC's Sam Levine talks about Dark Pattern on our Consumerpedia Podcast
FTC Rule Would Make It Easier to Cancel Unwanted Subscriptions
Contributing editor Herb Weisbaum ("The ConsumerMan") is an Emmy award-winning broadcaster and one of America's top consumer experts. He has been protecting consumers for more than 40 years, having covered the consumer beat for CBS News, The Today Show, and NBCNews.com. You can also find him on Facebook, Twitter, and at ConsumerMan.com.