Ready or Not, Federal Student Loan Payment Pause Ends August 31
Last updated August 10, 2023
After more than three years, the pause on federal student loan payments will end on August 31. The Covid-related relief program, started by the Trump administration and extended numerous times by the Biden White House, suspended payments, froze interest, and prohibited collections for about 43 million Americans.
Listen to audio highlights of the story below:


The Biden administration's plan to cancel $430 billion in student loan debt was struck down by the U.S. Supreme Court in June, and the current forbearance program cannot be extended. Congress passed a law to prohibit that.
On September 1, loans will again accrue interest. The first payments will be due in October. If you want to make a September payment, you'll need to contact your servicer by August 31.
At least 21 days before the first payment is due, loan servicers must send borrowers a billing statement that shows the payment amount and due date.
You may have already received a "disclosure" from your servicer that lists your monthly payment. It should be the same as the last payment you made prior to the moratorium. If you have a fixed-rate loan, as most federal student loans are, your interest rate should be the same as when you took out the loan.
Student loan expert Mark Kantrowitz, author of the book, "How to Appeal for More College Financial Aid," expects some "chaos and confusion" for a few months as borrowers try to "carve out some money from their budgets to make these payments."
Students who were in college when the pause started, Kantrowitz noted, will be making payments for the first time, and must learn about the process.
What You Should Do Now
To avoid the last-minute rush and help prevent potentially costly problems, visit the U.S. Department of Education's StudentAid.gov website to update your account information and explore affordable payment and loan forgiveness plans.
Also update your contact and payment information with your loan servicer. If you aren't sure who your loan servicer is (it could have changed during the payment pause) log into your StudentAid.gov account and go to the "My Loan Services" section of your dashboard.
If you were enrolled in autopay before the pause, you'll need to sign up again. Autopay is optional, but it will lower your interest rate by 0.25 percent.
Can You Afford to Make the Payment?
Student loan borrowers are "increasingly likely to struggle with payments on their other debts," according to a recent report from the Consumer Financial Protection Bureau. These borrowers are "especially likely to struggle with their student loan payments," the report concluded.
The average monthly student loan payment in 2019, prior to the pandemic, was between $200 and $299, according to the Federal Reserve. This will be a big adjustment for those who had that extra money to spend each month.
"Many borrowers may have taken on new financial commitments during the three-year student loan payment pause, like, for example, getting a more expensive apartment or taking out a car loan. And that might make it even more difficult for them to afford the student loan bill," said Elizabeth Ayoola, a personal finance writer at NerdWallet. "You need to look at your expenses, and see where you can cut back."
New 12-Month Safety Net Program
To "protect the most vulnerable borrowers from the worst consequences of missed payments," the Biden Administration created a 12-month "on-ramp" to repayment that runs from October 1, 2023, to September 30, 2024.
Payments will still be due and borrowers who can pay should do so, a White House fact sheet noted, but this on-ramp period "gives borrowers who cannot make payments right away the necessary time to adjust."
During the on-ramp period, borrowers will not be reported to credit bureaus, be considered in default, or referred to collection agencies for late, missed, or partial payments.
Even so, if you can afford to pay during the on-ramp period, you should do that, Ayoola, advises.
"Interest is still going to accrue during the months that you don't pay," Ayoola said. "So, if you have the money, definitely pay because otherwise you still have interest piling up."
Once the on-ramp period ends, your servicer will report a missed payment to the credit bureaus after 90 days which will lower your credit scores. This will make it harder and more costly to get credit, boost interest rates on your credit cards, and could make it difficult to rent an apartment. After 270 days, a delinquent account will go into default.
It's important to prioritize your federal student loans. Defaulting will not only damage your credit scores; it can also have other serious long-term repercussions.
"Your wages could be garnished, and it could also get in the way of qualifying for financing on federally backed loans like mortgages, for example," said Bruce McClary vice president at the National Foundation for Credit Counseling.
You Have Options
If you do the math and find that you simply can't afford to restart paying, contact your servicer—before you miss a payment—about "affordable repayment options," which could include "a temporary forbearance or deferment, or income-driven repayment for long-term challenges," McClary said.
With an income-driven repayment (IDR) plan, and there are four available, the payment amount is based on your income and family size. For some borrowers, the monthly payment can be $0.
If you were on an IDR plan before the payment pause, you'll have at least six months to recertify your income after the payment pause ends. Normally this has to be done each year. However, you may want to recertify for a lower payment if your income has gone down or your family size has increased.
The Saving on a Valuable Education (SAVE) plan is a new IDR plan announced by the Department of Education (DOE) in July. DOE says it provides the lowest monthly payment of any IDR plan.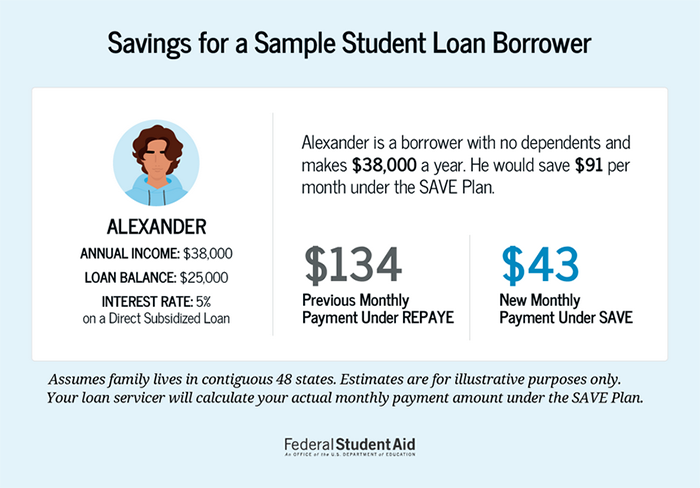 SAVE replaces the existing Revised Pay As You Earn (REPAYE) plan. If you are currently enrolled in the REPAYE plan, you will automatically get the benefits of the new SAVE plan.
With the SAVE plan, interest capitalization is ending. You will have a required payment, and if the new interest exceeds that required payment, then that excess interest will be waived, Kantrowitz explained.
"So, you will not experience a situation where your loan balance increases, unless you fail to make a required payment," he said. "If you make all the required payments, including a required payment of zero, there will be no interest being added to your loan balance."
Other benefits will be added to the SAVE plan in July 2024, which should reduce payments further.
Loan forgiveness options are available for people who work in public service, can't pay due to a disability, or were defrauded by their school. If you qualify, you won't have to pay back some or all of your federal student loan(s).
How To Choose Your Repayment Option
The Loan Simulator on StudentAid.gov lets you calculate your loan payments and compare repayment options to find the one that's best for you. It can also help you decide whether to consolidate your student loans.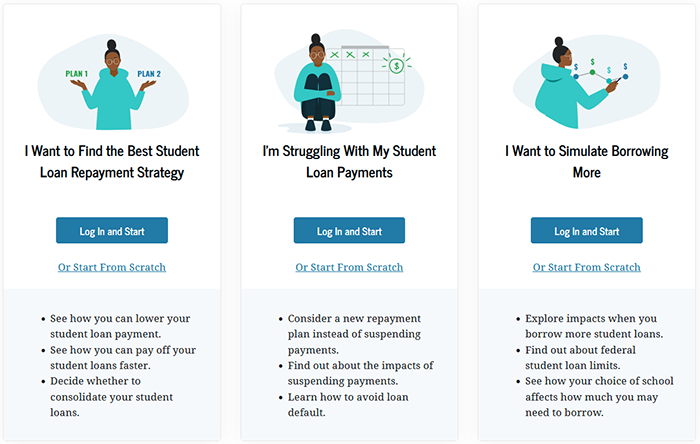 "For the most part, people should either be in a standard 10-year repayment plan or in an income-driven repayment plan," Kantrowitz told Checkbook. "A standard 10-year repayment plan has the highest monthly payment, and it will save you the most money on interest. An income-driven repayment plan will typically have the lowest monthly payment, which will have the smallest hit to your budget. And that's for borrowers who are struggling."
If you have a short-term financial difficulty, maybe you're on maternity leave or lost your job but expect to get a new job soon, a deferment or forbearance might be the way to go, Kantrowitz said.
Watch Out for Scams
Have questions? Need help? Your loan servicer can provide free assistance. But you'll need to be patient. It may take time to reach your loan servicer by phone. With millions of borrowers transitioning into repayment at the same time, these companies "may be overwhelmed with a high volume of inquiries," warns the National Association of Student Financial Aid Administrators (NASFAA).
You may also want to talk to a certified student loan counselor at a non-profit credit counseling agency. In most cases, the initial consultation is free. You can find qualified counselors near you on the National Foundation for Credit Counseling website, or call 800-388-2227.
"You should never pay an outside entity to help with your student loans, NASFAA cautions. While you may call your loan servicer, your servicer will always initiate communications with you via email, NASFAA warns. "Unless you initiate the contact, you should never share personal information over the phone."
More Info
Contributing editor Herb Weisbaum ("The ConsumerMan") is an Emmy award-winning broadcaster and one of America's top consumer experts. He has been protecting consumers for more than 40 years, having covered the consumer beat for CBS News, The Today Show, and NBCNews.com. You can also find him on Facebook, Twitter, and at ConsumerMan.com.