Retailers Respond to COVID-19 by Expanding Return Windows
Last updated June 12, 2020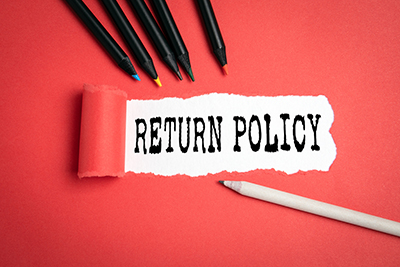 As stores across the country reopen, customers will soon be able to return some unwanted merchandise they've been stuck with during the coronavirus shutdown.
Return policies won't return to normal right away, and some national chains have already made changes to accommodate the inconvenience.
"While some stores have accepted no returns in recent months, others have made refunds to grocery customers who needed only to show a receipt. And still others are now extending their regular return window," said Edgar Dworsky, founder and publisher of ConsumerWorld.org. "One thing is for sure: You need to check the return policy because it probably is not the same as it was pre-pandemic."
Here's a sampling of the customer-friendly COVID-related return policy changes:

The nation's largest retailer has been handling some returns and exchanges in brick-and-mortar stores, but it's still not processing food, paper goods, home cleaning supplies, laundry soap, pharmacy, health and beauty, or apparel.
Walmart is asking customers who need to return any item (including those listed above with a receipt) to start the process on the Walmart app or at Walmart.com. By doing this, you may be able to complete your return by shipping it back.
For those who cannot make their return online, Walmart says it has extended the return period by six weeks.

The nation's largest home improvement retailer extended its return policy from 90 to 180 days, but it's asking customers "to refrain from returning products to our stores at this time, if possible."

The department store's hassle-free return policy allows customers to return merchandise in stores or online for 180 days after purchase. Due to COVID-19, the window for in-store returns will extend up to 30 days after the stores reopen.

This retailer's 60-day return policy has been expanded to 90 days from the date of purchase at DICK'S Sporting Goods, Golf Galaxy, and Field & Stream stores. Curbside returns can be arranged for purchases made with a credit or debit card.

Gap, Inc. has extended the return window until July 1, 2020 for purchases made between January 1 and April 30, 2020 at Old Navy, Gap, Gap Factory, Banana Republic, and BR Factory stores. The company's normal 45-day return policy applies to purchases made after May 1, 2020.

Customers now have more time to return items they bought online or at a store.
Returns to a store: Items purchased in a Macy's store must be returned to a store. The new policy states: "If the last day to return your merchandise falls within the store closure time frame, you will have an extra 30 days to make a return once stores reopen." Stores will begin taking returns as they reopen to walk-in traffic; stores offering curbside pick-up will not be able to take returns curbside at this time.
Returns by mail: Only items purchased online can be returned by mail. Customers now have an extra 60 days from the original return date to return items.

Items purchased in stores or online can be returned by mail now or to any store at a later date when stores reopen. Nordstrom does not have a set time frame for returns.

What Happens to Those Returns?
Because of the coronavirus, many retailers have changed the way they'll process the merchandise—especially clothing—that they accept as returns or exchanges. Typically, this means setting those items aside for 24 to 72 hours before they can go back on the sales floor.
"We're quarantining returns that come into the stores right now," Nancy Green, president of Old Navy, told USA TODAY. "They go into a separate area for a period of time and then they get processed back into inventory that is available to sell as long as they're not damaged."
Retailers are telling customers to expect delays in handling returns and exchanges. Due to limited staffing, they may take longer than normal to process.
Contributing editor Herb Weisbaum ("The ConsumerMan") is an Emmy award-winning broadcaster and one of America's top consumer experts. He is also the consumer reporter for KOMO radio in Seattle. You can also find him on Facebook, Twitter, and at ConsumerMan.com.