Robocalls on the Rise: How You Can Fight Back
Last updated May 12, 2022
Click below to listen to our Consumerpedia podcast episode on robocalls.
The pandemic was tough on a lot of businesses—including illegitimate outfits like phone fraudsters, who had to shut down some of their boiler room operations. Unfortunately, they're back—and the volume of robocalls is growing.
If you have a phone, you're probably getting these calls. It could be a bogus warning that your car warranty is about to expire, that there's a problem with your bank account, that you owe taxes, or that your Social Security or Medicare account has been suspended.
About 29 percent of all calls on U.S. telecommunications networks are robocalls, according to the latest data from Nomorobo, a robocall blocking service.
"This is now the world we live in," said Aaron Foss, Nomorobo's founder and CEO. "Everybody is getting taken advantage of by this seemingly pervasive problem."
Fraudsters make robocalls because they work. They're cheap and reach victims anywhere in the world. Internet-based telephone technology allows criminals to spoof their calls to make them appear to come from a trusted source, such as a local area code and exchange, credit card company, the IRS, or police department.
More than 7.6 billion robocalls were sent to U.S. phone numbers in April, according to Robokiller, another call blocking service. That's nearly 22 spam calls for every person in the country. The company estimates that Americans lost more than $30 billion to scams that started with a robocall last year. (Because most fraud victims never report their losses, the actual figure is probably much higher.)
Clearly, some robocalls are good. You want that automated call from your drugstore when your prescription is ready and from an airline about a delayed flight. An analysis by YouMail, a call-screening service, found that if your phone rings and the number is not in your contacts list, the odds of it being unwanted are 50 percent.
"When you pick up the phone and it's an unknown number, it's like flipping a coin," said Alex Quilici, CEO of YouMail. "Is it going to be a robocall or not? Half the time it is."
And most of those unwanted robocalls (55 to 65 percent) are from scammers or someone else you don't want to talk to, Quilici told Checkbook.
Red Flag: Does the Caller ID show that a call or text is coming from your phone number? That's just a trick the fraudsters use to get you to answer the phone or respond to the text.
What About the Do No Call Registry?
Chances are you've registered your phone number(s) with the National Do Not Call Registry. More than 244 million active phone numbers are on the list.
Created in 2003, the registry is a way for legitimate telemarketers to know who doesn't want to be bothered. And from that standpoint, it's been working well. Most legitimate companies honor people's wishes not to receive telemarketing calls. Those that don't face steep penalties and legal action.
On the other hand, the criminal organizations blasting out scam robocalls don't care about the Do Not Call Registry—they're crooks, often based in foreign countries—making it harder for the Federal Trade Commission, Federal Communications Commission, and Department of Justice to shut them down.
Wasn't Technology Supposed to Stop This?
For years, we've been promised that new technology would solve the robocall problem. But phones keep ringing.
In 2019, Congress passed the Telephone Robocall Abuse Criminal Enforcement and Deterrence (TRACED) Act. It required telephone companies to use new technology known as STIR/SHAKEN by June 2021 (yes, James Bond fans are involved in the project).
FCC rules require phone companies to use STIR/SHAKEN to flag spoofed calls—those not originating from the numbers displayed by caller ID. That's why you now often see warnings, such as "spam likely," or "suspected scam."
But the new system doesn't catch all scam calls. "While STIR/SHAKEN will improve the quality of caller ID information, it does not mean the call itself is legitimate," the FCC cautions on its website. "You need to remain vigilant against robocall scammers."
Many scam robocalls originate from outside the country, which makes them more difficult for STIR/SHAKEN technology to identify. The FCC is exploring ways to close that loophole by requiring U.S. phone companies to screen those incoming foreign calls. A vote on proposed rules to deal with this is scheduled for next week.
This STIR/SHAKEN technology works on mobile phones and internet-based telephone services, but not old-fashioned copper phone lines. And it does not stop the growing problem of spam texts (more on that below).
While phone companies dragged their feet for years, ignoring the growing robocall problem prior to STIR/SHAKEN, they are now using it to block fraudulent calls that are spoofed and label those that appear suspicious.
AT&T told Checkbook that it now blocks or labels about one billion robocalls per month.
Despite ever-improving call screening technology, fighting robocalls continues to be a game of whack-a-mole, as criminals find ways to avoid detection. For example, some are now buying blocks of legitimate phone numbers to circumvent STIR/SHAKEN protocols.
A Plague of Scam Robotexts
Robotexts have now overtaken robocalls as the way most fraudsters target their victims. The 2021 Year in Calling report from Truecaller, a Swedish spam blocking company, shows how the threat landscape is changing. Its app blocked 38 billion spam calls last year and 182 billion spam text messages.
Spam texts, like phishing emails, are designed to get you to respond quickly—click on a malicious link or provide sensitive information—without thinking. (With text messages, it's called smishing.)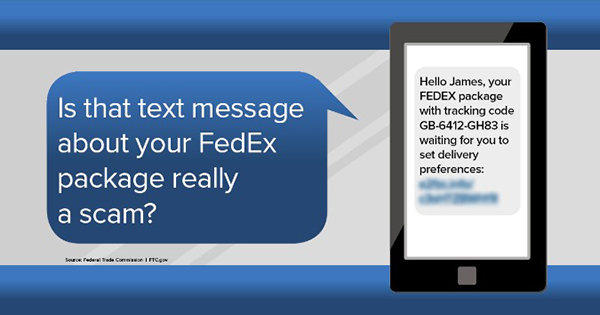 Dealing with robotexts is a challenge. Regulators have to figure out how to apply a law (The Telephone Consumer Protection Act of 1991) written long before texting existed.
In October 2021, FCC Chairwoman Jessica Rosenworcel proposed rules that would require cellular service providers to block illegal text messaging.
"In a world where so many of us rely heavily on texting to stay connected with our friends and family, ensuring the integrity of this communication is vitally important," Rosenworcel said at the time. "It's time we take steps to confront this latest wave of fraud and identify how mobile carriers can block these automated messages before they have the opportunity to cause any harm."
The commission has yet to act on the robotext proposal. In the meantime, the problem gets worse. Consumer complaints to the FCC about robotexts have gone from about 5,700 in 2019, to 14,000 in 2020, to 15,300 in 2021, and already 5,000 as of mid-April 2022.
Anyone Can Get Fooled by a Robocall Scam
Criminals use robocalls (and robotexts) to steal your personal information, your money, or both. Sometimes they do this by pitching a bogus product or phony investment. In other cases, they try to scare you into providing them with your Social Security number or credit card information.
"Most of us think it will never happen to us. We won't be a victim of this scam. But certainly, with billions of dollars being lost like this, it's happening to a lot of us," said Amy Nofziger, director of fraud victim support for the AARP Fraud Watch Network.
Here are three of the most pervasive scam robocalls the Fraud Watch Network has been hearing about.
Amazon Imposter:
"Hi, this is Daniel from Amazon Customer Service. We have seen a recent order … which is billed on your card attached to your Amazon account. The amount charged is $1,499. We noticed some suspicious activity on your account. So, we have put in hold to [a hold on] this transaction. Please press 1 now.
Source: YouMail
This message was designed to make you think someone has hacked your account or opened one in your name. If you call, you'll be connected to the scammers. The AARP Fraud Watch Network has heard from victims who've lost tens of thousands of dollars to this scam.
Automobile Warranty:
Hi there, this is Shasta calling in regards to your Volkswagen warranty. The warranty is up for renewal. I'd like to congratulate you on your $1,000 instant rebate and free maintenance and oil change package for being a loyal customer. Call me back at 888-206-XXXX to redeem now.
Source: Federal Communications Commission
In this case, the scammers might even know what type of car you have (vehicle registrations are public record), which makes this con seem legit. Take the bait, and you could end up paying for nothing or buying a service contract that's worthless.
"You've paid for something that has so many terms and conditions to it that you can't use it, or maybe your local dealership or manufacturer won't accept it," Nofziger said.
Checkbook found that even legitimate vehicle service contracts are bad buys.
Half of the 21 billion scam calls T-Mobile blocked last year were for car warranty scams, the company reported.
Social Security Imposter Scam:
The reason of this call is to inform you that your Social Security number has been suspended for suspicion of illegal activity. If you do not contact us immediately, your account will be deactivated.
Source: Social Security Administration
Click here to listen to a Social Security scam robocall.
This has been one of the top robocall scams for many years. The message varies, but it's always scary. It could be that something's wrong with your account and you need to verify your information to get it unlocked. Or maybe your number was used to commit a crime and unless you pay some money right away, you're going to be arrested.
The Social Security Administration will never call you out of the blue. Should there ever be a problem with your account, they'll send a letter via the U.S. Postal Service.
"If you do owe the government money for any reason, you cannot pay via Bitcoin (or any other cryptocurrency), or use a peer-to-peer app (such as Venmo, Zelle or CashApp). And the government certainly doesn't accept gift cards of any kind," Nofziger cautioned.
If you suspect you've been contacted by a Social Security Administration imposter, call the Social Security Fraud Hotline at 800-269-0271.
Protect Yourself
Here's the FCC's advice on how to fight back against robocalls:
Don't answer. If you don't recognize the number, let the call go to voicemail. If there's a number on the voicemail that's supposedly from your bank or credit card company, don't return the call. Use a number or web address you know is legitimate, such as one on a statement or credit card, to find out what's really going on.
Hang up. If you do pick up and start talking to someone, and you're getting pressured or threatened—don't engage.
Don't share. Never give out personal information such as account numbers, Social Security numbers, mother's maiden names, passwords, or other identifying information in response to unexpected calls, or if you are at all suspicious.
Use available tools. Talk to your phone company about call blocking tools they may have and check into apps that you can download to your mobile device or use on your VoIP phone service to block unwanted calls.
More Info
The AARP Fraud Watch Network has more information on avoiding robocall scams. If you get a call and don't know what to do, call the Fraud Watch Network Helpline at 877-908-3360 before you provide an unknown caller with information or money. You do not need to be an AARP member to use this free service.
The Federal Trade Commission and the Federal Communications Commission have detailed information about robocalls and robotexts. The FCC also has a list of call blocking resources available from phone companies, phone manufacturers, and third-party screening services.
Contributing editor Herb Weisbaum ("The ConsumerMan") is an Emmy award-winning broadcaster and one of America's top consumer experts. He is also the consumer reporter for NW Newsradio in Seattle. You can also find him on Facebook, Twitter, and at ConsumerMan.com.