Scam Victims Have Until Aug. 31 to Claim Western Union Refunds; FTC Accuses Walmart of Similarly Enabling Crooks
Last updated August 25, 2022
Western Union has agreed to return money to consumers who were tricked into wiring money to criminals from 2004 through 2017. To get your share of the money, you must file a claim by August 31.
Listen to audio highlights of the story below:


Scam victims rarely get their money back, but in this case, Western Union is returning $586 million to victims. The payback is part of a 2017 agreement between the financial services company and the federal government, made following an investigation by the U.S. Postal Inspection Service and a civil lawsuit filed by the Federal Trade Commission.
The FTC complaint alleged Western Union "was aware that fraudsters around the world used the company's money transfer system" to steal money from hundreds of thousands of victims for many years, and that some Western Union agents "were complicit in the frauds."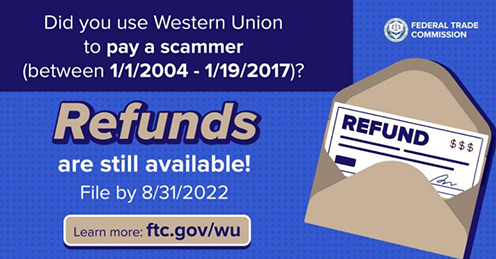 The company received more than 550,000 customer complaints between January 2004 and August 2015, the FTC said. The government accused the company of violating the law by failing to establish "effective anti-fraud policies and procedures," and by not acting promptly against problem agents.
When the settlement was announced, Western Union spokesman Bill Chandler acknowledged "that in certain instances…the company did not engage in as much oversight as it should have." The company would do more "to protect customer transactions" and defend those who used the company's global money transfer service, he said.
Western Union promised it would block money transfers it knew were fraudulent, warn customers about wire fraud, and improve the complaint process.
What You Need to Do
Scam victims who lost money through a Western Union wire transfer between Jan. 1, 2004, and Jan. 19, 2017, must file a form to show how much they lost. A variety of telephone and online scams are covered by this settlement, including:
The Justice Department mailed claim forms to more than 300,000 people who were identified as victims. These forms were pre-filled with the eligible dollar loss amounts, based on the reports filed with Western Union. This information can be used to submit a claim.
So far, more than $366 million has been distributed to more than 148,000 victims, the FTC told Checkbook.
If you did not get a form in the mail, and have not previously submitted a claim, you can do so online at Westernunionremissionphase2.com. The site includes information on what to do if you disagree with the loss amount printed on the claim form.
The form must be completed online or postmarked on or before August 31, 2022. (A June deadline was recently extended.)
The FTC warns about possible scammers, and reminds those seeking a refund: There's no charge to file a claim, you don't need a lawyer to do it, and steer clear of anyone who says they'll help you file or get your refund.
This is not the first time federal prosecutors have gone after a big wire transfer company. In 2009, MoneyGram agreed to take steps to make it harder for con artists to use its services to defraud consumers. In 2018, after the feds discovered MoneyGram did not do that, the company agreed to refund $125 million to people who used MoneyGram to pay scammers. That refund program has now expired.
Now, the FTC Accuses Walmart of Letting Wire-Transfer Fraudsters 'Fleece' Customers
In June, the Federal Trade Commission sued Walmart for allegedly allowing fraudsters to use the money transfer services (both company-owned and third-party transfer services) offered at its stores.
"While scammers used its money transfer services to make off with cash, Walmart looked the other way and pocketed millions in fees," said Samuel Levine, director of the FTC's Bureau of Consumer Protection. "Consumers have lost hundreds of millions, and the Commission is holding Walmart accountable for letting fraudsters fleece its customers."
The complaint accuses the company of turning a blind eye to the problem, as more than 176,000 complaints poured in between 2013 and 2018.
In its lawsuit, the FTC alleges Walmart did not properly train its employees, failed to warn customers, and used procedures that allowed fraudsters to cash out at its stores for many years.
In some cases, the lawsuit alleges, the company's practices made it easier for fraudsters to collect fraud-induced money transfers at a Walmart store: "For example, for years, it was Walmart's policy or practice not to deny payouts to suspected fraudsters at its stores, but instead to have its employees complete those transactions."
The FTC is asking the court to order Walmart to return money to victims and to impose civil penalties for Walmart's violations.
Walmart calls the FTC lawsuit "unfounded," "factually misguided and legally flawed." The company said the government has ignored Walmart's "robust anti-fraud program," and the "billions" it has saved customers by preventing wire fraud.
On its website, the company says: "Walmart has stopped hundreds of thousands of suspicious transactions totaling hundreds of millions of dollars. Our efforts have been incredibly effective, resulting in fewer than two out of every 10,000 money transfers at Walmart being reported as possibly fraudulent in 2021."
Walmart said it will defend against this lawsuit aggressively.
The FTC's Midwest Region office in Chicago handled the Western Union and case and brought the lawsuit against Walmart. Director Todd Kossow said money transfer services are required to be proactive in preventing fraud because the Telemarketing Sales Rule bans cash money transfers for telemarketing transactions.
"They're responsible under our rule," Kossow told Checkbook. "If they don't try to comply with that provision, then they're assisting in facilitating the fraudster conducting that scam."
How Swindlers Like to Get Paid (It's Not Just Wire Transfers)
Criminals who are trying to steal your money want the payment to be instant, anonymous, untraceable, and irreversible. For decades, wire transfers, which can be picked up anywhere in the world, fit the bill.
While fraudsters still use money transfers, they're shifting to other anonymous payment methods, such as gift cards (available at many stores) peer-to-peer apps (such as Zelle, Venmo, and CashApp), and cryptocurrency.
The FTC provided Checkbook with a list of the top payment methods used by scammers for the first half of 2022, as reported by fraud victims:
Credit cards: 42,545 reports with about $100 million in reported losses
Debit cards: 33,546 reports; $90.6 million in losses
Payment apps or services: 33,483 reports; $82.2 million in losses
Cryptocurrency: 29,108 reports; $762 million in losses
Gift cards and reloadable cards: 26,778 reports; $113.5 million in losses
Bank transfers or payments: 22,779 reports; $750 million in losses
Wire transfers: 20,482 reports; $147.3 million in losses
Using a credit card is the safest way to pay anyone for anything. If the online retailer or person on the phone will only accept a specific payment method, such as wire transfer, gift card, cryptocurrency, or P2P payment—that's a red flag. Stop and find out what's going on! And remember, government agencies and utilities do not accept gift cards for payment.
More Info
The FTC has information on how to avoid scams, and what do to if you were scammed.
This article from the AARP Fraud Watch Network explains how scammers like to be paid.
If you get a call, text, email, or social media message and don't know what to do, call the AARP Fraud Watch Network Helpline at 877-908-3360 before you provide an unknown caller with information or money. You do not need to be an AARP member to use this free service.
Contributing editor Herb Weisbaum ("The ConsumerMan") is an Emmy award-winning broadcaster and one of America's top consumer experts. He is also the consumer reporter for NW Newsradio in Seattle. You can also find him on Facebook, Twitter, and at ConsumerMan.com.