Scammers Cash-In on COVID-19: How to Protect Yourself
Last updated May 11, 2020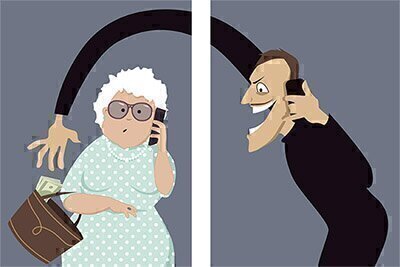 The coronavirus pandemic is a dream come true for con artists across the globe: Millions of people are afraid of getting sick and struggling to make ends meet, just as trillions of dollars in stimulus funds make their way into the economy.
"Since the pandemic started, scams have gone up more than 350 percent," said Frank Abagnale, author of the book Scam Me If You Can and an internationally-respected security expert. "Scammers follow the headlines, and whatever the headlines are, the scammers come up with something to do with that."
Click here to listen to my podcast with Frank Abagnale, whose life as a con artist inspired the Steven Spielberg movie Catch Me If You Can starring Leonardo DiCaprio as Abagnale.
Fraudsters are attacking on all fronts: robocalls, text messages, emails, and ads on social media offering financial help, or selling bogus treatments and cures.
A survey released in mid-April by Truecaller, a company that makes a caller ID and spam blocking app, showed that 44 percent of Americans had received scam calls or text messages related to COVID-19 in the preceding few weeks.
"There is something here for every scammer," said Eva Velasquez, who has been fighting fraud for more than 30 years and is president and CEO of the non-profit Identity Theft Resource Center. "The scope and the scale of all the different types of scams stemming from the pandemic is something I've never seen before."
In the first four months of this year, the FBI received 3,985 COVID-related complaints through its Internet Crime Complaint Center (IC3) website. The total loss reported so far is more than $64 million nationwide, said Ethan Via, Supervisory Special Agent for the FBI in Seattle.
"Fraudsters prey on two things, greed and fear, and right now, they are cashing in on people's fear," Via said. "We're seeing an uptick in complaints related to pop-up ads that offer treatments or cures that don't exist."
The AARP Fraud Watch Network is tracking these COVID-related scams. The scams include:
Crooks, posing as healthcare workers, who've set up mobile COVID-19 testing sites in parking lots, charging victims hundreds of dollars for a bogus test.
Phone bandits, pretending to be with a public health agency, offering people the opportunity to get on a waiting list for the coronavirus vaccine when it becomes available. Of course, a credit card number is required to get on the list.
Criminals are using the coronavirus outbreak to freshen-up their classic cons, such as the grandparent scam––that's when the scammer pretends to be a panicked grandchild who's in trouble and needs money right away.
Here's the new twist: "Grandma, Grandpa, I didn't feel well, so I was going to get a coronavirus test when I was pulled over by a cop. I'm sick and in jail and need you to wire me money right away, so I can make bail and get out of here. Please help! I don't want to die!"
The stay-safe-at-home protocols have created a demand for pets, and the scammers have noticed.
"We're seeing a big increase in calls on pet scams," said Amy Nofziger, with the AARP Fraud Watch Network. "Scammers are creating fake puppy and kitten websites, and posting classified ads. Buyers are told to use a peer-to-peer payment app or wire transfer the money. Unfortunately, there is no pet, so the victim loses their money and never gets their furry friend."
This COVID Come-On Cost a Florida Woman $12,000
Brian Glassberg's 80-year-old mother-in-law, Lil, got fooled by some clever scammers who called and pretended to be with the fraud department at her bank in Florida. Her credit cards and bank ATM cards were compromised, the caller claimed, and he needed to cancel those cards and get her new ones.
The fraudster had Lil's banking information and the last four digits of her Social Security number, so he seemed legit. There are various ways a crook can get this personal information.
"Because of COVID-19, we understand that you can't go to your local branch to have your cards replaced, so we're going to send over one of our fraud delivery people to pick up the old cards and bring you the new ones," Glassberg said the caller told his mother-in-law.
Within 10 minutes, someone claiming to be with the bank was at Lil's door. Even though the apartment complex has security cameras, the scammer wore a mask (because of the outbreak), helping to obscure her identity.
In just two days, the fraudsters (wearing masks) used her ATM cards to withdraw $5,000 in cash and spend $7,100 (most likely on gift cards) at local supermarkets.
Glassberg helped his mother-in-law file a police report and fraud reports with her banks. When the banks said they weren't sure they would cover the losses, Glassberg contacted the AARP Fraud Watch Network (It looks like Lil will get all her money back).
COVID-19 Spam: Phishing Attacks Skyrocket
Scammers are sending out waves of spam emails designed to snag your personal information or hijack your computer or mobile device. The emails––which appear to be from legitimate businesses, charities, or government agencies––typically promise financial aid, promote a vaccine or cure, or have information about coronavirus infections in your area.
The goal: Get you to open an attachment or click on a link that will download malware onto your computer or mobile device so the criminals can control it. Click on the link and you may also be taken to a website created by the scammers who hope to trick you into giving them personal information.
These malicious sites, many of them using coronavirus or COVID-19 in the domain name, have been popping up like weeds. Hundreds of them have been taken down, but law enforcement can't keep up with them.
TIP: Never click on links or download files from unexpected emails or texts, even if it looks like it's from a trusted company or organization, or person you recognize.
Watch Out for These Five COVID-Related Scams
Checkbook contacted law enforcement and consumer protection groups to get a list of the most common COVID-19 scams. Here's what to watch out for:
Offers to Help Secure Government Relief Payments
Some people are still waiting for their stimulus checks, small business loans, or unemployment compensation. When you're desperate, an offer to speed things up is mighty appealing––even if there's an upfront fee for the service.
Scammers offer to help cut through the red tape for an advance fee. To do this, they'll need your Social Security number and banking information. Take the bait and you'll lose that advance fee and open yourself up to identity theft.
TIP: No one can expedite government payments. You can check the status of your stimulus payment on the Get My Payment page on the IRS website. This information is updated daily. Remember, the IRS will not call, text, email or contact you on social media about stimulus payments––and it does not ask for personal or bank account information on the phone.
Small Business Loan Scams
Small business owners who are struggling to hold on until the economy reopens are desperate for money, so an email or text that appears to be from a government agency offering relief funds is sure to get their attention.
Digital security experts with IBM X-Force have spotted spam campaigns that impersonate the Small Business Administration (SBA).
"The malicious emails entice targets to open a spoofed attachment that triggers a malware infection on their devices, and, in turn, allows cybercriminals to collect sensitive information and even take control of victims' devices," Ashkan Vila, IBM X-Force threat researcher, writes in a blog post.
Tip: Government agencies are not sending texts and emails promoting small business loans. You need to go to an agency's website or contact one of its designated lenders and apply.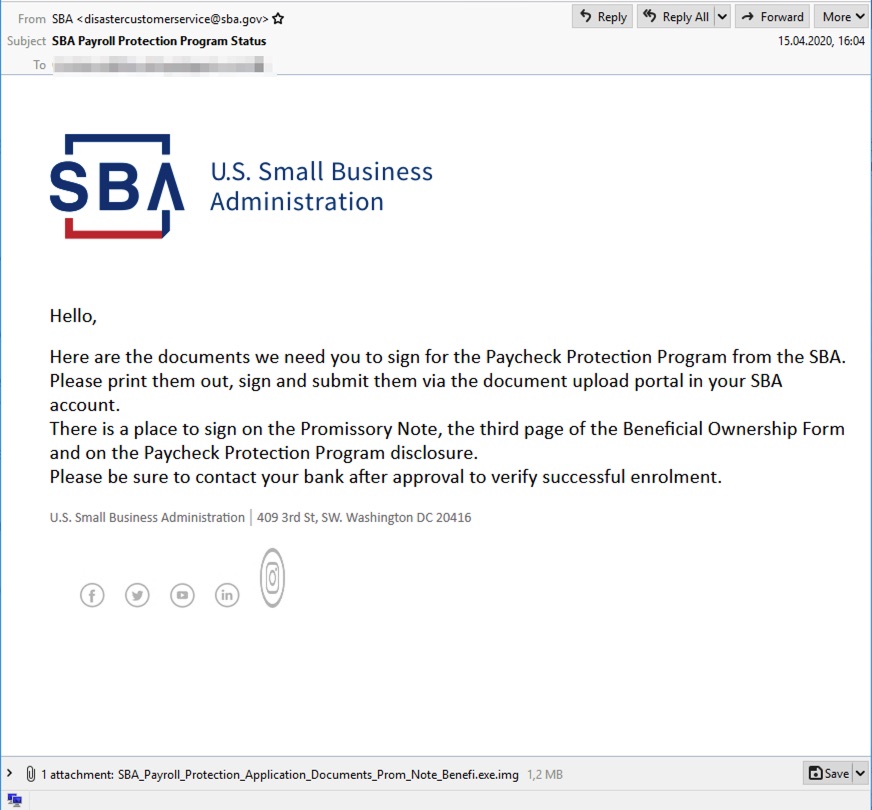 This phishing email provided by the IBM X-Force team claims to be from the SBA.
Bogus Cures and Medical Products
There is no cure for COVID-19 right now, but that hasn't stopped companies from selling unproven and questionable products, including fake cures and over-hyped antiviral and immunity boosters.
In a news release, U.S. PIRG describes the internet as a "minefield of dubious products posted by unscrupulous sellers" that offer consumers "a false sense of security."
These snake oil products include teas, essential oils, and concoctions containing colloidal silver (not considered safe or effective for any of the health claims made for it, according to the Mayo Clinic) that are supposed to prevent or cure the disease.
State and federal authorities are talking legal action to stop the bad actors, but more keep popping up.
TIP: If and when there is a proven treatment or cure for COVID-19, it will be announced on the CDC website and not via a Facebook ad.
Fake Websites
Scammers are creating phony websites that sell sanitizers, disinfectants, and masks. The Federal Trade Commission (FTC) warns that it's getting complaints from people who've ordered these supplies online and did not receive them. The crooks took their money and then ghosted them.
TIP: Stick with trusted online retailers whenever possible. Before shopping at an unknown site, use a search engine to check out the company. The FTC advises typing in the product or company's name with the terms "review," "complaint," or "scam." Never shop online with a debit card, always use a credit card because it has stronger fraud protection.
Employment Scams
Millions of Americans need a job, so scammers are posing as employers with openings to fill. Some offer a work-from-home position, guaranteed to appeal to parents without childcare.
Be skeptical of all offers, especially ones from "previously undisclosed" federal government jobs, the FTC cautions.
Research a potential employer by searching for information about the company online. You might find complaints by others who've been scammed. You can also check the Better Business Bureau website.
Never pay to get a job. Scammers may say they've got a job waiting if you just pay a fee for certification or training, but the job never materializes.
Some fraudsters send out checks to new work-at-home employees to buy equipment and supplies. The excess money is supposed to be wired back to the company. Warning: The check is counterfeit and you'll get stuck with the loss once the bank flags it (which could take weeks or months).
TIP: To find legitimate job listings, try visiting your state's Career OneStop.
Protect Yourself
The most important thing you can do to reduce your chances of becoming a victim is to slow down and be skeptical.
"Any time you get an email, text message, or phone call that says you need to do something right away, take a deep breath and think about what you're being asked to do," advised AARP's Nofziger. "Always check out whatever is being put in front of you with a trusted resource, a friend, or a family member."
You can call the AARP Fraud Watch Network helpline at 877-908-3360 or the Identity Theft Resource Center at 888-400-5530 and talk to a trained fraud specialist.
More Info
Checkbook: How to keep your devices safe from hacks
Identity Theft Resource Center: Is this a COVID-19 scam?
Consumer Reports: How to stay safe from cybercrime when working at home during the outbreak
Better Business Burea: Tips on COVID-19
Federal Trade Commission: COVID-19 Information Center
Fraud.org: Fueled by COVID-19, pet adoption scams on the rise
Update
The Identity Theft Resource Center is receiving a high volume of calls from people who've had their application for unemployment benefits denied for being a duplicate because an imposter has already claimed it. If your claim is turned down due to a duplicate application, contact the unemployment agency immediately. You might also want contact the ITRC and talk to one of their expert advisers on the phone (888-400-5530) or via live chat.
Contributing editor Herb Weisbaum ("The ConsumerMan") is an Emmy award-winning broadcaster and one of America's top consumer experts. He is also the consumer reporter for KOMO radio in Seattle. You can also find him on Facebook, Twitter, and at ConsumerMan.com.