Should You Upgrade to a 5G Phone? Checkbook Cuts Through the Marketing Hype
Last updated December 14, 2020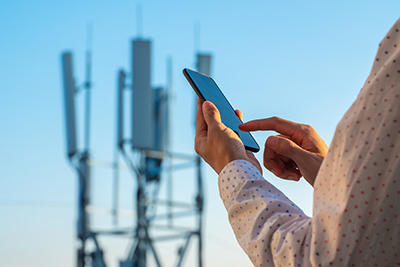 Wireless companies are spending hundreds of millions of dollars marketing 5G (fifth generation) cellular network technology.
In the ads, 5G means blazing fast speeds—download a movie in mere seconds!—and more reliable service in crowded places, such as airports and sports stadiums. The goal is to convince customers to take part in the "5G revolution" and buy new smartphones.
When it comes to 5G, each of the three major carriers claims different bragging rights:
AT&T says it has the "fastest nationwide 5G network."
T-Mobile claims to be "America's largest 5G network."
Verizon boasts "the most powerful 5G experience."
The carriers all have maps showing how many cities already have 5G, but that can be misleading. The fine print says "actual coverage may vary." It means the super-fast 5G coverage is limited to specific areas in that city—in some cases, just a few blocks or even specific buildings.
"Generally, we're seeing exaggerated claims, claims that tout the breadth and depth of 5G service that's just not yet available to consumers," said Bonnie Patten, executive director of TruthInAdvertising.org.
Brian X. Chen, consumer technology reporter at The New York Times, struggled to find 5G service in San Francisco when he reviewed the new iPhone 12 in October. He criticizes the wireless carriers for not being transparent and over-promising what 5G can do in these early stages of deployment.
"If they're going to call it a technology revolution, I'm going to call it a revolution happening in slow motion, because everything they're hyping up and raving about has yet to happen," Chen told Checkbook. "The super-fast speeds they talk about are accessible in a very, very small portion of the country. The rest of the country is going to get something that's way more modest."
AT&T, T-Mobile, and Verizon insist they are not trying to mislead customers, but as Patten points out, the National Advertising Division of the Better Business Bureau "has repeatedly determined the three major wireless carriers have engaged in false and deceptive marketing of 5G."
A Reality Check
Tech reporters who have test driven 5G in the last few months have been disappointed.
Geoffrey Fowler, technology columnist for The Washington Post, tested download speeds in his home and around the San Francisco Bay Area (which has 5G service from all three major carriers).
"Sitting at my desk with a 4G phone right next to a 5G phone, I found that on some of the networks, I actually got slightly faster service on last year's 4G phone," Fowler said.
After more than 4,000 simultaneous download tests using the Speedtest app on various phones, Fowler came to the conclusion that "for most Americans right now, 5G is going to do diddly squat."
PCMag.com tested 5G in 26 cities and found it to be "disappointing all around, on every carrier," editor Sascha Segan wrote.
Testers measured upload and download speeds, as well as latency—the time it takes for data, such as a request to download a web page or email, to travel between two points. Low latency (fast reaction time) is one of the key benefits of 5G that will eventually enable a significantly improved experience for online gaming.
Based on PCMag's extensive testing, Segan told Checkbook: "5G is really nothing to write home about at this time. In some cases, its slower than 4G."
Verizon has "superfast" 5G, but almost no coverage, and he said it's pretty hard to find any AT&T 5G service "that gives you a fresh experience."
Segan found that T-Mobile's mid-band 5G, available in some parts of some cities, does give "a serious performance boost," providing download speeds that are two or three times faster than 4G.
Carriers Respond to the Criticism
Checkbook spoke to executives at AT&T, T-Mobile, and Verizon about these reviews. All three carriers questioned the results and stressed that 5G is in its infancy.
AT&T: "We're still in the early days, we've just launched this nationwide network in July. Over time, 5G is expected to improve the capacities and enhancement," said Karin Garrido, vice president and general manager for the Pacific states. "So while we may not have 5G everywhere, the good news is we're working on it."
T-Mobile: "I think they were doing these tests in certain parts of our network that were still under construction," said Mark McDiarmid, senior vice president for engineering and development. "Places like Los Angeles and San Francisco inherently are just more difficult to do development within."
Verizon: "San Francisco is a brand new launch city," said Phillip French, vice president of network engineering, but Verizon's tests show they are delivering promised speeds in that market.
A Bit of Technical Talk
Unlike previous generation of wireless technology, 5G is complicated. It's often compared to a three-layer cake, with each layer being a different spectrum.
Low-band spectrum: This is the bottom layer of the cake, your basic 5G, closest to the current 4G and 4G LTE spectrums. It can cover wide areas but isn't as fast as the other two spectrums. This is what you will get in most parts of the country, where 5G is currently available.
Mid-band spectrum: The middle layer is a bit faster than low-band 5G, but it covers as much territory. Buildings and other solid objects can be a problem.
High-band spectrum (millimeter wave): The MM wave spectrum is the top layer with all the icing. It provides the high-speed connections and super-fast downloads everyone expects. It also has the most capacity (meaning more reliable service). But because it has limited range and line-of-sight travel, the MM spectrum will have insignificant availability. It's easy for a wireless company to get this to work in a sports stadium, but challenging to cover an entire downtown area.
Note: Because of its limited range, MM wave requires a massive investment in access points. Phil Solis, research director at IDC, a technology consulting firm, said a carrier would have to blanket a downtown area with thousands of small cell stations (possibly attached to telephone poles) to deliver such service. That might not happen in all populated areas in the U.S. until 2024 or 2025, Solis told Checkbook.
The three wireless carriers are taking different approaches to spectrum use as they launch their 5G services. And they are using different terminology to market it, which makes it difficult for the average consumer to understand what type of 5G they can expect to get where they live or when they travel.
Should You Upgrade to a 5G Enabled Phone?
The wireless carriers are counting on 5G to boost declining smartphone sales. Their pitch: Buy a 5G smartphone today and you're helping future-proof your device. Of course, if you wait, the phones will get better and prices on the older models will come down.
The tech experts contacted by Checkbook all agree that there's no need to rush. If you're happy with your phone, hold on to it.
"You're going to pay a bit more to get early access to this technology, and it's not going to work very well in the beginning," New York Times reporter Chen said. "If you're excited about leading-edge technology, just know that you might be disappointed because it doesn't work too well yet."
In his review of 5G in The Washington Post, Fowler says today's 5G "just isn't a good reason to upgrade." He compares it to buying a sports car and then realizing it can't go over 65 mph very often.
"Sure, you can download the whole season of Game of Thrones in a minute," Fowler told Checkbook. "But how often do you do that on a street corner somewhere downtown? When you need this really high speed you tend to be someplace that has Wi-Fi."
If you need a new phone, you might as well get one that's 5G enabled. Top-of-the-line phones, such as the Samsung 20 and iPhone 12, are 5G-compatible. By next year, most new phones will also be 5G-ready.
You will need to sign up for 5G service, but so far there's no extra charge for that.
Note: Fowler says some new models may not have the ability to access the super-fast MM spectrum. So before you buy, find out if the phone you're looking at can access all of that carrier's 5G bands.
There's no question that in the years ahead, as 5G expands, app makers and game developers will find ways to take advantage of this new technology. But right now, if you use a cellphone the way I do—to talk and text, check my email, and sometimes go online to check news sites—you probably won't notice any difference using a new 5G phone.
More Info:
Contributing editor Herb Weisbaum ("The ConsumerMan") is an Emmy award-winning broadcaster and one of America's top consumer experts. He is also the consumer reporter for KOMO radio in Seattle. You can also find him on Facebook, Twitter, and at ConsumerMan.com.