Stimulus Payment Glitches: Why Millions of Taxpayers Will Get Their Payments Late
Last updated April 24, 2020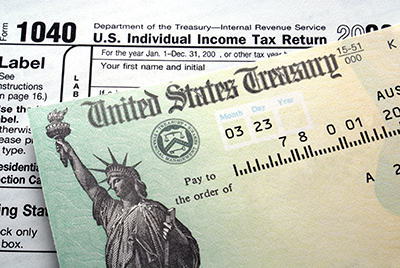 Millions of Americans who filed their tax returns via tax preparation services, such as H&R Block, TurboTax, or Jackson Hewitt, are wondering why they haven't received their stimulus payments yet. According to the IRS, the money may have gone to the wrong bank accounts.
Taxpayers affected by this glitch used an optional refund settlement product from their tax preparer or software provider, rather than have the IRS send them the money directly. These taxpayers may have opted for:
A Refund Anticipation Loan (RAL)
A Refund Anticipation Check (RAC)
To have their tax refund loaded onto a debit card
The IRS released a statement explaining what happened:
When you filed your tax return, if you chose a refund settlement product for direct deposit purposes, you may have received a prepaid debit card. In some cases, your Economic Impact Payment may have been directed to the bank account associated with the refund settlement product or prepaid debit card.
If the refund settlement product or the associated account is closed or no longer active, the bank is required to reject the deposit and return it to the IRS.
The IRS says once it receives the money back and processes it, the status of your payment will be updated on its Get My Payment tool, and the stimulus money will be automatically mailed to the address on your 2019 or 2018 tax return, or the address on file with the U.S. Postal Service, whichever is more current.
How Long Will This Take?
The IRS statement says the timing of this process "depends on several variables, including when and how the payments are rejected and returned to the IRS."
The IRS also noted there was a recent reporting error on Get My Payment, which "inaccurately indicated rejected payments were being sent back to the same taxpayer account a second time."
In fact, those payments are being mailed to the taxpayers, the IRS statement clarified, and steps were taken on April 21 to correct this reporting error and show that the missing payment has actually been mailed; not rerouted to a closed bank account.
Tax Prep Companies Respond
Checkbook contacted three of the biggest tax preparation services, H&R Block, Jackson Hewitt, and Intuit (the maker of TurboTax), and received written statements from each one.
H&R Block and Intuit blame the IRS for the snafu.
TurboTax told Checkbook the government has all the information it needs to process the transactions: "The bank account information for TurboTax filers is transmitted to the IRS as a part of the tax return. The IRS has the appropriate banking information for all TurboTax filers that received a refund electronically, which can be used by them to distribute stimulus payments. This is true regardless of whether a customer chose to receive their refund on a debit card, selected refund transfer or a refund advance or other services."
TurboTax's statement went on to say that any of its customers who selects a refund transfer, refund advance, or a debit card and gets a stimulus payment sent from the IRS to those accounts "will receive those stimulus payments without delay or fees into the account [into which] they received their tax refund."
In its statement, H&R Block said the IRS has "created confusion by not always using client's final destination back account information for stimulus payments. We share our clients' frustration that many of them have not received these much-needed payments due to IRS decisions, and we are actively working with the IRS to get stimulus payments sent directly to client accounts."
Jackson Hewitt wanted customers to know that if the IRS deposited their stimulus funds onto an active American Express Serve or Bluebird Card, but they no longer have access to that card, they can require a replacement card online by logging into their account.
The IRS website has two pages (frequently updated) that might help answer your questions: The Economic Impact Payment Information Center and Get My Payment Frequently Asked Questions.

Contributing editor Herb Weisbaum ("The ConsumerMan") is an Emmy award-winning broadcaster and one of America's top consumer experts. He is also the consumer reporter for KOMO radio in Seattle. You can also find him on Facebook, Twitter, and at ConsumerMan.com.