Strategies for Stocking Your Fridge and Pantry During the Pandemic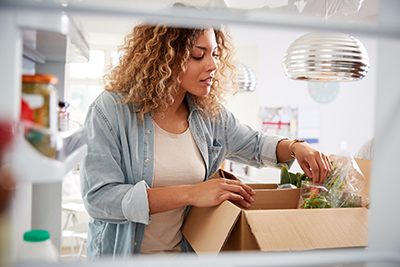 Skittish about going to the supermarket? Or frustrated by their empty shelves and long lines? Grocery delivery of course is a popular option—at least in theory; most services are so busy it's impossible to arrange orders.
Fortunately, there's a growing list of options to supply you everything from white gold/toilet paper to fresh veggies to prepared meals that don't involve you braving a mainstream grocery store or banging your head against the booked-up delivery service dilemma.
Here are some tactics that have worked for me and my friends:
Drugstores
Most large-format drugstores have fairly robust grocery offerings, including milk, eggs, bread, frozen foods, packaged goods like cereal and crackers, and much-sought-after pantry staples like spices, flour, sugar, paper goods, and cleaning supplies. You might pay more for convenience, compared to prices at most grocery stores, but fewer customers and a quick zip-in-and-out means reducing the risk of exposure. Last week, I went in to pick up a prescription and left with a load of Doritos, cookies, and pretzels—when kids are home all day, they eat ALL THE SNACKS.
Oh, Yeah, I Forgot They Sell That
Big-box hardware stores sell cleaning products and bulk packs of paper towels. Most large office supply stores stock paper goods (TP!), cleaning supplies, and coffee. Because, like supermarkets, these outlets often sell out of these items, call before you head over.
Ethnic Grocery Stores
These markets usually have wide selections of produce, meats, and other goods, and tend to be less busy than general supermarkets. An added bonus? The inspiration to try new ingredients and recipes. My kids love bulgogi from our nearby Korean market, and I love to get lost in the spice aisle at the Indian shop—I recently made chana masala from scratch, and it was terrific.
Local Farms
Consider joining a CSA [community-supported agriculture] with a local farm, which will supply you a box of fresh produce and sometimes other goodies each week. Some farms deliver, but more commonly arrange a spot where you pick up at a designated time. Because you're buying from the source, produce is usually very fresh. And a rotating assortment of stuff will push you to flex your culinary muscles depending on what's in season.
Many dairy farms also offer deliveries or pickups for milk, cheese, ice cream, and more. I figured now was the perfect time to sign up for weekly dairy deliveries. Yeah, so did everyone else; I joined the waitlist behind 550 wannabe customers. Sad face. Another option: Check to see if farmers markets are operating near you. Many are open but have precautions in place to ensure social distancing. A great resource to help you find CSAs and farmers markets is LocalHarvest.org.
Meal Kit Deliveries
Blue Apron, Hello Fresh, Home Chef, Sun Basket, and many others will send you recipes and all the ingredients to make dinner. Pre-pandemic, this was a godsend for my family, with two busy parents and two young kids, these kits make the scramble to get dinner on the table easier—no need to ponder "what's for dinner?" a few nights a week. Now, I'm finding meal-prep services still offer a simple way of lining up meals without having to dream up a menu on my own and scrounge for ingredients.
Many meal-prep services offer great deals for first timers. Some services have added the option of ordering extra proteins and other add-ons with your meal kit (i.e. pork tenderloin, ground beef, fruit, smoothies, or a salad kit), an easy option for creating extra meals and stretching your inventory.
There are also services like Butcher Box, which sends you a selection of fresh meats and seafood each month. You can choose a plan that fits your needs and tastes.
"Ugly" produce—fruits and veggies that are perfectly good to eat but might be bruised, misshapen, or otherwise imperfect—delivered by mail has also caught on. It's an affordable choice for stocking your produce stash. Misfits Market and Imperfect Foods are the major players.
Restaurants, Bakeries, and Wholesalers
Restaurants are really struggling. The ones that remain open rely on take-out and delivery orders. Many have otherwise changed or expanded their business models to stay open.
Some examples: TGI Friday's now has a butcher shop that sells cuts of meat you can prepare at home. Panera Bread is offering delivery or pickup of dairy, produce, and of course its usual baked goods. Some restaurants have opened small bodegas, and others are offering full-fledged grocery pickup and delivery, tapping into their relationships with food wholesalers.
Wholesalers saw a dramatic decline in commercial business with the closing of many restaurants, schools, and other clients. Some are now selling direct to consumers, with neighborhood produce pickups, meat and seafood deliveries, and the like. One of my friends scored a birthday oyster and lobster feast for a song from a local seafood distributor, whose restaurant business has all but dried up. Restaurant Depot, a national chain that supplies the restaurant industry with cleaning supplies, paper products, and all kinds of fresh and packaged food, recently opened its doors to the general public for the first time in its 40-year history.
On lighter note, we've seen lots of fun things happening, like decorate-your-own cupcake and cookie kits from bakeshops and make-your-own pizza packages for sale at pizzerias. Keep your eyes on restaurants' websites and social media feeds to see what's available near you. Whenever possible, I try to support locally owned businesses that are important to me. When we finally move on to post-pandemic life, I want my favorite Chinese place and bagel shop still around.
Desperate for In-demand Items? Work Those Websites
Cleaning supplies, toilet paper, and paper towels have been hot items (and hot topics of conversation) since the pandemic started. Everybody seems to have a strategy. What's worked best for me? Stalking Amazon.com and Target.com. When stress keeps me awake at night, I search for stuff I need—it beats staring at the ceiling or counting sheep.
I find big sellers that ship add inventory at all hours—our editor scored 80 rolls of double-ply while binging Netflix at three o'clock in the morning.
Another tip for night owls: Some of my friends have discovered open time slots for grocery delivery services in the dead of night.
Persistence pays. Happy hunting.