What to Do When a Package Doesn't Arrive?
Last updated January 12, 2021
All the major delivery services were overwhelmed by the record volume of holiday shipments this year due to the global pandemic, but the U.S. Postal Service (USPS) was clearly unprepared and understaffed.
A Checkbook colleague who ordered her daughter a Christmas present on Dec. 15 is still waiting, a month later, for it to be delivered. The tracking information from USPS, which has not been updated since 10 days after shipment, shows that package is stuck in Buffalo.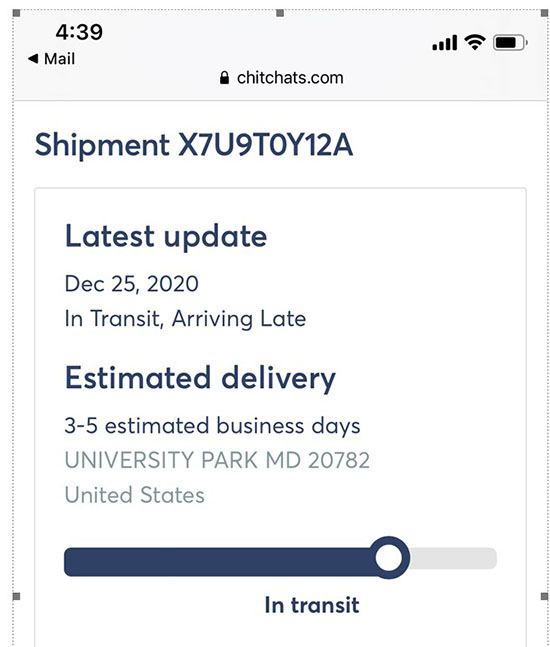 Delivery delays are still happening. The USPS website has this notice in a red banner at the top of the page:
"USPS is experiencing unprecedented volume increase and limited employee availability due to impact of COVD-19. We appreciate your patience."
You might be able to find out more about your package by calling the USPS Customer Service Center at 1-800-275-8777 or by emailing USPS Customer Service.
If you sent the package yourself using USPS Priority Mail, and it's lost, you can file a claim for up to $50. This automatic insurance coverage does not apply to all Priority Mail shipments or delivery locations. Check here for details.
Note: Normally, if you paid for expedited (premium-priced) delivery, and the item doesn't come by the promised delivery date, you could request refund. Unfortunately, these delivery standards and guarantees were suspended during this year's holiday season.
How to Get Help: Start with the Retailer
Every delivery service loses packages. So, what do you do when the item you ordered or the gift you sent doesn't arrive?
Edgar Dworsky, founder and editor of ConsumerWorld, advises contacting the online store where you made the purchase.
"As a general rule, sellers are pretty good at replacing missing shipments, but they usually have a waiting period before they will do so," Dworsky told Checkbook.
This advice is based on Dworsky's personal experience with successfully resolving two delivery problems.
Last summer, he ordered a box of masks from Newegg.com. Tracking information showed the package was sitting in a post office in Chelsea, Mass., and not moving.

"I called Newegg, and they said they have a certain number of days before they can reship an order and put in a claim with the original carrier. Ultimately, they reshipped another box of masks to me," Dworsky said.
In late December, he ordered prescriptions from CVS Caremark. USPS tracking showed a shipping label was printed, but the package was never scanned in at the receiving post office.
"I called Caremark and they said they have a 12-day rule before they can order a replacement shipment, and that I should call back the next day. I did, and they processed a replacement order and volunteered to send it two-day delivery," Dworsky said.
Keep in mind: Every retailer has its own policy for how long you must wait before they will consider the package lost.
The Credit Card 'Chargeback' Option
If you paid with a credit card and the retailer won't help, your next move is to contact your credit card issuer and ask for a chargeback.
Checkbook recommends paying with a credit card when ordering online, especially from an unfamiliar business. Credit cards offer stronger consumer protections than a debit card when there's a suspicious charge, a problem with the merchandise ordered (it's damaged, counterfeit, or not as promised), or there's a delivery problem.
"There's no guarantee you'll get your money back," said Ted Rossman, industry analyst at CreditCards.com. "Sometimes the retailer will protest it, maybe they have proof that it was delivered, but you should definitely try it."
Faced with a record increase in chargebacks since the pandemic started—both legitimate and fraudulent—card companies have gotten more cautious about issuing chargebacks, Rossman told Checkbook.
"You might get more questions than you would have in the past, especially if it's a higher-dollar amount," he said.
If your request for a chargeback is declined, and the credit card you used offers "purchase protection," Rossman suggests filing a reimbursement claim for a lost or stolen item. You've got nothing to lose and may get your money back.
More Info
Instructions from the Federal Trade Commission on how to dispute a charge for a merchandise you don't receive.
Contributing editor Herb Weisbaum ("The ConsumerMan") is an Emmy award-winning broadcaster and one of America's top consumer experts. He is also the consumer reporter for KOMO radio in Seattle. You can also find him on Facebook, Twitter, and at ConsumerMan.com.