Where's My Coronavirus Stimulus Payment? Here's How to Check
Last updated April 17, 2020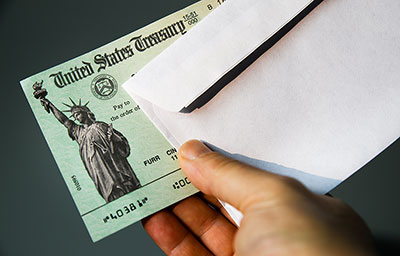 You've looked in your checking account and your government stimulus payment hasn't arrived yet.

Don't panic.

The first wave of money has already gone out to those who filed their 2018 and 2019 tax returns and used direct deposit for the refund.

The next wave is for people who get Social Security, but don't need to file a tax return.

If the IRS does not have direct deposit information for you, they'll mail you a check. That process will start during the first week of May.

At https://www.irs.gov/coronavirus/economic-impact-payments, the IRS has set up a section on its website to let you track the status of your Economic Impact Payment. You can verify your payment status, confirm whether you are set up for direct deposit or check, or to enter your bank account information for direct deposit if the IRS doesn't have your direct deposit information.

When checking your bank account look for a deposit that says "IRS Treas 312."

By the way, these stimulus payments are not taxable.

Warning: Fraudsters are expected to take advantage of this program. The government will not contact you about the stimulus program–no texts, no. emails, no phone calls. These payments are automatic and there is no fee to get them. Only a scammer would ask for personal information, such as bank account information or Social Security number. Click here for more info on these scams from the Identity Theft Resource Center.
Contributing editor Herb Weisbaum ("The ConsumerMan") is an Emmy award-winning broadcaster and one of America's top consumer experts. He is also the consumer reporter for KOMO radio in Seattle. You can also find him on Facebook, Twitter, and at ConsumerMan.com.