Why It's Safer to Use a Credit Card, Not a Debit Card
Last updated November 23, 2020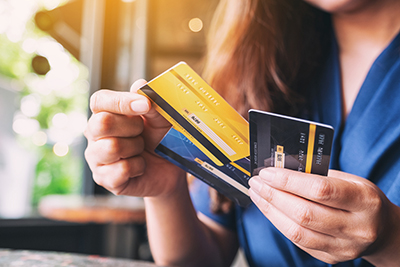 The economic uncertainty created by the COVID pandemic has changed the way many Americans pay for their purchases—switching from credit cards to debit cards.
This year, for the first time, Mastercard and Visa saw debit-card transactions and dollars spent surpass those for credit cards, according to a report from the Mercator Advisory Group. Debit cards accounted for 55 percent of purchases in the first quarter of 2020, compared to 46 percent in the last quarter of 2019.
Because debit cards are linked to checking accounts, some people find using them, rather than credit cards, help them stick to their budgets and avoid going into debt. And that makes sense.
But under federal law, credit cards have stronger fraud protection than debit cards whether they are lost or stolen, or if there are unauthorized charges.
Credit Cards
The maximum liability for unauthorized use of your credit card is $50. (In most cases, the bank won't make you pay anything.)
If your credit card number is stolen, but not the card, you are not liable for any unauthorized use.
Debit Cards
You are not liable for unauthorized charges if you notify the bank or credit union within 60 days of when the statement showing that charge was sent.
If you wait longer, you could be responsible for the full amount of any unauthorized transactions that occur after the 60-day period and before you notify the financial institution.
This article from the FTC explains the federal rules that apply when a debit or credit card is lost or stolen.

What "Zero Liability Protection" Really Means
You may feel confident using a debit card for online purchases if it has a Visa or Mastercard logo. Both companies highly promote their "zero liability" protection policies, which guarantee that you won't be held responsible for "unauthorized transactions" as long as you "protect your card" and notify the financial institution that issued the card "immediately."
This zero liability protection does not apply when you make a purchase with your debit card and there's a problem after the sale, and the merchant won't make it right. In that case, you may be on your own.
As explained in numerous Checkbook articles, when you use a credit card you automatically get powerful consumer protections from federal laws and the policies of the credit card companies. The biggie: If you're dissatisfied with your purchase or the service you received, you can dispute the charge and withhold payment. In our experience—feedback from consumers and our staff who have needed to request "chargebacks"—credit card companies are far more likely to side with consumers than businesses during these disputes.
Wanda (who did not want her last name used) learned the credit-vs.-debit-card lesson the hard way. She responded to an ad offering free bottles of supplement pills and used her debit card to pay the $9 shipping and handling. The company charged her $180 and instantly withdrew that amount from her checking account.
"I called the bank right away and tried to get it stopped, but they said it was too late and they couldn't do anything except cancel my card," Wanda told Checkbook.
Wanda complained to Fraud.org and made a lot of noise on social media. Eventually, the company returned the money. But she remains frustrated that her South Carolina bank would not reverse the fraudulent payment.
"I got the money back, but I had to go through a lot to get it back," she said. "It just aggravated the hell out of me."

If There's a Problem, Your Bank May Not Help
"The banks are stingy with giving you your money back when they think they can get away with delaying it, or convincing you that it's your problem and not their problem," said Ed Mierzwinski, senior director of the Federal Consumer Program at U.S. PIRG. "You try to dispute a transaction and the bank throws sand in the gears."
Consumers who can't get help from their financial institutions often file complaints with the Consumer Financial Protection Bureau. Checkbook looked at the complaints filed since the first of the year and found a common theme: Problems related to debit cards (fraudulent charges, overcharges, non-delivery of merchandise, or delivery of broken merchandise) and banks unwilling to help.
In the complaint below, a consumer from California describes how the bank refused to provide a chargeback when a new washing machine arrived broken:
"I tried for over six weeks to resolve the issue with the merchant on my own and only after they stopped all the communication I filed the chargeback. The merchant was contacted by me numerous times, and the merchant's failure to respond was submitted in my detailed letter to the bank to help with a chargeback filing documentation. The bank refused to help by stating that they do not get involved in these types of disputes."
A consumer in Arizona complained to the CFPB about the lack of help with an unauthorized charge of $290. The consumer filed a dispute with the bank, and was promised a provisional credit in 10 days if the issue had not been resolved. After three weeks, the consumer contacted the bank and was told to file the dispute claim again. Another 30 days went by and still no response or provisional credit.
"… At this point my account had gone into the negative [and] accrued numerous fees… [the bank] closed my account without warning because of a negative balance. The negative balance was due to service fees…"
Checkbook contacted the American Bankers Association about these types of complaints. We received this statement from the ABA's Senior Vice President Nessa Feddis:
"Consumers are protected from fraudulent card transactions whether it is a debit or credit card transaction," Feddis wrote. "For both, customers generally are not liable for 'unauthorized transactions' if they are reported in a timely fashion."

That Debit Card is the Key to Your Banking Account
When you pay with a debit card, you are authorizing a withdrawal from your checking account. When you pay with a credit card, you are tapping a line of credit provided by the bank. So, the financial risks are significantly different.
"When you dispute an unauthorized purchase on your credit card, you aren't out any money. However, when you dispute a suspicious $100 purchase on your debit card, for example, the bank blocks you from using those funds while it investigates," said John Breyault of the National Consumers League.
By law, the bank or credit union generally has 10 business days (20 days for an out-of-state transaction) to investigate and respond when you report an unauthorized debit card transaction.
"If you need those funds to pay a bill, you could end up racking up late fees or bounced check charges while the bank investigates," Breyault explained. "That's why we strongly urge people to use credit cards when shopping online."
And remember, there's no guarantee the bank will decide in your favor and put the money back into your account.

Worried You'll Spend Too Much Using a Credit Card?
Some people can't handle credit cards. They run up huge balances that can jeopardize their financial wellbeing. If you prefer using a debit card to rein in your spending, consider using a credit card for online purchases or to pay companies with which you have little previous experience.
"Responsible use of credit that includes paying off your balances and staying within your budget can help turn that plastic into a powerful tool for building a strong credit history," said Bruce McClary, a vice president at the National Foundation for Credit Counseling. "Spending that leads to unmanageable debt can cause plenty of stress and damage your credit scores."
Remember: Paying with a debit card does not provide any benefit to your credit file or help boost your credit scores, because it doesn't involve credit.
Credit cards typically provide perks not offered with debit cards. With some credit cards you can get cash back or earn travel rewards. A credit card is also the better choice for major purchases, such as appliance and electronics, because you can dispute the charge (chargeback right) if the item arrives broken or isn't what was advertised. Some cards also offer "return protection" as a perk.
"A smart financial plan includes a credit card and a debit card that you can use at the appropriate times," McClary said.

Protect Yourself
Debit cards are an enticing target for cyberthieves, so it's important to do few things to reduce your risk:
Monitor your checking account. When it comes to fraudulent activity on your account, the sooner you spot a problem, the better. Go online or use your bank's app to review your account at least once a week. If anything seems suspicious, contact your financial institution immediately.
Limit the funds in your checking account. A debit card is the key to your bank account. If a crook gets ahold of it, they can drain your checking account. The smart move is to keep enough money in your checking account to cover upcoming bills, and transfer in money from a separate savings account as necessary.
If you are unhappy with the way your financial institution handled a credit card or debit card dispute, file a complaint with the Consumer Financial Protection Bureau. You can report credit or debit card fraud to the Federal Trade Commission.

More Info
Contributing editor Herb Weisbaum ("The ConsumerMan") is an Emmy award-winning broadcaster and one of America's top consumer experts. He is also the consumer reporter for KOMO radio in Seattle. You can also find him on Facebook, Twitter, and at ConsumerMan.com.