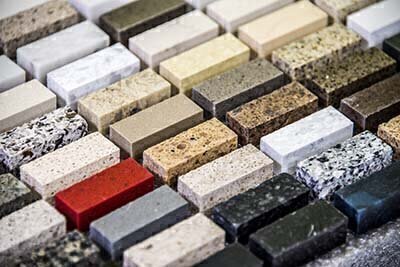 Countertop materials range from wood to plastics to metal to stone. Manufactured quartz—formed from stone chips, resins, and pigments—is edging out natural stone materials in popularity, thanks in part to its durability and its availability in zillions of colors. (There's also a kind of natural stone called quartzite, which is swirled gray and white but behaves more like marble or granite.) Major brands include Caesarstone, Cambria, and Silestone. Quartz and quartzite prices are on par with granite.
Other of-the-moment counter options: concrete, bamboo, and stainless steel. The last stands up to Top Chef-style cooking and provides a dose of industrial cool. Marble—classic and elegant—is a top choice in Europe and looks terrific, but it is prone to chips and—if not well-sealed—stains. Some people consider this weathered chic; others deem it shabby.
Most countertop materials are available in a range of finishes, the two most popular being polished (glossy) and honed (matte). Ask to see samples of "leathered" or "pebbled" styles, which appear earthier and more textured.
You'll also have to select a type of edge. You can get beveled, rounded, and eased or straight profiles. Eased and beveled look more modern; rounded edges appear more traditional and are less prone to chipping.
Then there's color. Thanks to improved technology, manmade materials like quartz and affordable laminates can mimic the look of hard-to-maintain marble and come in zillions of patterns and colors. Creams and whites remain hip, though black (particularly in popular-but-finicky soapstone) is also trendy.
Once you've made all these countertop calls, shop for the best price. The table below shows prices our undercover shoppers were quoted by local companies to supply and install a countertop made with Black Galaxy granite, using the exact same design. As you can see, prices varied dramatically, from $2,100 to $3,895. And Home Depot and Lowe's did not offer the lowest prices.
Of course, quality of fabrication and installation is at least as important as price. Check the customer reviews of countertop suppliers and installers for ratings of area outfits. Also check with friends, ask to see examples of a company's recent installations, and note how closely a company's staff listens to you and how carefully they measure.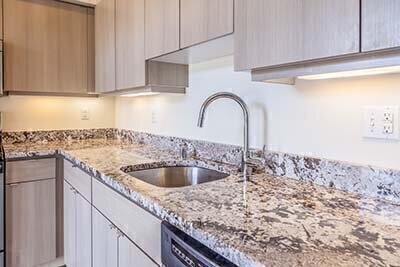 Ask retailers about their warranties. Do they cover repairing or replacing counters if they stain, chip, or crack? Know that it's far easier to get a warranty on quartz or another manufactured product than on granite; since manufactured counter materials are brand-name and engineered, they usually come with a guarantee against chips, scratching, or warping for 10 to 20 years. Granite and natural stones are usually ineligible for such warranties.
Most vendors can have your new countertops cut and installed within a week to 10 days, unless your material is out of stock. Be sure your designer or countertop seller comes to measure beforehand to prevent cutting mistakes.
Lots of homeowners who buy new kitchens don't have fond memories of the experience (to put it mildly). But there is much you can do to ensure smooth redos, starting with insisting on a solid contract. Click here for lots of advice on how to supervise and survive large remodeling projects. We also offer advice on selecting cabinets, plus ratings of local suppliers.

Illustrative Granite Countertop Prices*

Price (including
fabrication and installation)
Granite Expo
45000 Underwood Ln #J-K, Sterling, VA, 703-435-3350
$2,100
Flintstone Marble & Granite
14700 Southlawn Ln, Rockville, MD, 301-340-2320
$2,304
Designer Surfaces Unlimited
5103 Pegasus Ct #D, Frederick, MD, 301-831-4443
$2,439
Pyramid Granite
7956 Twist Ln #C, Springfield, VA, 703-455-5757
$2,530
Artistic Granite & Marble
7910 Cessna Ave, Gaithersburg, MD, 301-670-0760
$2,595
Granitech
8210 Cinder Bed Rd #700, Lorton, VA, 703-550-7912
$2,670
Classic Granite & Marble
8246 Sandy Ct #A, Jessup, MD, 301-776-8220
$2,709
Home Depot
Multiple locations
$2,723
Fairfax Marble & Granite
4080 Walney Rd, Chantilly, VA, 703-378-1080
$2,730
Counter Culture
11339 Georgia Ave, Silver Spring, MD, 240-428-6315
$2,757
ASSI
11270 Old Baltimore Pike, Beltsville, MD, 301-937-2800
$2,826
Washington Marble & Granite
10088 Tyler Ct, Ijamsville, MD, 301-831-1323
$2,872
Lowe's
Multiple locations
$2,946
Dominion Granite & Marble
44645 Guilford Dr #207-209, Ashburn, VA, 703-369-7625
$3,002
EuroStoneCraft
13912 Park Center Rd, Herndon, VA, 703-435-5551
$3,127
Norwood Marble & Granite
3400 Windom Rd, Brentwood, MD, 301-887-1014
$3,340
International Marble & Granite
5719 Lee Hwy, Arlington, VA, 703-241-2705
$3,369
Bray & Scarff
6801 Wisconsin Ave, Bethesda, MD, 301-654-4150
$3,390
R Bratti Associates
401 E Glebe Rd, Alexandria, VA, 703-549-6800
$3,350-$3,451
Cabinet Discounters
9153 Arbuckle Dr, Gaithersburg, MD, 301-258-7360
$3,645
Marblex Design International
2926 Prosperity Ave, Fairfax, VA, 703-698-5595
$3,895

* Prices are for Black Galaxy granite and include fabrication and installation for three countertop sections, each 3 centimeters thick with standard square edge, with the following measurements: (1) 77" x 24"; 79" x 24 " with a sink cutout; and 541/2" x 24". No seams (each section fabricated from the same material). Companies were provided drawings, measurements, and additional specifications and instructions.