Buying 'Used' or Vintage Engagement Rings
Last updated January 2017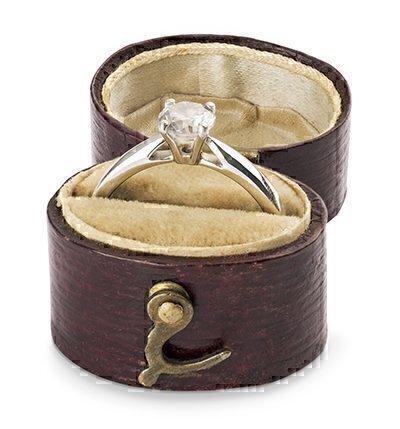 Given that nearly half of American marriages end in divorce, there's a large secondhand market for diamonds. But is snapping up someone else's breakup bauble—or stone—a good bargain or bad juju?
For buyers, sources of secondhand diamonds include eBay, Craigslist, jewelry stores that sell vintage rings, and, for the practical-if-not-romantic, pawn shops. If you choose to bargain hunt this way, get one certified by the Gemological Institute of America (GIA) and consider asking your potential seller to go with you to an independent GIA gemologist to verify the stone before paying for it.
Keep in mind when shopping that if you don't like the setting, you can easily have it reset to your liking and still save a lot over buying retail.
Since the GIA didn't start issuing reports until 1953, diamonds in vintage settings may be hard to evaluate. If you want the retro, often-one-of-kind appeal of an antique, shop at stores that have highly regarded estate or vintage jewelry departments—and staffers who know about older cuts like mine and rose. You'll sometimes score a deal on a vintage ring or stone, but not always; a particularly artful setting or unusually cut stone could mean a flash-from-the-past is priced the same (or more) than a current bijou.
If you go with person-to-person purchasing (eBay, Etsy, or Craigslist), beware of scams like a phony GIA certificate, defective diamonds that have been treated, and more. Paying via PayPal or with a credit card will let you dispute the charge if you buy from a diamond-biz deplorable.
If you want to sell a stone, don't expect to get what you paid for it. You might get a higher price selling to an individual via eBay or Craigslist rather than a store, but you'll get your cash faster from a jewelry store, diamond wholesaler, or mail-in gem buyer and avoid the hassle of setting up your online sale, weeding out weirdos, and so on. Online, major players include DiamondBuyersIntl.com and WPDiamonds.com. There's also a kind of middleman business, I Do Now I Don't, which helps you sell your old diamond or ring. It takes 15 percent of the sales price as commission.