Is It Important to Buy a GIA-Certified Diamond?
Last updated January 2017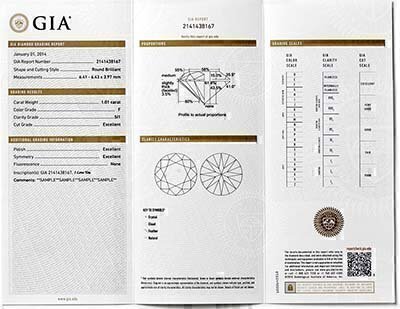 Most diamonds are evaluated by the Gemological Institute of America (GIA). There are other certifications, including the European Gemological Laboratory USA (EGL USA), American Gem Society (AGS), and International Gemological Institute (IGI). But because the GIA has the highest standards, and because color grades and clarity measures often get inflated by non-GIA scales, we advise buying only diamonds with GIA reports.
The GIA offers four types of reports:
Diamond Grading Report—The most comprehensive report, it includes a map of the diamond's inclusions, valuable when comparing otherwise identical stones.
GIA Diamond Dossier—Available for diamonds 0.15–1.99 carats, it doesn't include inclusion mapping, so is less comprehensive than the Diamond Grading Report, but provides identifying laser inscription information.
Diamond eReport—An electronic-only report available for diamonds weighing 0.15–2.99 carats, it provides a magnified image of the diamond.
Diamond Focus Report—Available for stones under 0.4 carats.
When reviewing diamond reports, along with the other facts, check the comments section, which captures defects that aren't described elsewhere. Because sometimes these comments poorly describe major defects, one expert recommends playing it safe by selecting only from diamonds with no additional comments in the Diamond Grading Report. On the other hand, if you're shopping for value, you might look for a stone with comments: We found these minor, usually microscopic defects often had major impacts on prices.