How to Choose a Tree Service
Last updated November 2018
Remember the trees in The Wizard of Oz, the scary guys who talked tough and threw apples? They didn't look very happy, you'll recall, so it wasn't surprising their bite was even worse than their bark.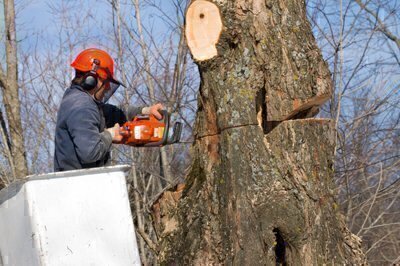 Healthy though they appear most of the time, on occasion your trees might become equally shady characters, done in—and perhaps ultimately brought down—by disease or damage or both.
Our Surveys of Customers
Our ratings of area tree care services will help you choose companies that can offer advice and perform the work. We regularly survey Checkbook and Consumer Reports subscribers, plus other randomly selected individuals, and ask them to rate tree care services they have used. For companies that received 10 or more ratings, our Ratings Tables show the results of those surveys. Click here for more information on our customer surveys and other research methods.
Although several area companies rate quite high for the quality of their work, the news is not all good. In addition to complaints of lousy customer service by companies that rate poorly, customers often complained of being overcharged, getting poor results, and having their property damaged by careless, untrained workers.
Complaint Records
Our Ratings Tables also show counts of complaints we gathered from the Better Business Bureau (BBB) for a recent three-year period, the number of complaints on file with local government consumer protection offices for a recent two-year period, and complaint rates relative to the volume of work companies do. Click here for more information on reported complaint counts and rates.
Licensure
Companies operating in Maryland must be licensed to perform virtually any tree care work—including removal—for trees taller than 20 feet. Licensure means that at least one employee of the company has passed a difficult written state-administered exam. To qualify to sit for the exam, a candidate must have taken at least two years of college coursework in an accredited forestry, arboriculture, horticulture, or applied agricultural sciences program or have worked for at least three years with a licensed tree care expert. To check on a company's licensure status, search the state's online list or call 877-620-8367.
Neither the District nor Virginia requires tree care companies to be licensed.
Payment Policy
Check with companies to see if you can wait until the job is finished before paying. Withholding payment gives you leverage to ensure work is done properly and on time. Most companies will allow you to withhold the entire amount until completion, but a few require customers to pay at least half earlier. If possible, make all payments by credit card, which allows you to dispute the payment if things don't go as planned.
Insurance
Check whether a company's liability insurance and worker's compensation insurance are current. Ask to see certificates of insurance, and call the company's insurance carrier to verify. If a company is not properly insured, it may not be able to compensate you for harm it causes you or damage it inflicts on your property, and may not be able to pay for injury to its own workers or other people, or for damage to your neighbors' properties. If the company doesn't pay, you may be liable—even for injuries to the company's own workers. This is a serious concern because high-powered equipment, heavy branches and trunks, lofty heights, and proximity to power lines make tree work dangerous.