Is It Worth It to Reupholster Furniture?
A good piece of furniture deserves a second chance. But if you're thinking of redoing a sofa, chair, or headboard, first take a dispassionate look and decide whether it will last long enough to justify the cost of reupholstering.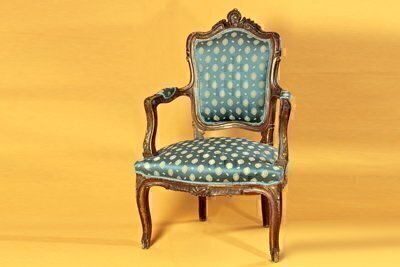 Don't recover if the piece is unlikely to outlast the new fabric. Most furniture of at least medium quality should hold up through one or more rounds of reupholstering. But check the condition and quality of your item. Make sure there are no cracks in exposed wood, and that legs or castors are solid and firmly secured. Then examine what's beneath the surface by taking hold of an arm and pushing it from side to side. If the piece is in good condition, the arm won't wobble or creak. Also, lift one end of a sofa to be sure the frame doesn't sag or creak.
If it is fundamentally a good piece of furniture, it may be easy to fix a frame that doesn't seem solid. To check, turn the item over and remove a portion of the dust catcher beneath. Some signs of quality:
Solid hardwood, rather than plywood or fiberboard, used for key structural elements, such as the long piece that runs beneath the knees across the front of a sofa
Wood at least 1 1/4 inches thick used for key structural elements
Reinforcing blocks used to strengthen corners
Coil springs under the seat, with each spring tied by twine in eight directions—although firmly secured sinuous wire springs (long wavy wires) used in many high-quality pieces may function equally well
You can get an opinion about the quality of a piece by taking small pieces to the upholsterer's shop. For large pieces, ask a pro to visit your home. Most shops will send out an estimator at no charge. Keep in mind that an upholsterer might be biased toward advising you to restore an old piece, rather than sending you to a store to buy something new.
But even if your club chair or Chesterfield sofa is good quality, you may not save money by reupholstering it. By reupholstering, you do retain the frame, springs, and probably some padding and stuffing. But the price of a comparable new piece may be as low as, or even lower than, what an upholsterer will charge to restore an old piece.
To figure out costs of repairing vs. replacing, compare price quotes from upholsterers with prices for comparable pieces of new furniture. If your existing piece is of very high quality or an antique, an upholsterer's charges will be small compared to replacement costs. But if your piece is of low or medium quality, the upholsterer's fees for fabric and labor are very likely to be higher than a brand-new replacement.
Cost will not be your only consideration, of course. You might want to reupholster a piece if you particularly like its design, it matches other pieces in your home, it fits perfectly in the available space, or for sentimental reasons. Also, you might want to recover because the fabrics you like best aren't available on new pieces.
If you decide to buy something new, our ratings of furniture stores will help you find a reliable retailer.