How to Pick a Solar Energy Company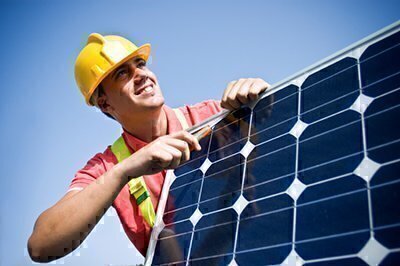 Whether you decide to buy or lease a system, there are many decisions to make, the most important of which is choice of company.
Here at Checkbook.org, you can read customer reviews of solar energy system installers, but because solar is just now catching on with area homeowners, we unfortunately don't yet have a lot of ratings in our database. (If you've bought or leased a system, please help your fellow consumers by submitting ratings about your experience.) Another source of referrals, of course, is to ask neighbors and friends who have gone solar.
In addition to a trove of info about solar energy, the websites of the SEIA and the Clean Energy Authority include directories of installers, as do websites for the North American Board of Certified Energy Practitioners (NABCEP) and EnergySage.com.
We urge you to get in touch with at least three companies to discuss options and obtain recommendations and price quotes. Check the following, and if you plan to lease, there's even more to consider.
Are you certified?
Certification by SEIA and NABCEP are the most common. For its certification, NABCEP requires training by an accredited group, demonstrated experience with several installations, and successful completion of a comprehensive examination. SEIA's certification requires training (which it offers) in five mandatory courses on solar installation. There are other programs, including certificates from community colleges and vocational centers. While no certification guarantees that an installer will perform good work and provide accurate advice, because these programs seem to be well-conceived, well-managed efforts, we think it's worth seeking out certified companies.
How long have you been installing solar energy systems?
Residential rooftop solar installations became common only recently, motivating a lot of contractors to crowd into the market. You don't want your home to be a guinea pig for an inexperienced installer.
Can you supply references from recent customers in my area who received installations similar to mine?
You probably won't hear many discouraging words from this group—it's not as if companies are likely to refer you to customers suing them for lousy work—but references can give you some idea of an installer's abilities. Ask references if they're happy with the work and if it was performed on schedule for the quoted price. Also check with the Better Business Bureau and local government consumer protection offices to make sure each company has a clean complaint history.
Based on its assessment of your roof's size and orientation, and your home's electrical consumption, does the company think your home is a good fit for solar? If so, what size and type of system does it recommend?
Ask it to explain its recommendations. When our undercover shoppers asked a sampling of installers for their recommendations for a typical house, we received wildly different proposals, with some installers proposing systems that were three times larger than what others proposed. The problem, of course, is that installing 40 panels rather than 10 panels means you'll pay roughly four times as much for the work—which means installers have a financial incentive to recommend a lot of panels. While more panels will generate more electricity and further lower your electricity bills, you won't get the bang for your buck from extra panels if they are poorly situated compared to well-situated ones. It's better to be conservative: Because solar energy systems are modular, you can always add panels later on if you want to generate more energy. Compare companies' recommendations with estimates you can obtain from pvwatts.nrel.gov and solar-estimate.org.
Where on your roof will panels be installed? How much space will they cover?
Will the system require you to regularly do anything? How can you monitor its performance to make sure it's working properly?
Will the company secure all necessary permits? How much experience has the company had connecting solar energy systems to your utility company's grid?
Again, you don't want to be a test case for an inexperienced company. Tying your system into the grid requires permits and waiting periods that aren't necessary for most other residential projects. You want an installer that knows how to take care of paperwork and red tape efficiently—and that does not leave you with an illegally or improperly connected system.
Are you adequately licensed and insured?
Solar installations involve electricity, which poses serious risks to workers, your family, and your property. Make sure any installer you consider has an electrical contractor's license; then verify it with the licensing authority. Also, ask installers to show you certificates proving that they carry liability and workers' compensation insurance.
Will it use subcontractors?
If so, ask it to provide a list of all subs and proof that each is properly licensed, insured, and certified.
Does the company offer a choice of panels? If so, how do upfront costs and energy savings of efficient panels vs. less efficient models compare?
What's the warranty?
If you lease, it'll be the company's responsibility to keep things working. But if you buy, you'll want to minimize repair costs. Panel warranties should run at least 20 to 25 years; inverters should be covered for at least 10 years. Installation warranties should last at least five years.
How long will it take to get things done?
Try to tie down start and finish dates, including the time needed to secure necessary building permits and permissions from your utility company.
How much will it cost?
If you plan to lease, click here for more advice on comparing prices. If you plan to buy, know that although prices for solar energy systems continue to decline, it's still an expensive purchase. Our mystery shoppers collected prices from a handful of companies for a standard, five-kilowatt system. As the table below reports, we found fairly big company-to-company price differences—from $19,152 to $24,000 for same-size systems—which means you should shop around.
Prices Quoted by Companies for a Sample Standard-Size Solar Energy System*
COMPANY
PRICE
Sunlight Solar Energy, Waltham, 781-373-3263
$19,152
RGS Energy, Holyoke, 888-567-6527
$21,472
Transformations, Ayer, 978-772-1390
$22,007
INO Electrical Service, Walpole, 508-472-5474
$24,000

* Our shoppers asked companies to quote prices for a standard 5 kWh solar energy system using SunPower panels and a SolarEdge inverter (or close equivalent) for a house in the Boston area with a gabled asphalt shingle roof. The roof gets abundant sunlight on its south-facing exposure. Companies were given additional, detailed specifications.
Because we found companies often provide wildly different proposals for the number of panels, our advice is to decide on a specific system size in terms of kilowatts and then ask prospective companies to propose systems to meet that size. Five kilowatts is a fairly standard size system for a house.
What tax credits, rebates, and incentives are available?
Click here for a description of what was available at the time of this writing. But because programs come and go fairly quickly, ask companies for details. You can check on your own by visiting www.dsireusa.org, a site sponsored by the U.S. Department of Energy. Ask companies to put in writing any available credits, rebates, and incentives that you'll get. Because our mystery shoppers often found companies are lousy at accurately describing these programs—and even worse at properly calculating their benefits—corroborate any info they provide.
What's the payback period for a purchase?
Compare the upfront cost of the system, minus any credits or rebates, against other incentives and annual electricity savings to calculate how long it will take for the savings and incentives to recoup the cost of the system. Companies can do this for you, but be aware that some provide overly optimistic projections.
To do the math, compare the system's estimated production (as measured in kilowatt-hours per year) to what you typically use each year to determine how much of your usual electricity costs will be offset by the new solar energy system. When computing these savings, keep in mind that the cost of electricity will probably rise one to three percent each year. This will give you a rough idea of how much you'll save each year on electricity costs.
Also take into consideration the federal and state tax credits and performance payments from your utility. The figure below reports our estimated payback period for a typical home in the Boston area.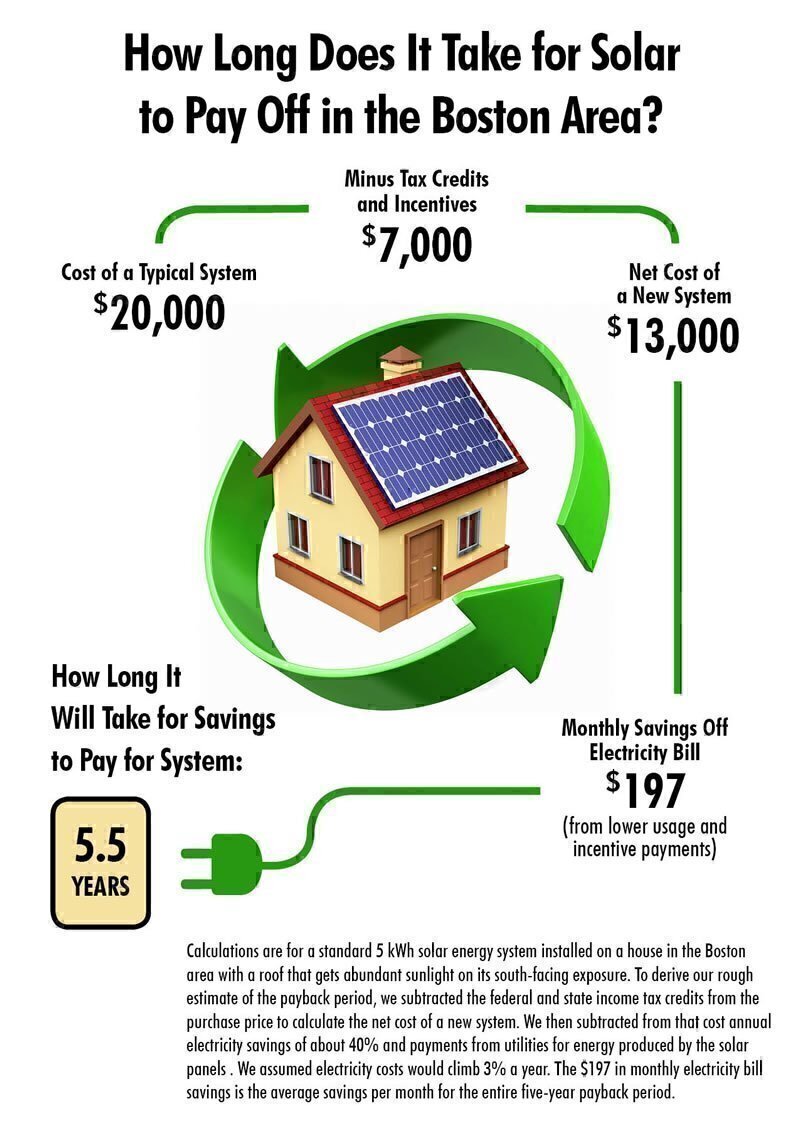 Is a big down payment required?
Avoid having to make a big deposit before work starts. By withholding all or almost all of the payment until work is complete, you retain maximum leverage to make sure the work is done correctly and promptly. If possible, arrange to withhold at least a small portion of the final payment until the system is up and running long enough for you to get a new electricity bill.
Don't bother buying a maintenance agreement.
If you lease, maintenance is the company's problem, not yours. When you buy, some installers will propose for a fee to monitor your system and make repairs for free. For most products, these types of agreements are bad deals, and that's no different for solar energy systems. Fact is, properly installed solar systems rarely need routine maintenance.
Once you decide which company to hire, nail down all the details in a contract. Read everything, and ask the company to clarify anything you don't understand before you sign.
Be realistic.
In addition to overly optimistic assumptions about energy production and payback periods, the proposals you receive probably will include important-sounding terms drawn from the world of finance, like "return on investment" and "internal rate of return," or that use the language of environmentalism, like "installing a solar system will cut X tons of carbon dioxide." Look, it's okay to be skeptical or cynical. Solar panels aren't retirement accounts, and while solar energy for sure can play a very important role in reducing your use of fossil fuels, these are expensive purchases that you should approach very carefully.