Which Grocery Stores Offer the Best Prices and Quality?
Last updated September 2018
Our ratings of local chains and stores report how each stacks up for price and quality. To compare prices, our researchers used a 154-item market basket of common items—and a lot of energy—to shop area options. To evaluate stores on quality of products and service, we surveyed area consumers. The results are reported in our ratings tables and summarized below.
Whole Foods appears to have lowered its prices since the Amazon buyout, but it remains one of the area's most expensive grocery chains.
When Amazon purchased Whole Foods last year, many consumers were excited by the prospect of paying Amazon-like prices for Whole Foods-quality products. But we're not there quite yet.
Whole Foods built a loyal following by offering high-quality produce, meat, prepared foods, and generic staples, evidenced by the very high ratings it gets for the produce and meat quality questions in our surveys of grocery store customers. Whole Foods' customers continue to rate it highly on our surveys for quality of fresh produce and meat—about the same as before the buyout.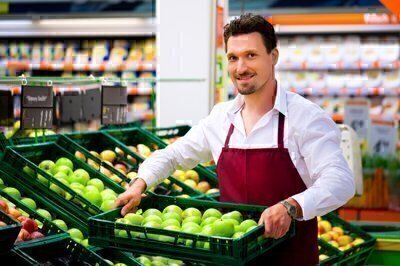 But our price surveys always found it charges whole-paycheck prices; in 2016, when we last shopped area stores, Whole Foods' prices were 53 higher than Wegmans', another area chain that consistently gets very high quality ratings. Although Amazon successfully spins up a lot of media attention each time it announces a (usually minor) price cut at Whole Foods, the chain remains the most expensive option among local chains and stores we shopped. But there has been some price movement: This time we found its overall prices were about 26 percent higher than the average prices at all stores we shopped, or 30 percent higher than Wegmans'. And we found the prices it charges for its "365" store brand and independent brands (Whole Foods sells few national-brand products) remain more expensive than the least expensive options offered at the other chains and stores.
One reason Amazon bought Whole Foods was to obtain its grocery distribution network, and Amazon continues to expand its grocery delivery business. Click here for our report on grocery delivery services.
Whole Foods' Amazon Prime discounts don't yet add up to much.
Like most grocery stores, Whole Foods uses "loss leaders"—widely advertised discounts on a small number of items—to draw customers into stores (when calculating our price comparison scores, we use these sale prices). But there's a new twist: Amazon Prime members who provide their phone numbers at checkout automatically receive further discounts (they can also scan coupons available on Amazon's smartphone app). Prime members get an extra 10 percent off items already on sale at Whole Foods, plus special Prime-only discounts on a handful of other weekly special items.
While these perks sound great, we found that so far they aren't worth much. Compared to most other grocery stores, Whole Foods runs very few sales (the store we checked the week we wrote this only had 23 items on sale) and offered only five Prime-only specials. Sometimes its Prime-only deals are designed to garner a lot of attention: For Valentine's Day, it hyped that Prime members could buy two dozen roses for $19.99, instead of $24.99. But because Whole Foods and Amazon offer so few of these discounts, they won't save most shoppers much money.
Amazon likely isn't done making changes at Whole Foods. We'll continue to check in.
The area's price winners were PriceRite, Market Basket, and Walmart.
PriceRite, which offers a somewhat odd assortment of its own products and independent brands (similar to ALDI and Trader Joe's), plus some steeply discounted national-brand products, offered prices about 23 percent lower than the average at all other stores we surveyed.
The other two big savers were Market Basket and Walmart. Market Basket's prices were about 18 percent lower than the all-store average; Walmart's were 17 percent lower.
For a family that spends $200 per week at the supermarket, an 18 percent price difference could total more than $1,800 a year.
The next-best bets for low grocery prices in the Boston area: Hannaford (nine percent lower than average) and Target (eight percent lower).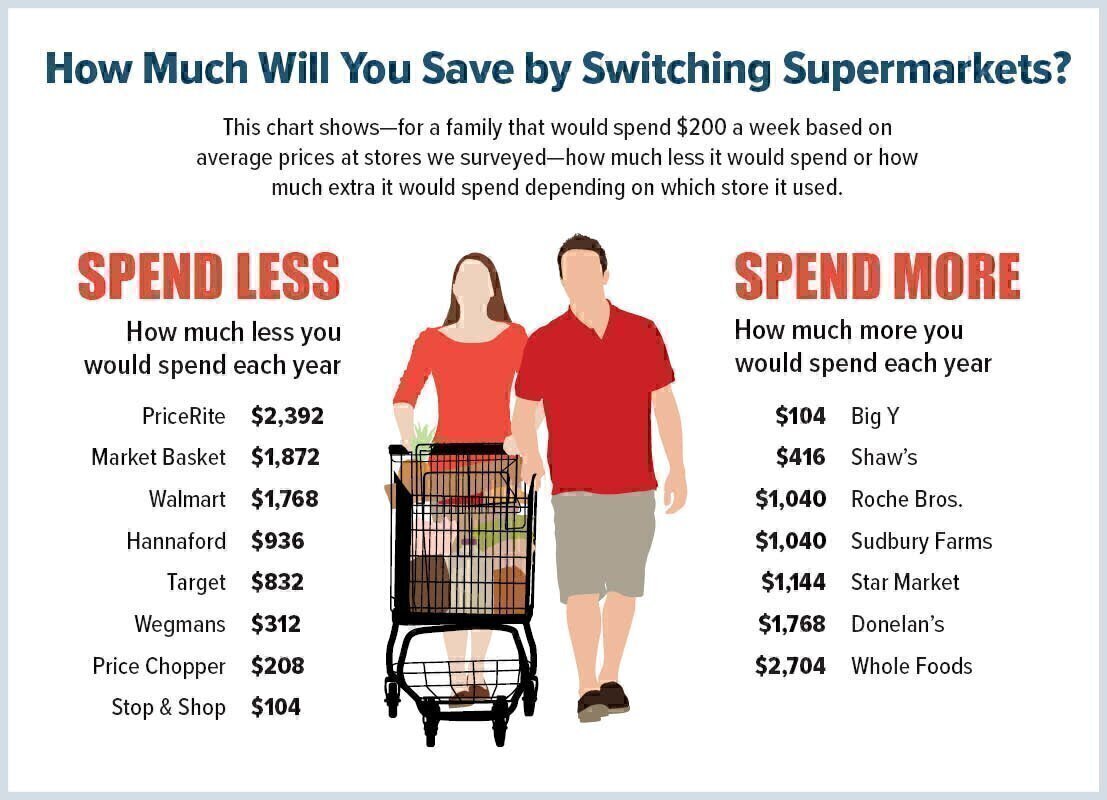 Market Basket continues to impress with high ratings for quality and low prices.
Although Market Basket doesn't receive top scores for the quality of its produce or meat, it does receive very high ratings for our survey question on "overall quality"—and, as we mention above, is one of the lowest-priced area chains.
Hannaford was also rated "superior" overall by a respectable 74 percent of its surveyed customers.
Wegmans has also quickly become a fan favorite, wowing its customers with high-quality products and service—and not charging a big price penalty for it.
Ever since it entered the Boston area, Wegmans consistently has earned very high ratings from its customers for quality while offering low prices. It continues to rank #1 for quality with our raters (88 percent rated it "superior" overall and 83 percent rated its produce "superior") and offers prices that are about three percent lower than the average prices at all the stores we shopped. The Rochester, N.Y.-based chain has five Boston area stores.
Stop & Shop's prices were about five percent lower than Shaw's.
On the quality side, Shaw's, Star Market, Stop & Shop, and Walmart received very low ratings from their surveyed customers.
All four of these chains rated near the bottom of the list for "quality of fresh produce," "quality of meats," and "overall quality." Walmart was rated "superior" overall by only 17 percent of its surveyed customers, Stop & Shop by only 34 percent, Shaw's by 35 percent, and Star Market by 36 percent. (While we received too few ratings for Target to report scores, it also receives low scores in the other metro areas where Checkbook is published.)
In contrast, Market Basket, Roche Bros., Sudbury Farms, Wegmans, and Whole Foods received favorable ratings.
All were rated "superior" overall by at least 75 percent of their surveyed customers.
Prices at Donelan's, Roche Bros., Star Market, Sudbury Farms, and Whole Foods were a lot higher than the other chains we surveyed.
In our survey, each offered prices that were at least 10 percent higher than the all-store average.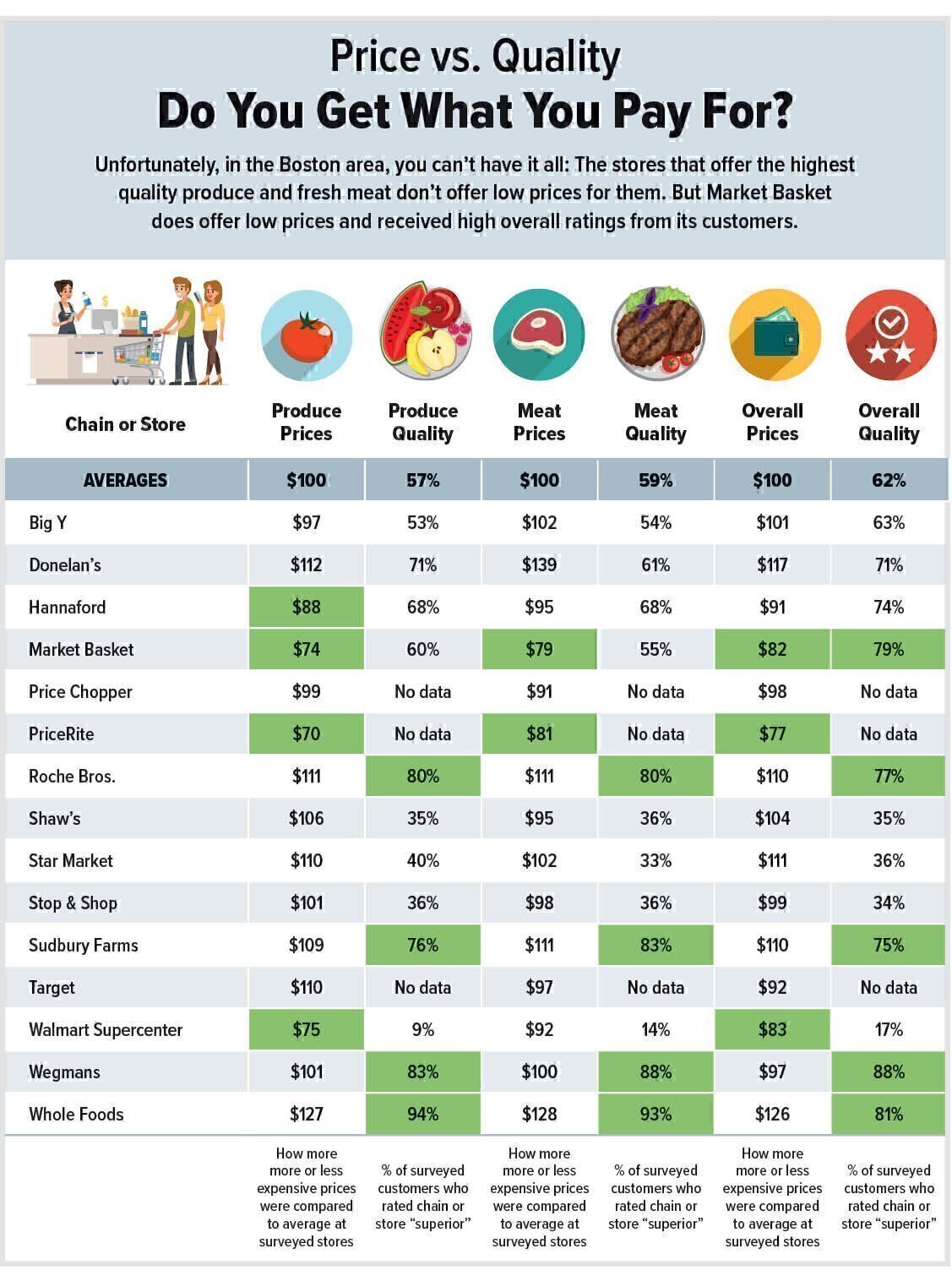 Target charges high prices for produce.
Produce prices at the Target store we shopped were 10 percent higher than average, making it one of the area's more expensive outlets for fruit and veggies. In general, we found that Target stores around the U.S. that lack scales at checkout, and therefore price produce per piece or package, offer undersized items relative to their price tags. (At Target and other stores that price produce per piece, we used our own scales to weigh items to convert costs to price per pound.)
Within the largest chains, there is relatively large store-to-store price variation.
We surveyed three Shaw's locations and three Stop & Shops. The lowest-priced Shaw's store had prices that averaged six percent less than the highest-priced location; there was a six-percent swing in prices among the Stop & Shop stores we surveyed.
You can save by substituting store brands and generic products for national brands.
When we substituted cheaper generic and store brands for about one-sixth of the items in our price-shopping market basket at Stop & Shop and Shaw's, the total cost of the full market basket dropped by about five percent.
Check out the other articles in our "Grocery Stores" category and our ratings tables for info on all the local grocery options, how we rated them, and tips on saving no matter where you shop.