Getting You to Places and Getting Stuff to Your Place
Last updated November 2018
Meal Delivery
Meals on Wheels consists of 5,000 community-based programs nationwide. It harnesses 2 million volunteers who deliver free or low-cost meals to seniors, often along with friendly visits, safety checks, and, occasionally, tasks like dog walking or reading aloud. Some programs operate out of senior centers or housing developments that serve meals on location. Most require an application with priority given to home-bound or lower-income seniors. Search for programs in your area by visiting www.mealsonwheelsamerica.org, or call 888-998-6325.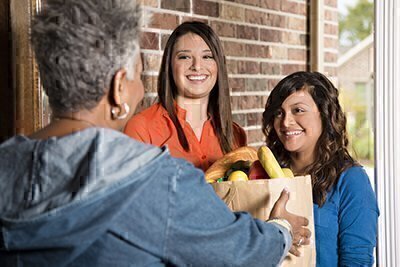 There are many ready-to-prep meal delivery services, including Blue Apron, Hello Fresh, Chef'd, and Plated. Specialty companies include Sun Basket with organic, paleo, and gluten-free options, and the vegetarian Purple Carrot. Most meals cost around $10–$12 apiece and serve two.
Restaurant food delivery services include newish apps like Uber Eats and Grubhub. There's an upcharge (usually from $1 to $5 per order), but these providers often will bring chow from places that don't have their own devoted delivery staffs or even offer online ordering. Still, don't forget that your local pizzeria or Chinese joint probably delivers for free.
There are now also several private meal services aimed at seniors' dietary needs (diabetes, high blood pressure), including Silver Cuisine by bistroMD and Magic Kitchen. But their shipping fees can be high; for instance, Silver Cuisine charges $19.95 for most two- to five-day deliveries, and Magic Kitchen runs $20 and up for shipping. Most ship with dry ice in a cooler or insulated box via UPS or FedEx. (Caveat: There's usually a lot of packaging to get rid of.)
Grocery Delivery
There are now lots of options, but you'll pay more for the privilege of skipping the store. Click here for our evaluation of grocery delivery services.
Transportation
Because many seniors must give up their cars, public transportation, ride-sharing, and taxis become vital for getting around.
If you have a smartphone, ride-sharing apps Lyft and Uber offer convenient and inexpensive transportation. You can hire a driver to take just you on a single trip, or use their even cheaper "pool" options and get picked up and dropped off along with others whose requested routes lie near yours. If you don't have a smartphone—and don't want to get one—you can sign up with GoGoGrandparent (855-464-6872) and call it to connect to Lyft or Uber for a fee of $.27/minute.
There are also free or subsidized public transportation passes for seniors, plus ride services to help fulfill medical appointments and other basic needs. Check with your jurisdiction's office on aging or an elder village for options.
In the Twin Cities area, seniors 65 and over can get reduced fares on rail and bus trips with their Minnesota driver's licenses, Go-To Card, or Metropass. For instance, a non-rush hour bus fare would be $1 for seniors and $2.25 for others.