How to Get the Best Deal on Appliances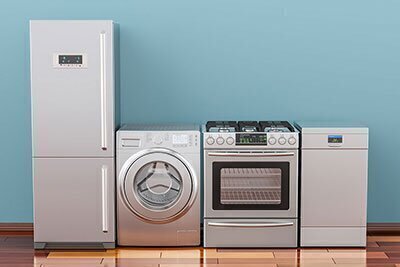 When buying an appliance, you want sound buying advice, careful and prompt delivery, and a trouble-free installation—but not at a steep price. Fortunately, we find that highly rated stores often quote prices as low as, or even lower than, their low-rated competitors.
Our undercover shoppers sought prices for 17 appliance models from the stores listed in our Ratings Tables. We used the prices we were quoted to calculate our price comparison score for each store. These scores show how each retailer's prices compare to the average price for all surveyed outlets and are adjusted so that the average price comparison score is $100. Prices for a retailer with a score of $105, then, were five percent higher than the average; prices for a retailer with a score of $95 were five percent lower than the average.
We included stores' fees to deliver and install each appliance we shopped, to haul away an old appliance, and for any needed parts or installation kits. If a store told our shoppers it does not provide installation services for the type of appliance we shopped, we added our estimate of the average price charged by local plumbers to do the work.
The table below lists the lowest and highest prices quoted by local stores (including national chains) for each appliance model (again, including costs for delivery, haul-away, and installation).
Here's a rundown of what we learned from shopping for the best appliance prices:
Don't assume sale prices are low prices.
Don't assume that any sale price—even one that seems to be heavily discounted—is a real deal. The "sales" offered by many local stores and on most websites probably aren't special at all. At most stores the "sales" for appliances never end. We tracked prices for 33 weeks at 25 major retailers and found that many stores use deceptive practices, especially when selling appliances. Even if the sign says "Save 60%," it's probably meaningless and not even a good deal.
Although general price competition for appliances is less pronounced than for many other products, you should still shop around.
Our undercover shoppers collected prices from local and online retailers and still found big savings. For most of the products we priced, some retailers quoted costs that were hundreds of dollars less than what their nearby competitors would charge.
Because it is easy to obtain price quotes from salespeople at appliance stores and on websites, consumers willing to make four or five phone calls or online price checks could save several hundred dollars—or more, if you're replacing all your kitchen appliances.
You don't have to pay more for superior service.
Shop at stores that receive high scores from area consumers. For each appliance model we priced, we received at least one low price quote from a top-rated store.
Don't assume online-only retailers are less expensive than local stores.
Although we often found low prices online, our shoppers usually found better deals at local retailers.
Even if you don't want to buy online, make sure you're paying a low price by comparing the prices at local stores to prices from online sellers—but don't bother with Amazon. Our shoppers tried to price appliances there but gave up after sifting through page after page of separate listings for the same models.
Big chains don't necessarily offer the lowest prices.
Among local stores and chains, Costco's price comparison score ($80) is the lowest. Prices at Steve's Appliances ($93)and Appliance Outlet ($94) were also among the lowest. Prices at national chains Best Buy, Home Depot, and Lowe's were about the same as the averages for all other stores, and Menards' prices were about seven percent higher than the all-store average.
Call or email stores to get price quotes.
Appliance manufacturers use a bad-for-consumers policy called "minimum advertised price," or MAP. It requires retailers to advertise product prices at or above preset minimums. Want to sell something made by GE, LG, Whirlpool, et al.? You can't advertise it at a price that's lower than a minimum price set by the manufacturer.
These constraints, designed to squelch price competition and boost profits, mean the same prices are advertised from retailer to retailer. But MAP policies don't constrain retailers from selling products for prices lower than these minimums. If you call or email stores for quotes, you'll often be offered prices that are lower than advertised—especially from independent stores.
When shopping for prices, mention that you're contacting multiple stores for quotes to initiate competitive bidding.
This makes salespeople offer their best prices upfront—which they do only if they know you will buy elsewhere for a better price. At independent stores, our shoppers found that informing sales staff that they were getting price quotes from multiple stores often spurred discounts, waivers of delivery and installation fees, or both. Getting big chains to be flexible took more effort, but when our shoppers waited and waited on hold to speak with sales managers, they sometimes secured better deals.
Our advice? Solicit competitive bids from four or five of the retailers listed on our Ratings Tables (starting with those highly rated for quality). Ask to speak to someone with authority to provide discounted pricing, and give them the makes and model numbers of the appliances you want. Be clear that you are calling multiple companies for bids and will buy from the store that offers the best deal.
Be polite, businesslike, and let stores know that you get competitive bids whenever you make major purchases. Most appliance salespeople are accustomed to providing discounted pricing if you ask. If the store with the lowest price doesn't get high service ratings, call one that does and ask it to match your price.
When comparing prices, take into account fees for delivery, haul-away, and installation.
Some stores include fees for delivery, hauling away old appliances, and installation in the price of the appliance; some charge a flat fee for delivery and installation; and some charge separate fees for each service. Some retailers levy steep fees for these services, quickly turning a seemingly good deal into a not-so-good one. For example, some stores quoted our shoppers prices of $250 or more to install dishwashers and $200 or more to install gas ranges.
To avoid add-on-fee surprises, ask for separate prices for each service you need—then you'll know whether it could cost less to have an independent pro do the work instead. And if you don't need delivery or installation, say so and the store can adjust prices accordingly.
Determine what the store will and won't do when installing appliances.
Some appliance stores have employees (or, more commonly, subcontractors) who can perform any type of appliance installation; but some companies won't install dishwashers, and others won't connect appliances to gas lines. Some delivery personnel won't do anything but move appliances into place and plug them in.
If you buy from a store that doesn't provide full installation services, and you aren't comfortable doing it yourself or with the help of a friend, you'll have to hire a plumber or appliance repair service. Reasonably priced plumbers charge less than $150 to hook up clothes washers, gas stoves, or dishwashers. When comparing appliance prices, take these expenses into account.
Many consumers prefer to deal with stores that offer complete installation services. If something goes wrong, this arrangement eliminates disputes between the store and you and/or the plumber or handyman you hired over who is at fault.
If you know your installation will be difficult or unusual, hire a trusted pro to do the work.
Some installations are complicated. To replace dishwashers, countertops may have to be removed. If you're replacing an electric appliance with a gas model, or vice versa, gas lines must be run or removed. Replacing very old appliances may require new pipes and connections. Most plumbers can handle all these jobs. And if you're adding an electric clothes dryer to a new space or to an old room that isn't wired adequately, an electrician will be able to install a new circuit and connect it.
Ask about installation kits.
Extra parts must be purchased to install many appliances; ask stores about prices for these "installation kits". Our shoppers found that the websites of major chains automatically added required parts to our appliance orders, which was a big improvement over a few years ago when websites of most chains provided inaccurate info.
If a contractor is handling your appliance purchases, make sure you are getting a good deal.
When pricing remodeling jobs, general contractors usually work out an appliance budget or allowance with customers, and use it to select models to purchase and install. We have no problem with an arrangement like this, but check prices to make sure you can't do significantly better. Find big savings? Ask the contractor to buy from the low-priced retailer—and adjust your contract price accordingly. Remodelers frequently mark up the prices they pay their retail and wholesale sources, often by a lot.
Skip the extended warranty.
Extended warranties, protection plans, and extended service agreements are essentially appliance insurance policies. Unlike auto, homeowners, health, and life insurance, they insure against relatively small losses—potential repair or replacement costs—and pay out in claims only a small portion of what they take in. Most new appliances are very reliable, and those that do break down are likely to do so right away, while still under the manufacturer's warranty. And keep in mind that charging them on a credit card often doubles the length of manufacturers' warranties.
Extended warranties are a good deal for the stores that sell them, and the companies that administer them and pay the claims—but a bad deal for consumers. On average, more than half the price of extended warranties goes to the retailers, and much of the rest stays with the company that backs and administers them. Less than 20 cents of every dollar taken in actually gets paid out in claims.
Because retailers make so little on the sales of appliances themselves, it's hardly surprising that appliance buyers have to virtually fight their way out of the store to avoid buying an extended warranty. Many retailers count on the sale of extended warranties for most—or even all—of their profits.
If you are still thinking about buying an extended warranty, shop around. You don't have to shell out for one at the time you purchase the appliance, nor do you have to get it from the store that sells you the appliance.