Best Places to Buy Carpet
Last updated in April 2016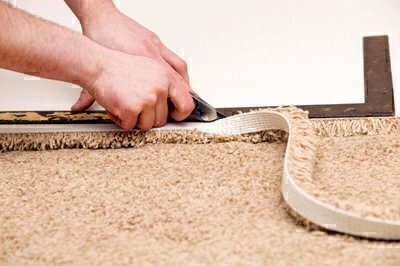 You'll want to shop for carpet at stores where you can get good advice, good selection, quality installation services, and honest business practices—at reasonable prices. Our ratings of area stores will help you find them. We asked area consumers (primarily Checkbook and Consumer Reports subscribers) to rate carpet stores and carpet installation companies they had used as "inferior," "adequate," or "superior" on several questions. Our Ratings Tables show the percent of each company's surveyed customers who rated it "superior" on each question. (Our Ratings Tables list all companies that received at least 10 ratings for either carpet selling services or installation services. Click here for more information on our customer surveys and other research methods.)
Variety and Layout
Stores vary in attractiveness and convenience of display. Most stores display wall-to-wall carpet samples on racks or in sample books, while carpet remnants and rugs are hung from racks, stacked, or stored in rolls around the store. It's important that stores have good lighting and enough room to lay out a rug or remnant, to let you see what it looks like open on the floor.
The selection and size of remnants change frequently. Some stores have a hundred or more different colors and styles of remnants; others have very few. Our Ratings Tables report how surveyed consumers rated each store on "ease of looking at/testing products."
Convenient Services
Once you've found carpeting you like, see how it goes with your furnishings before you make a final purchase. Shop at stores that let you take home carpet samples and/or area rugs; most stores offer this service. Also find out if the store will bind carpets for area rugs or arrange for custom-made rugs. Some carpet stores also offer carpet or rug cleaning, repairs, appraisals, restoration, or design services.
Advice
You're likely to have a lot of questions about the carpets in the store and options for your rooms. Our Ratings Tables show how stores were rated for "advice on choice and use of products and related questions." As you can see, some stores got very low ratings on this question.
Reliability
We also asked customers to rate companies on "reliability (standing behind products, delivering on time, etc.)." The portion of surveyed customers rating stores "superior" ranged from less than 50 percent to more than 90 percent.
In addition to ratings from customers, our Ratings Tables show counts of complaints we gathered from the Better Business Bureau (BBB) for a recent three-year period. Click here for more information on reported complaint counts.
Installation Service
Unless you are a deeply committed do-it-yourselfer, you'll want professionals to install your carpet. Almost all stores that sell wall-to-wall carpet offer installation services. Some use their own employees for the work; others contract out installations.
Installation problems are among the most common source of carpet buyers' complaints. A poor job, such as inadequate stretching of carpet, or uneven, bumpy, or loose seams, can ruin the appearance and durability of even an expensive carpet.
Our Ratings Tables show what percentage of surveyed customers rated each company's installation service "superior" for "doing work properly," "promptness," and "overall quality." Several companies were rated "superior" on some or all of these criteria by 50 percent or fewer of surveyed customers, but others were rated "superior" more than 80 percent of the time.
Warranty
The quality of a store's warranty is a good indicator of the reliability of its sales and installation operations. Most carpet stores and installers offer written warranties on carpet installation. Most warranties are valid for a year from the date of installation, but some are valid longer (up to three years, in some cases). Some explicitly disclaim responsibility for visible seams so long as the installation has been performed in a workmanlike manner in accordance with industry standards, but don't assume visible seams are covered—even in warranties that lack this explicit disclaimer.