How to Get a Good Price for a Move
Good service is only part of the equation—you also want a good price. You'll find tremendous price differences from equally reliable moving companies.
Moves Within Minnesota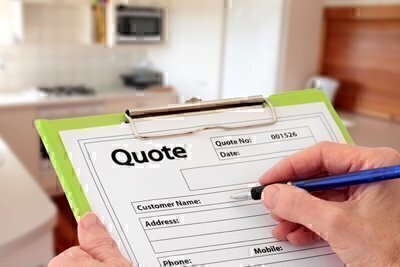 For intrastate moves of 50 miles or less, companies typically charge based on hourly rates for the number of workers and number of hours it takes to pack, load, move, and unload household goods. The only way to get a good price is to shop around. Ask several movers to provide written estimates showing the hourly rates they have filed with the state for the number of crew members it plans to use for your move. You cannot be charged more than this rate multiplied by the actual number of hours required. For longer intrastate moves, charges are based on mileage and weight according to rate tariffs a company has filed with the state. If you get help packing, prices will also include charges for labor to pack and for any company-supplied containers.
Unfortunately, Minnesota law doesn't allow movers to offer binding estimates (and doesn't even require movers to provide estimates). If the job takes more time than estimated, a company can charge substantially more than the estimate. This means customers are exposed to the possibility of being lowballed—and hire a company that has a low estimate when a company with a higher estimate might do the job for less. On the other hand, the law does prohibit movers from charging for more hours than a move actually requires.
Make sure your quote details services to be performed and goods to be transported. Otherwise, on moving day you may find yourself in a dispute with a mover who wants to charge you extra for work you thought was included. Prepare a written inventory describing the rooms and major items to be moved; then have the estimate refer to this list, with an attached copy.
To illustrate the range of bid prices you can expect, the figure below shows illustrative prices for two local moves. As you can see, moving companies quote widely divergent prices for the same jobs.
Our Ratings Tables report hourly peak-season labor rates for two-, three-, four-, and five-person crews. The hourly rates varied substantially.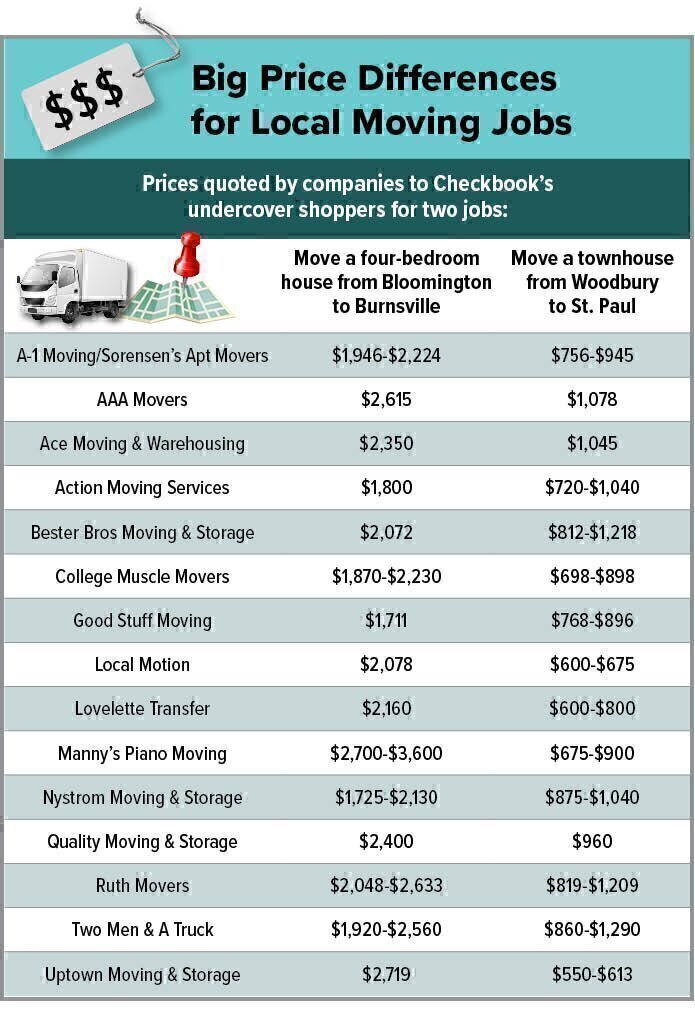 Interstate Moves
For long-distance interstate moves, moving companies must operate under a tariff system that calculates the cost of moves using weight and mileage, not hours. Company tariffs also stipulate special charges for packing and exceptional matters, such as storage, extra stops, and waiting time.
However, a company's specific tariff rate for a given move is somewhat irrelevant, because it can still impose exceptions to its filed tariff rates. Usually, a company simply agrees to discount its tariff rate, or portions of its tariff rate, by a specified percentage. It might, for example, agree to give you a 35 percent discount for the long-haul part of its charges and a 20 percent discount for packing.
If you wish to have your move governed by the tariff, less specified discounts, have the company give you a nonbinding estimate that shows its rates and the promised discount. Actual charges will be determined during the move itself. For example, the company's estimate will include an estimated weight; the truck will be weighed before and after your load is added; and you will be charged for the actual, not estimated, weight of your load. With a nonbinding estimate, you will only be required to pay up to 110 percent of the estimate cost at the time of delivery (no more than 10 percent above the estimate); the mover can bill you for any remaining charges after 30 days from delivery.
Alternatively, a mover can offer a binding estimate. You will pay no more and no less, as long as you make no changes to the job. If you add work after the estimate is prepared—additional furniture, for instance—your estimate will be refigured.
In preparing binding estimates, moving companies consider the same factors as when they prepare nonbinding estimates—weight, miles, special circumstances, etc. Having estimators follow similar guidelines ensures carriers that different agents will prepare similar bids. That's important because the revenue of carriers, independent driver-operators, and destination-city agents are all affected by the price charged by the booking agent. But guidelines for binding bids are important only for the company's internal purposes: You pay the bottom-line quoted price even if the load weighs far more or less, or packing takes far longer or shorter than expected.
Many companies offer a third option: estimates with a binding maximum, usually referred to as a "not-to-exceed price." You won't have to pay more than the maximum, but you'll pay less if your load is lighter than expected.
The easiest way to compare movers is to get binding estimates or estimates with a binding maximum. If you don't yet know which items you will move, you can use a nonbinding estimate for the long-haul charges. Get estimates in writing, and understand what each estimate does and does not include. Not getting a binding total price for the packing and packaging materials portion of the job is risky, however, because you'll have no way to make sure the company packs efficiently.
The figure below includes illustrative prices for three long-distance moves quoted to our undercover shoppers by phone. No packing is included (because estimates for packing can't be given by phone). We for the most part found big price differences.