Creating an Aging-Friendly Space
Most U.S. residences are designed for families without disabled members. AARP estimates that barely one percent of homes incorporate any "universal design elements," which are ways to build or refit spaces so they can be accessed, understood, and used by all people, regardless of their age, size, ability, or disability.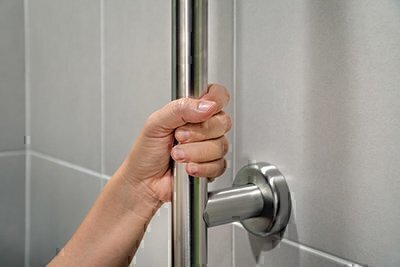 To get your home in shape for your senior years, you can retrofit spaces with things like grab bars and non-slip rugs, or renovate rooms using universal design principles. Examples: installing floating sink vanities that a wheelchair can slide under, or adding a chairlift or elevator to your two-story house.
Some homes—one-level condos with elevator access, single-floor ranch houses—suit aging residents better than others, but any space can be made more accessible.
For help, check out the "AARP HomeFit Guide," which includes a room-by-room checklist of best practices and resources.
If you're considering remodeling or upgrading your home to make it universally accessible, consider consulting with an occupational therapist or search for a Certified Aging-in-Place Specialist (CAPS) on the National Association of Home Builders website. To earn that certification, contractors, builders, and architects must take a two-day course on designing for and dealing with aging clients. It's not a terribly rigorous program, but certification indicates that a contractor or other pro is interested in and performs this type of work.
Here's a summary of AARP's recommendations for building or retrofitting an aging-friendly casa:
Entries and Exits
Sidewalks and Paths
Should be smooth, well-lit, and flat to ensure no one trips or catches a cane, walker, or wheelchair wheel in cracks or loose gravel.
Entryways
Where possible, at least one entrance to your home should have no change in elevation from outside to inside, since a high floor plate can cause trips.
Be sure entries and exits are well-lit to prevent falls and accidents.
Front Door
Your front door should be at least 36 inches wide to allow for a walker or wheelchair.
Install a lever-style handle; they're easier to open than traditional knobs.
A peephole will help you avoid admitting unwanted guests.
Throughout the House
Doorknobs
Replace hard-to-grasp round doorknobs with easier-to-use lever handles.
Floors
Eliminate toss rugs, and prevent area rugs from slipping by securing them with grip tapes or rug pads.
Lighting
Good lighting, whether natural or electric, helps prevent falls and makes running into furniture less likely.
Install rocker light switches (easier to locate and use than traditional flip switches). These switches and electrical sockets should be placed at about three feet off the floor so they're not too low or too high for someone in a wheelchair to reach.
Plug in nightlights (or dimmable lights that function similarly) in bathrooms, hallways, and other spaces where you walk at night.
Furniture
Arrange sofas, beds, end tables, and other items to create clear, wide passageways (wider for someone using a walker or cane, or in a wheelchair).
Beds, chairs, and sofas should be neither so high they require a footstool to get into (aka "Princess and the Pea"-style old-fashioned beds) or so low that getting in and out requires Cirque du Soleil-esque contortions. Also avoid or replace seating that is too soft or too deep. Ideally, chairs and sofas will have stiff arms (the better to push yourself up safely), a seat height of 17 to 19 inches, and a seat depth of 20 inches with very little slope.
Bathrooms
Floors
Make floors less slippery by installing tiles with wider, grippier lines of grout.
Use a mid- to large-size area rug with a pad in place of a bathmat, which can slide around and cause falls.
Grab Bars
Placed on the wall in or near the shower or bath or toilet, these sturdy slip-preventers are often marketed as "shower rails." Grab bars can be design-savvy and attractive, as in a mod toilet-paper-roll holder that doubles as a support for rising or standing. Make sure each is properly installed into walls (reinforced with blocking) so the bars won't pull out.
You can also use temporary grab handles, which use suction cups. While these are fine for a hotel room, install permanent devices in your home.
Sinks
Put in a floating wall-mount sink with room to roll a wheelchair underneath it.
Single-lever or touch-on and -off sink faucets are easier for everyone to use.
Toilets
The typical commode is often just 14 to 15 inches high; 16- to 18-inch styles are easier to sit on and get back up. You can also purchase inexpensive seat risers (some with attached handles to help you stand up more easily) at medical supply stores or home improvement centers.
Showers
Fashionable and sleek walk-in showers (where there's no lip between bathroom floor and shower floor) look good and provide easy access.
Install multilevel showerheads (one overhead and one at torso) to accommodate sudsing up either seated or standing.
Consider a built-in bench or stool to facilitate showering while seated.
Main-Floor Access
If you don't have one, consider building a main-level bathroom.
Wide Doors
Choose 36-inch-wide doors instead of the standard 30- or 32-inch-wide models to allow easier access for people in wheelchairs or using walkers.
Hardware
Outfit your cabinets and drawers with large D-shaped pulls to ensure maximum convenience for people of all abilities.
Storage Niches
Opt for between-the-studs storage niches to house items near the vanity and in the shower. The cutouts will prevent people from grabbing on to the shelves for stability.
Hooks
Install towel or robe hooks right outside the shower for maximum functionality.
Steps and Stairs
Railings
Where possible, install railings on both sides of the stairs for increased stability.
Treads
Ensure that all steps—indoor and outdoor—are evenly spaced with no raised nails or broken boards. On interior stairs, consider installing grippy treads or a runner (sisal or carpet) that's less slippery than bare wood. Then don't leave junk on the stairs for people to trip over.
Lighting
Be sure there is adequate light during day and night to safeguard against slips or trips.
Stair Lifts and Ramps
If stairs become unmanageable, ramps (primarily for outside spaces) and stair lifts (usually but not always for interior stairs) can keep seniors in their homes and safer longer. If you have Medicare Part B, ask it to help fund a chairlift; if it deems one medically necessary, it will pay for 80 percent of what it considers the allowable cost. Otherwise these systems cost thousands of dollars, and are especially expensive if you have a curved or turning staircase.
Kitchen
Appliances
Install a stove with controls on the front to avoid having to reach over burners.
Floors
Make floors less slippery by installing tiles with wider, grippier lines of grout.
Cabinets/Counters
Consider retrofitting (or renovating) your space to include countertops that accommodate both seated and standing prep areas.
Use D-shaped drawer and cabinet pulls and slide-out shelves for easier access to cabinets. Retailers like big-box hardware stores, Bed Bath & Beyond, and The Container Store sell kits and supplies to add slide-out features to existing reach-in cabinets.
If you're renovating your kitchen, choose easy-access, under-counter drawers instead of hard-to-reach-into cabinets.