Trends in Cabinets & Countertops
Since you'll probably redo your kitchen only every 10 to 20 years, you'll want to select finishes and fixtures that you love. But make sure they fit current, up-and-coming, and long-term cabinet and countertop trends before signing any contracts or swinging a demo hammer.
Although so-called "timeless kitchens" don't exist (after all, most 1890s farmhouses now have modern fridges, not cabinets for holding ice blocks), with these tips you can get a space that you'll enjoy for years and will appeal to buyers if you resell.
Cabinets
Colors: Other hues pale in comparison to the popularity of all-white cabinets, which currently account for at least 50 percent of remodeling jobs. But colors—black, gray, navy blue, deep green—are climbing the charts, too. Black bottom cabinets are often installed in combination with white upper cabinets for a "tuxedo" kitchen.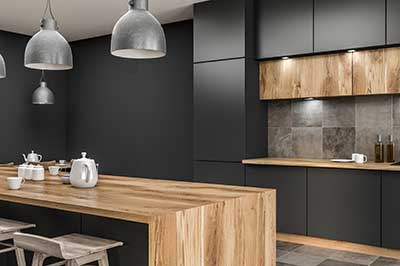 Materials: Natural wood tones are also making a comeback. But these ain't your Aunt Courtney's circa 1992 oak cabinets. Think contemporary veneers in ashy grays or mid-century-inspired walnut shades. Rustic, sometimes reclaimed materials also shine, often in the form of patinaed wood cabinet fronts or industrial-inspired iron island bases.
Features: Even inexpensive cabinets (Hej, Ikea!) can now be customized with endless built-in or semi-built-in storage features: slide-out trash cans, pot-lid organizers, spice drawers with indents for bottles of everything from anise to za'atar. Are they worth the (usually) extra cost? It depends, but if you opt out during construction and installation, it might be pricier (or impossible) to add such features later. There's even a company—Semihandmade (Semihandmade.com)—that manufactures fancier hardwood doors and drawer fronts for Ikea cabinets.
Styles: You can get doors and drawers with raised panel details (Shaker, with its clean lines and simple forms, is still popular) or more contemporary flat-panel styles. "Modern farmhouse," a kind of industrial-country mashup, is also on the rise and could mean beadboard cabinet fronts.
Function: Many cabinets now come with soft-close drawer slides: When you push the drawer in it won't slam, and instead gently retracts on its own. But because it's not always a standard option, you have to request it. Other innovations in cabinetry: fold-up cabinet doors and covering large appliances like dishwashers in the same material as cabinet doors, creating a seamless look.
Hardware: Many contemporary cabinet styles don't even need hardware; they're made with graspable lips or edges that you open sans pulls or knobs. Hardware itself is getting simpler and sleeker: flat round knobs, concealed hinges. And while chrome will never go out of style, showrooms (and design blogs) are full of matte or shiny brass and black or blackened iron-look hardware. You can even mix metals!
Countertops
Materials: Move over, granite! Manufactured quartz—formed from stone chips, resins, and pigments—is edging out natural stone materials in popularity, thanks in part to its durability and its availability in zillions of colors. (There's also a kind of natural stone called quartzite, which is swirled gray and white but behaves more like marble or granite.) Major brands include Caesarstone, Cambria, and Silestone. Quartz and quartzite prices are on par with granite. Other of-the-moment counter options: concrete, bamboo, and stainless steel. The last stands up to Top Chef-style cooking and provides a dose of industrial cool. Marble—classic and elegant—is a top choice in Europe and looks terrific, but it is prone to chips and—if not well-sealed—stains. Some people consider this weathered chic; others deem it shabby.
Finishes: Most materials are available in a range of finishes; the two most popular are polished (glossy) and honed (matte). Ask to see samples of "leathered" or "pebbled" styles, which appear earthier and more textured.
Edges: You can get beveled, rounded, and eased or straight profiles. Eased and beveled look more modern; rounded edges are more traditional and are less prone to chipping.
Colors: Thanks to improved technology, manmade materials like quartz and affordable laminates can mimic the look of hard-to-maintain marble and come in zillions of patterns and colors. Creams and whites remain hip, though black (particularly in popular-but-finicky soapstone) is also trendy.