What to Look for When Shopping for a Closet Organizer
Last updated November 2022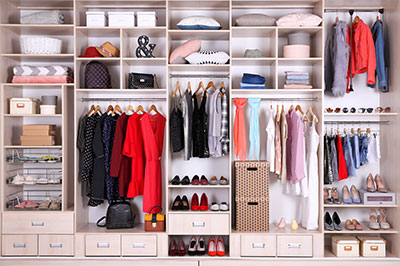 There are two basic options for redoing or creating a closet space: Hire a company that sells custom systems (like California Closets, Closet Stretchers, The Container Store, or a locally owned outfit) to measure your space, recommend a design, build or modify components, and install your new wardrobe. Or order a preconfigured system that typically allows for some customization online or from local stores, and install it yourself or have a handyman do it.
Some places (e.g., The Container Store) offer both custom and semi-custom options. Online-only sellers (e.g., EasyClosets.com and ModularClosets.com) offer handy tools that take your measurements and spit out multiple design options. They have helplines and designers who can assist with the process, but if you go the online or DIY route be sure to take very careful measurements. And if you aren't super-handy, enlist a friend or handyman to install the components. Click here for customer reviews of handyman services.
A third option: Hire a carpenter to create a closet from scratch. But because that arrangement turns a relatively small project into a big—and sometimes more-expensive—one, most homeowners opt to work with closet specialists.
Almost all closet systems involve a set of rods and shelves, and some include drawers. Fancier add-ons include everything from pull-out ironing boards to special sunglasses drawers (yes, really). As you'd expect, the more-customized options are usually pricier, but you often get higher quality finishes and better space for your buck.
You'll keep down costs by going with the fewest bells and whistles, of course. But particularly if you're hiring a custom closet-design company, at least consider all the options before vetoing them. While some systems allow for changes and add-ons, if you put in a spendy custom closet and decide not to go for the pullout clothes hamper, handbag display cabinet, or whatever, it might be difficult to install one later.
When choosing components, look for sturdy construction; the best way to do this is in person at a store or showroom. But big-box retailers may not make it easy to test out their offerings (Home Depot, for example, often showcases closet systems far above eye level), and trying before buying is not an option with the online-only guys.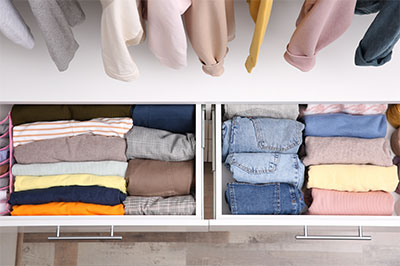 Some systems (for example, much of The Container Store's Elfa line and many brands sold at Home Depot and Lowe's) are primarily made of wire. You'll find huge quality variation among brands and models within this category. Seek pieces that don't feel flimsy, and steer clear of setups that use plastic brackets, which break more easily than metal ones.
Non-wire systems use a combo of metal rods and either laminated wood, MDF (medium-density fiberboard), or solid-hardwood shelving and drawers. Evaluate them the same way you would furniture: Do the drawers slide in and out easily? Do drawer boxes have dovetailed joints (a sign of strength and quality)? Are panels sturdy and attractive? What kind of guarantee does the manufacturer provide against breakage, damage, or warping?
Also examine how the system is mounted. Many but not all wire systems utilize a rail mount, which is a single brace that attaches to the back of the closet wall with shelves, rods, and drawers suspended from it. Wood or MDF systems are built directly onto the closet walls by creating a large frame to which shelves and rods and whatnot are mounted. Some basic DIY systems (such as the ClosetMaid line sold at Home Depot and Lowe's) have shelves, hooks, tension rods, etc., that get individually connected onto walls; we'd avoid these, since it involves making numerous holes in your walls and results in a system that's more likely to fall apart.
Most systems have adjustable shelves, which allow for customization of some areas and let you change up things. Adding or subtracting shelves or rods could help morph your toddler's closet with its shorter hanging spaces into a storage spot fit for your taller moody tween's jeans and boots. Obviously, the more personalized and flexible, the better.
Whichever system you choose, find out about warranties. Many closet installation companies offer lifetime warranties on their products and work; warranties for DIY options cover only the products and range from very limited (covering loss or breakage in shipping or delivery) to lifetime.
For custom work, arrange to pay as little as possible upfront so that you can withhold payment until all work is performed to your satisfaction. And pay by credit card: If something goes wrong (lousy install, a delivery with missing pieces) you can dispute the charges and at least get your money back.