Consumer Advocates Urge Supermarkets to Stop Digital Discount Discrimination
Last updated November 19, 2022
A coalition of national consumer groups recently sent a letter to the presidents of a dozen large supermarket chains, calling on them to "stop discriminating against senior citizens and low-income shoppers" who cannot take advantage of in-store digital-only discounts because they do not have internet access or smartphones.
The letter, sent by Consumer Action, Consumer Reports, Consumer World, National Consumers League, and PIRG, urges the industry to find a way to bridge the digital divide, so shoppers who are unplugged or not tech savvy can get the same advertised sale prices as connected customers.
"It's digital discrimination, and the most vulnerable people are being shut out of these online discounts at the worst possible time given record high inflation," said Edgar Dworsky, founder of Consumer World, who first exposed this problem several months ago. "Big supermarkets need to provide an offline alternative to the digitally disconnected so they can reap the same savings that connected shoppers enjoy."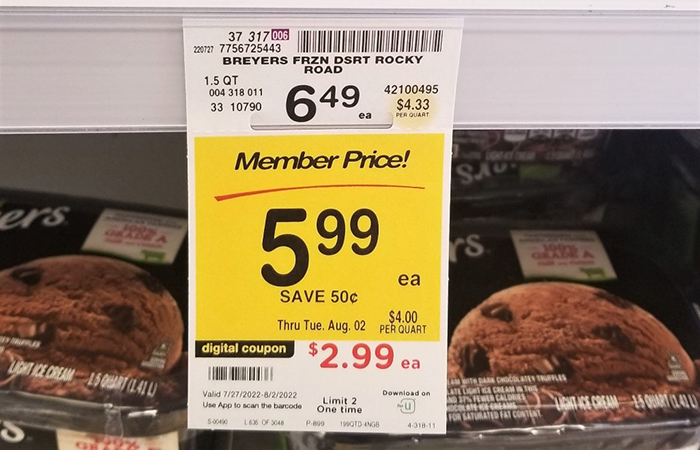 As Checkbook has reported, a growing number of weekly specials are now designated as "digital." To receive the sale prices in the store, shoppers must go online to electronically "clip" the digital coupons and add them to their loyalty card account.
The amount of money non-digital shoppers overpay can be "staggering," the consumer groups said in their letter. For example, an unplugged shopper at one store Dworsky sampled, could pay $15 more for a 15-pound Thanksgiving turkey.
Dworsky told Checkbook he worries that many customers misunderstand how these digital deals work, assuming that merely scanning their loyalty card or entering their phone number at checkout will entitle them to the advertised price.
He points to a Consumer World survey of almost 950 shoppers conducted in September. Nearly one in three could not correctly explain how to obtain an advertised digital discount. Even for customers who understand these offers and have internet access, 25 percent admitted they may lack the technical ability to use the store's app or website to get the lower price.
In their letter, the consumer groups ask the chains (Kroger, Albertsons, Stop & Shop, Star Market/Shaw's, Ralphs, QFC, Jewel-Osco, Randalls, Fred Meyer, King Soopers, Smart & Final, and Safeway) to adopt one or more of these five workarounds:
Utilize barcoded "clip or click" coupons in store circulars so customers can choose their preferred redemption methods (something done by Vons and Giant Food).
Empower cashiers to charge the digital price upon request, or upon presentation of a digital pass.
Empower customer service personnel to provide refunds for missing digital discounts.
Offer physical store coupons next to digital-only deal products for those who did not/could not electronically "clip" the offer (something H-E-B does).
Install coupon kiosks where digital coupons can be added to one's account in-store (available at ShopRite and Food Lion).
It's easy to assume everyone has access to these digital-only coupons, but many don't. Surveys by the Pew Research Center in 2021 found that 25 percent of seniors don't use the internet and 39 percent don't have smartphones. Also, 43 percent of low-income households lack broadband internet access.
"Digital coupons definitely make saving money more difficult for people who are older, don't have smart phones, or aren't tech-savvy," said Teresa Murray, Consumer Watchdog at PIRG. "What about these shoppers? They deserve to save money, too."
Contributing editor Herb Weisbaum ("The ConsumerMan") is an Emmy award-winning broadcaster and one of America's top consumer experts. He is also the consumer reporter for NW Newsradio in Seattle. You can also find him on Facebook, Twitter, and at ConsumerMan.com.