Supermarkets' Digital Offers Leave Tech-Challenged Seniors Without Valuable Discounts
Last updated February 2023
Our grocery stores section serves up ratings of local stores for quality and price and advice on ways to save no matter where you shop. A key strategy: Stock up on items you regularly buy when your store sells them at steep discounts. But, unfortunately, many supermarkets are increasingly advertising many specials through "digital-only" offers, which exclude many tech-challenged or digitally disconnected shoppers.
Listen to audio highlights of the story below:


For decades, grocery stores have given lower prices on certain items to people who sign up for their club cards. The industry is now moving quickly toward discounts that customers must access online, often by using the stores' mobile apps. Shoppers can "clip" these digital coupons by manually adding them to their accounts or scanning barcodes on shelf tags. The discounts are then applied automatically at checkout.
But what if you don't have a computer, smartphone, or aren't comfortable using technology? George, an older adult who lives in Carlsbad, usually shops at Ralphs (owned by Kroger, the fourth largest grocery chain in the U.S.). He admits to being tech-challenged—and he doesn't like being left out.
"I only have a flip phone and wouldn't know how to download that stuff if you paid me," George told Checkbook. "I don't appreciate being a second-class citizen, especially when this affects people like me, who really need these discounts the most."
In the past, George said, the cashier would let him have the digital-only discounts, but not anymore. "If that isn't discrimination, tell me what is," George said.
The Most Vulnerable Consumers Are Missing Out
"It's digital discrimination, and the most vulnerable people are being shut out of these online discounts," said Edgar Dworsky, founder of Consumer World. "Supermarkets need to provide an offline alternative to the digitally disconnected so they can reap the same savings that connected shoppers enjoy."
Dworsky worries that many consumers misunderstand how digital deals work, assuming that merely scanning their loyalty cards or entering their phone numbers at checkout will net them lower prices. In September 2022 he surveyed nearly 950 shoppers and found that nearly one in three could not correctly explain how to obtain an advertised digital discount. Even among those who understood these offers and had internet access, 25 percent admitted they may lack the technical ability to use the stores' apps or websites to obtain digital-only offers.
And not everyone has computer or internet access to seek out these discounts. Surveys by the Pew Research Center in 2021 found that 25 percent of older adults don't use the internet, and 39 percent don't have smartphones; 43 percent of low-income households lack broadband internet access.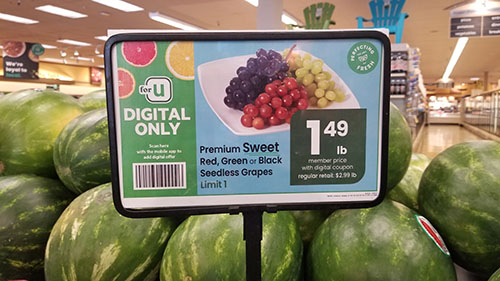 "What about these shoppers?" asked Teresa Murray, director of the Consumer Watchdog office at U.S. PIRG. "They deserve to save money, too."
A few chains, including Albertsons and Giant, display "clip or click" coupons in their weekly ads in some regions, providing their customers two options for redeeming them.
Albertsons, the country's fifth largest supermarket chain, which operates more than 2,200 stores in 34 states, told Checkbook that its customers can ask cashiers for any digital discounts at checkout. When our undercover shoppers tested this at a few stores, we were provided the discount, but the company's ads don't indicate this hack is possible.
Dworsky told us he's called supermarkets across the U.S. that are owned by several companies, including some owned by Albertsons, and found it hit or miss whether a store will provide the digital discounts if customers ask for them in-store. "That's a real problem," Dworsky said. "Supermarkets must recognize that millions of their shoppers are not technology savvy and may be on fixed incomes. All the chains should offer a simple offline alternative so those folks can take advantage of the advertised savings."
Significant Savings, Confusing Ads
In June 2022, Consumer World checked weekly circulars at more than 50 supermarkets across the U.S. and found that two-thirds of them advertised digital-only discounts.
Read Consumer World's Report: Tech-Challenged Seniors Denied Digital Discounts by Grocers
The savings shoppers can obtain from these offers are often significant: We checked ads for one chain and found dozens of digital-only sales, including buy-one-get-one-free offers worth more than $4 and per-pound discounts of $3.02 for beef sirloin steak tips, $2.02 for raw shrimp, and $1.50 for seedless grapes.
Shoppers often get confused about how to get those deals, though. It's often not clear that lower digital-only prices displayed on shelf tags won't be charged simply by using stores' standard loyalty cards.
The pic below is of a shelf tag advertising a $3 discount on ice cream. But you must know to use the store's app to scan it with a smartphone—and have a smartphone—to get that deal. How many shoppers don't understand how to do that—or mistake the lower price for a sales price anyone can get? The shelf tag doesn't really make it clear: In tiny type, it states, "Use App to scan the barcode" but doesn't say that scanning it is the only way to get the discount.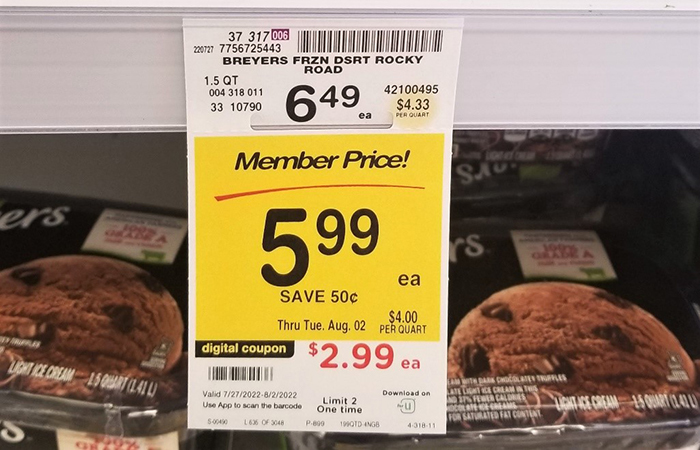 Why Is This Happening?
The number of digital-only offers is growing. According to Consumer World's survey, some chains doubled or tripled their weekly digital-only offers from June 2021 to June 2022.
Unlike with paper coupons, stores can use digital offers to target certain populations. These schemes result in fewer shoppers receiving discounts, which increases revenue.
Dworsky said, "They are a clever ploy by big supermarket chains to get people into the store, knowing that many of them will wind up paying more than the advertised price."
Linking digital offers to shoppers' club cards also helps stores and manufacturers know if their specials got customers to switch brands.
Heather Garlich, a senior vice president with FMI, an industry trade group, told Checkbook that digital coupons do two things for retailers: "They create process improvements at retail, and they reduce fraud."
Patty David, director of personal fulfillment at AARP, wants companies to invest in "age-inclusive designs," which ensure that what's developed can be used by everyone.
"It's right to want equal treatment, and to want to make sure that you have access to things," David told Checkbook. "Companies need to be aware of all ages and what their capabilities are, and make sure that whatever they're designing for…that it's an age-inclusive design."
Fight Back
In November 2022, a coalition of consumer groups sent a letter to the presidents of a dozen large supermarket chains, asking them to "stop discriminating against older adults and low-income shoppers" who cannot take advantage of in-store digital-only discounts because they do not have internet access or smartphones.
The coalition urged the grocery industry to find ways to offer digital-only prices to shoppers who are unplugged or not tech-savvy. They asked chains to adopt one or more of five workarounds:
Utilize barcoded "clip or click" coupons in store circulars so customers can choose their preferred redemption methods.
Empower cashiers to charge the digital price upon request.
Empower customer service personnel to provide refunds for missing digital discounts.
Offer physical store coupons next to digital-only deals for those who didn't or couldn't electronically clip the offer.
Install in-store kiosks where digital coupons can be added to shoppers' accounts.
Contributing editor Herb Weisbaum ("The ConsumerMan") is an Emmy award-winning broadcaster and one of America's top consumer experts. He is also the consumer reporter for NW Newsradio in Seattle. You can also find him on Facebook, Twitter, and at ConsumerMan.com.