Is the Government Really Mailing Out Visa Debit Cards Loaded with Stimulus Money?
Last updated June 2, 2020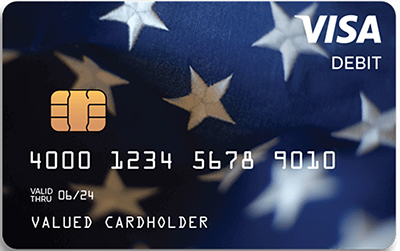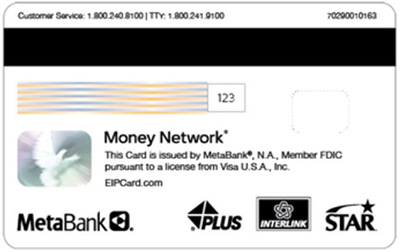 A few weeks ago, we warned that criminals are targeting government relief payments. So, it's smart to be skeptical when a debit card arrives in the mail, supposedly loaded with your IRS stimulus payment.
The Visa debit card, issued by MetaBank, is in a plain envelope that says it's from "Money Network Cardholder Services" in Omaha, Neb. No wonder some people throw it away unopened (assuming it's junk mail) or destroy the card (afraid it's a scam).
There is a piece of paper inside with the U.S. Treasury Department logo on it that says: "Enclosed is your Economic Impact Statement Card. This prepaid debit card is being sent to you on behalf of the U.S. Department of Treasury in place of a paper check."
Even so, Phil Johnson of Seattle, who was expecting a government check, thought this was a scam. Adding to his suspicion: The mailing address and the imprint on the card had his first name and his wife's last name (she uses her maiden name).
"I figured somebody is trying to steal my personal information and make off with all of the money I have," he said.
After checking the IRS website, Johnson realized the mailing was legit.
"I would rather have had a paper check," Johnson told Checkbook. "It would have been a lot less hassle getting the money into my checking account."
What's Going on Here?
Nearly 4 million people are being sent their Economic Impact Payment by prepaid debit card, instead of a check, according to this news release on the IRS website. "The determination of which taxpayers received a debit card was made by the Bureau of the Fiscal Service, a part of the Treasury Department that works with the IRS to handle distribution of the payments," it said.
So, why send this government stimulus money in a plain envelope?
According to a tweet from Monica Crowley, U.S. Treasury Department spokesperson, "EIP cards come in a plain white envelope to guard against fraud."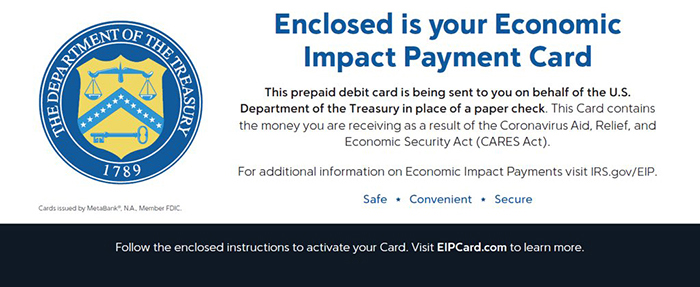 When you get your EIP payment on a prepaid debit card, you'll need to call the toll-free number on the card to activate it. Then, it works like any other prepaid card. According to the Money Network, you can use that EIP card to:
Make purchases online and at any retail location where Visa is accepted.
Get cash for free from in-network ATMs (limit: $1,000 per transaction and per day, although bank limits may be lower).
Transfer funds to your personal bank account.
There are fees for certain transactions, such as cash withdrawal from an out-of-network ATM ($2), cash from a teller ($5), balance inquiry ($0.25).
The Consumer Financial Protection Bureau has a short video on its website that explains how the Economic Impact Payment prepaid debit card works.
Frequently Asked Questions
Here are some of the answers provided on the Money Network FAQs page:
Q: I thought the debit card was junk mail, and I threw it away. Can I get a replacement?
Yes. Call 800-240-8100 and select the lost/stolen option from the automated menu. Your first replacement card is free; after that, there's a $7.50 fee.
Q: Will the Treasury Department be able to see how I spend the money loaded onto the EIP debit card?
No. Under federal law the government is not allowed to ask the card issuer about your account and the card issuer is not allowed to give the government information about your account without your written permission, except under very limited circumstances.
Q: Is the EIP debit card linked to a checking account?
No. Unlike a bank debit card, your EIP card is not linked to a checking account. It's pre-loaded with funds, and each purchase you make is deducted from that balance. You can transfer the balance to an existing checking account using the Money Network app.
Q: Can I use my EIP Card to make purchases online?
Yes, if the merchant's website accepts Visa debit card payments.
Q: Can I add the funds on my EIP card to a peer-to-peer (P2P) payment app to send money to another person?
Yes, most P2P apps (like Venmo or PayPal) will accept your EIP card as a source of funding.
Q: Will using the EIP card impact my credit score?
No. This is not a credit card and will not affect your credit score.
Contributing editor Herb Weisbaum ("The ConsumerMan") is an Emmy award-winning broadcaster and one of America's top consumer experts. He is also the consumer reporter for KOMO radio in Seattle. You can also find him on Facebook, Twitter, and at ConsumerMan.com.