Why You Really Need an Emergency Fund and How to Start One
Last updated February 2, 2021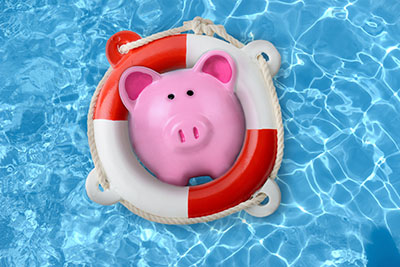 Life happens. Maybe it's an unexpected medical bill, car repair, or home appliance that needs replacing. We all need to build an emergency fund, but many people don't have this financial safety net.
Only four in 10 Americans surveyed by Bankrate.com for its January 2021 Financial Security Index said they could comfortably cover an unexpected expense of $1,000 by tapping into their savings. What would the rest do?
18 percent said they would use a credit card and pay it off over time.
18 percent said they could handle such a surprise expense without borrowing, but they would need to cut back on their other spending.
12 percent said they would borrow the money from family or friends.
8 percent said they would take out personal loans.
Paying with a credit card and going into debt to deal with a rainy-day expense is a costly way to deal with the problem.
"You're paying double-digit interest—the current average rate remains north of 16 percent— which can add hundreds of dollars to the cost of that mechanic's bill or doctor's visit," said Greg McBride, Bankrate's chief financial analyst." And if you fall into the trap of making minimum payments on that $1,000 expense, it could take you more than eight years to pay it off.
For those living paycheck to paycheck, it isn't easy to set aside money in a rainy-day fund. The key is to get started. Pick a modest goal and build from there.
"Successful saving is all about the habit," McBride told Checkbook. "Having direct deposit from your paycheck or automatic transfer from checking into savings is critically important, especially if you're starting from a position of little or no savings. That way the savings happen even before you roll out of bed payday morning."
If you wait until the end of the month, and try to save what's left, you may find that there's nothing left. Save just $20 a week and in a year, you'll have $1,000 in your emergency fund.
Even a small savings account can make a big difference for a family struggling to get by, according to research by the Urban Institute. Those with as little as $250 to $749 on hand are less likely to miss housing or utility payments or be evicted after an income disruption, the data show.
A few hundred dollars in savings could help you pay a utility bill and that "could keep you from taking out an auto title loan or a payday loan, which can lead you potentially into a spiral of debt," said Signe-Mary McKernan, an Urban Institute senior fellow.
Of course, more savings is better. The institute's research shows that higher savings are associated with even lower hardship levels. So having more than $750 is going to get you even further.
"But don't let that wanting-to-get-further keep you from getting started," McKernan said.
Rather than a traditional savings account, you may want to open a high-interest savings account with an online bank. Although rates have dropped significantly during the pandemic, online financial institutions still offer some of the highest interest rates on savings accounts, according to NerdWallet. The best online savings accounts currently pay about 0.50 percent APY, far better than the national average of 0.05 percent (almost nothing). There is no minimum balance required to open most online savings accounts.
Contributing editor Herb Weisbaum ("The ConsumerMan") is an Emmy award-winning broadcaster and one of America's top consumer experts. He is also the consumer reporter for KOMO radio in Seattle. You can also find him on Facebook, Twitter, and at ConsumerMan.com.