Where to Get Help Making Decisions About Planning a Funeral
Last updated November 2017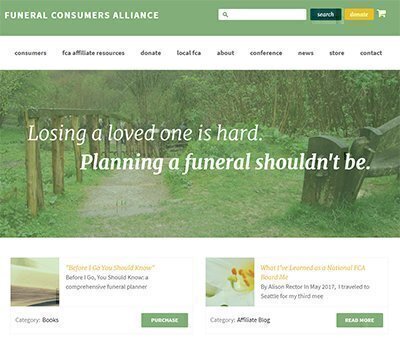 Funeral homes provide important services, but they are businesses—which means they are typically run for profit and with a goal of maximizing each sale. They make money by selling products and services, some of which you and your family may not want, need, or be able to afford.
Often a grieving family must respond on-the-spot to a long list of questions from a funeral director. The funeral director is at ease in situations of death, when the family is distraught and knows little or nothing about the choices or what they cost. The funeral director may subtly manipulate the family's grief and guilt to encourage extravagant purchases. This situation, far too common, explains why most funerals and burial arrangements in the U.S. cost between $7,000 and $10,000. There is nothing wrong with an expensive funeral, if that's what the family wants. But many families that might prefer a simple, dignified ceremony end up with something lavish and costly.
Most people need help making funeral arrangements, especially when they're made during the period of bereavement. One firm rule: Never go to a funeral home to choose the services you will be purchasing by yourself. Alone, in the hands of a funeral director, you are too vulnerable to making decisions based on grief or guilt. You need a less-involved companion to assure you that sensible cost-saving decisions are okay.
The obvious ones to turn to for help with funeral arrangements are family, friends, members of the clergy, and hospital social workers. But specialized organizations can help as well.
A particularly helpful source of advice can be funeral consumer organizations, traditionally referred to as "memorial societies." These nonprofit organizations provide consumer education and resources regarding your rights and options for burial and cremation. Some also negotiate discounted prices for their members with local funeral homes. Typically, a one-time nominal donation is required to join.
The Funeral Consumers Alliance is the national umbrella group for affiliated funeral consumer groups in the U.S. Many local affiliates perform price surveys of area funeral homes. They also provide information on organ or tissue donation, and provide information on death benefits. They do not arrange for funerals, pay for funerals, or choose a specific funeral home for you.
Below, we list contact information for the memorial societies in the area and other resources. To find memorial societies in other areas, contact the Funeral Consumers Alliance at 802-865-8300 or visit funerals.org.
Memorial Societies
Funeral Consumers Alliance of Maryland and Environs (serves the District)
9601 Cedar Lane
Bethesda, MD 20814
301-564-0006
www.mdfunerals.org
Memorial Society of Northern Virginia
4444 Arlington Boulevard
Arlington, VA 22204
703-271-9240
www.memorialsocietyva.org
Consumer Agencies
Federal Trade Commission
600 Pennsylvania Avenue, NW
Washington, DC 20580
202-326-2222
www.ftc.gov
District of Columbia Board of Funeral Directors and Embalmers
1100 4th Street SW
Washington, DC 20024
202-442-4320
Maryland State Board of Morticians & Funeral Directors
4201 Patterson Avenue
Baltimore, MD 21215
410-764-4792
www.dhmh.state.md.us/bom
Virginia Board of Funeral Directors & Embalmers
9960 Mayland Drive, Suite 300
Henrico, VA 23233
804-367-4479
www.dhp.virginia.gov/funeral
Better Business Bureau
1411 K Street NW, 10th Floor
Washington, DC 20005
202-393-8000
www.bbb.org
Professional Associations
International Cemetery, Cremation, and Funeral Association
107 Carpenter Drive, Suite 100
Sterling, VA 20164
800-645-7700
www.iccfa.com
National Funeral Directors Association
13625 Bishop's Drive
Brookfield, WI 53005
800-228-6332
www.nfda.org
Maryland State Funeral Directors Association
311 Crain Highway, SE
Glen Burnie, MD 21061
888-459-9693
www.msfda.net
Virginia Funeral Directors Association
P.O. Box 395
Hanover, VA 23069
804-264-0505
www.vfda.net