How to Get Rid of Stuff: Our A to Z Guide, from Apple Cores to Zillions of Books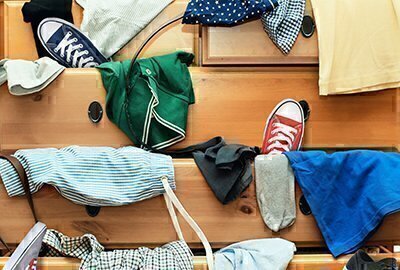 Garages so full of bicycles, basketball hoops, and junk that there's no space for your car (or anything else). Bedroom closets crammed with clothing to the point that you can't find a thing to wear (except your 20-year-old prom gown). Kids' toys that seem to multiply overnight. Most of us have too much stuff, from obsolete electronics to more garments or shoes than we can ever wear. So, how do you get rid of it all without digging your own landfill? Below are some ideas.
A
pple Cores
According to the EPA, we could compost 20 to 30 percent of what we throw in the trash. That would keep yard waste and food scraps out of landfills, where it takes up space and releases
potent methane greenhouse gas. You can add brown (leaves, branches), green (veggie and fruit scraps, coffee grounds, grass), and water (needed for the decaying process) to your own compost pile in your yard, or use one of many composting gizmos (some with live worms to help the process along). If you don't have outdoor space to compost, collect it for a mobile composting business or use a community pile.
B
ooks
Donate to your local public library, your neighborhood Little Free Library, or to Books For Soldiers, which gives free books to active-duty military members.
C
lothes
As we discuss in our article on clothing resale options, you may be able to make a little cash by selling not-too-old, brand-name clothing, but older, worn pieces may be best donated to a charity like Goodwill. Still, know that many items end up in landfills or shipped to developing countries.
If you want to donate good-quality clothing in a way that impacts your local community, look into giving your apparel to local domestic abuse shelters, homeless centers, or Dress for Success, an international organization that helps women achieve financial independence. See also our "Party Dresses" section, below.
D
iapers
Ewww, not used ones! Whether your wee ones have just been potty-trained or have graduated to a larger size, their unused diapers are welcome at the local diaper bank. To find one, head to the National Diaper Bank Network's directory.
E
lectronics
When electronics become obsolete and worthless, don't make the mistake of simply tossing them in the trash. Most contain a nightmarish mix of hazardous chemicals: lead, mercury, lithium, cadmium, and even-more-terrible-sounding materials that, if not handled properly, can pollute the earth or harm people. Click here for advice on how to safely get rid of unwanted devices.
F
urniture
Sofas, tables, and beds can cost a lot, so it can seem shocking that, when you're ready to say goodbye to your circa-1999 recliner, you might get little or nothing for it. Here are some options: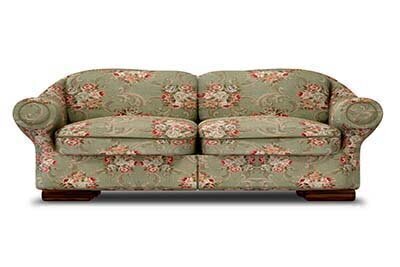 Sell It. Even some antique dealers claim you'll earn only 20 cents on the dollar for Grandma's "treasures." Still, if you have relatively new brand-name pieces, hawking them on Craigslist or your neighborhood Listserv can be a good bet. Be sure to list the original price and keywords or tags ("Hollywood Regency," "Restoration Hardware") to get lots of eyes on your former prizes. Prepare to haggle on price, and check what similar items are selling for as a guide.
There are also some furnishings consignment and auction stores which accept high-end new, vintage, and antique pieces. But, like Craigslist buyers and consumers in general, they're less interested in Grandma's dark wood china cabinet than in a sleek 1950s dresser or a mod 1960s lamp.
Donate It: Don't want the hassle or the usually low returns of selling furniture? Take a tax deduction! Many charities accept furniture donations, but you'll often have to haul the stuff there yourself. Goodwill and local charity thrift shops may also accept (and haul) furnishings—check with nearby organizations for details.
G
lasses
Give old specs new life via the Lions International's LERC (Lions Eyeglass Recycling Centers), which accept old horn rims et al. at drop-off locations in many U.S. cities as well as via the mail. Lenses and frames get sorted, separated, and repurposed for the needy.
H
azardous Waste
Old batteries, fluorescent lightbulbs, oil paints, chemicals used in pest-killing, household tasks, etc.: Anything labeled "Caution," "Danger," or "Poison" needs to be disposed of at a facility that handles hazardous household waste. To find one near you, visit Earth911.com and enter your Zip code. For more advice on how to responsibly get rid of your household hazmats, read our article on hazardous household waste disposal.
Instruments
Sure, you gave up the flugelhorn after high school, but it's still hanging out in your attic. Put it or other musical instruments back to work in schools via Instruments in the Cloud, which donates to classrooms across the country.
J
unk in General
One guy's trash may be another dude's treasure, but sometimes you just need to get rid of a load of crapola?—?especially if you're clearing out a whole house or doing a construction project. You can shuffle off a lot of detritus quickly either by hiring a dumpster company (be sure to secure the
permitting if you need to park it on a public street) or a junk hauler.
Some companies sell disposable bins for trash and waste disposal via home improvement stores, too.
K
ids Clothes
Trade hand-me-downs with friends and neighbors. Or sell them via your neighborhood parents' Listserv or, for high-quality ones, via a kiddo consignment store.
L
oads of Stuff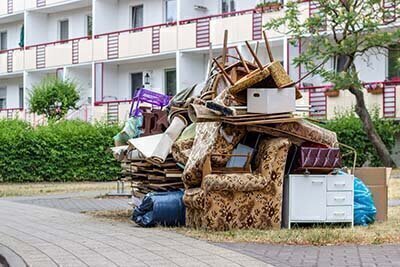 You'd be amazed by what you can easily dispose of by simply leaving it on the curb or listing it as a free pickup on Craigslist or Freecycle.org. The latter is particularly good for unloading moving boxes, party decorations, and other things that are expensive to buy but only useful for a short time.
M
aternity Clothes
Motherhood Closet is an online consignment store that buys and sells name-brand maternity clothes. You simply send in gently used pieces, and the site photographs and lists items. You'll get up to 80 percent of the price of anything that sells. You can also offload your preggo fashions on friends and relatives who are expecting.
N
obility
Revolution! Off with their heads!
O
ld Sporting Goods
Forgotten tennis rackets, dust-gathering elliptical machines, neglected snowboards: Whatever workout or sport you're blowing off, there's a market for the equipment you aren't using anymore—provided it's in good shape. You can offload smaller items online via eBay; for larger things try Craigslist or a neighborhood message board. Play It Again Sports operates sporting-goods consignment stores across the country. It will pay cash upfront for your unused stuff.
P
arty Dresses
Donate gently used prom, cocktail, and bridesmaid frocks to Becca's Closet, a charity that gives party wear to economically disadvantaged high school girls.
Q
uinoa and Other Nonperishable Food
Boxes and cans of edibles that don't require refrigeration can be donated to food banks. FeedingAmerica.org lists more than 200 of them.
Roses and Other Plants
If you are moving, downsizing, or turning your lawn into a Zen rock garden, don't just uproot everything. Try to gift houseplants to neighbors; for larger trees or perennial flowers that you think have value, contact your local Master Gardeners program (check with your local government cooperative extension service), which should either have takers or know local organizations or public gardens open to new growth.
S
wap Party
Whether you have a library's worth of paperback novels, way too many shoes you aren't wearing, or tons of baby clothes,
hosting a swap can be a sociable way to unload stuff and catch up with friends. Send out invites a few weeks in advance and give guests guidance ("Please bring no more than 10 items of wearable clothing"). Pour wine and serve snacks; then donate leftovers to charity and send receipts to your pals.
T
oys
Visit ToysForTots.org to find drop-off spots to donate new and gently used toys. Many police departments take clean stuffed animals to comfort kids.
U
nused Toiletries
Homeless shelters and domestic abuse victims' centers accept unopened shower gel, soap, and cosmetics, including those little shampoo bottles from hotels.
V
ases
Don't let containers from flower deliveries pile up (they're just glass and take up a lot of space). Give them back to the florist or put them in the recycling bin.
W
indows and Window Treatments
Take blinds, shutters, and even your old window frames to your local Habitat for Humanity headquarters. They'll either use them in projects or sell them at one of their many building-materials stores nationwide.
X
mas Decorations
Holiday decorations, particularly those in good shape or unusual vintage ones, are in high demand in fall months at most local charity shops and thrift stores. Check with your local donation center
for what it'll accept.
Yard Sales
Sure, Craigslist and eBay have cut into some of the old-fashioned joy of a jumble sale. But if you've got time, a lot of stuff, and the inclination, you can unload everything from old LPs and kids' toys to furniture at a yard or garage sale. Advertise on Craigslist, on neighborhood boards, and with throwback poster board signs. Consider convincing your neighbors to host sales, too; the block-party appeal makes it more enjoyable and draws bigger crowds of spenders and browsers. Most pros recommend not pricing items and just bargaining with wannabe buyers.
Z
illions of Cups
Aunt Ethel left you her china, but you prefer eating takeout on less fussy plates. Offload it for extra cash via Replacements, Ltd., a national buyer and seller of new and vintage patterns, or the International Association of Dinnerware Matchers.