Home Security Gadgets that Let You DIY (or Not)
Last updated November 2018
Doing your own alarm installation work has always been an option, but few homeowners were willing to mess with the job. But new gadgets that are easier to install and use are changing that. Often these devices can be combined with so-called "smart home" hubs like Amazon's Alexa/Echo Dot to essentially create DIY security systems.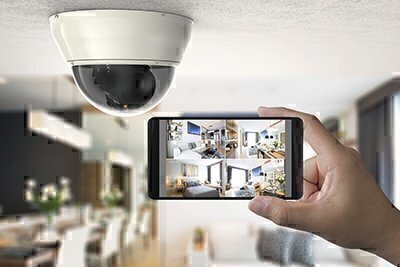 You can also buy dedicated home security systems from alternative providers, including cable TV companies, Amazon, Google, and Microsoft. Most offer an option to either use their devices to monitor your own home or pay more for professional monitoring. Facing rising competition from these alternatives, some home security companies now offer basic devices and systems you can install on your own and monitor yourself.
For example, Comcast Xfinity's Home Secure system includes sensors, hub, and an alarm system for $99 with a monthly monitoring fee of $39.95. Or you can harness smart home assistants like Amazon's Echo (aka Alexa, $49–$99) or Google Home ($129) and pair them with a la carte devices like sensors, cameras, alarms, and glass-breakage detectors.
Similar setups include SimpliSafe ($260 for a basic system with a base station, keypad, a motion detector, three door or window sensors, and an alarm; optional $14.99 monthly for monitoring service) and Scout ($299 for a small, basic system with a hub, two sensors, a motion detector, and a door panel control; $9.99–$19.99 a month for optional monitoring services).
Don't want a full-on alarm system or smart-home package? All these companies, plus others like Nest, Wink, and Tend Insights, sell video cameras, sensors, and other devices that you can install in strategic locales and monitor for free using your smartphone—if it senses motion, it will send you an alert and you can watch the camera feed. Prices for these products tend to be cheaper than renting or buying from an alarm installation outfit; for instance, a Fortress Security Store glass breakage sensor is $35, Eva Logik thin window alarm sensors are $23 for four, and a Zmodo WiFi video doorbell is $60.
If you're self-monitoring these one-off products, you'll need to call the police if an alarm goes off or you see suspicious activity. But because many DIY device-makers want in on the monitoring money, with some devices you can also arrange to have devices monitored by the same types of companies alarm installers use; rates tend to be about the same as the monitoring fees for traditional alarm companies ($20 a month for Scout or $30 a month for Abode).
I ordered and tried out a few of these DIY products for my home: A video doorbell with a motion detector from Wink ($170 plus $30/year to archive footage); a basic home security system from Wink Lookout ($200); and two indoor cameras by Tend Insights with facial recognition and motion-detecting software ($82.50).
Despite being somewhat techphobic, I found all were easy to install and get working on my phone with their apps. But not everything went smoothly. The two sensors that came with my "starter kit" alarm system from Wink Lookout—which also included a siren, a motion sensor, and a plug-in hub—were too big to fit my skinny window frames. I installed them on my front and back doors, and they worked swimmingly, sending me text alerts when my husband got a secret pizza delivery and our cleaning service came and went.
But the interior cameras from Tend kept going offline, needing frequent rebooting. When they worked, they just recorded my husband and me stomping around the house. Since the house's front door was armed with sensors and an outside camera, continuously filming the interior seemed extraneous and somewhat unnerving—if you set up a bunch of cameras in your home, don't forget to wear a bathrobe!
The video doorbell, which sent me texts when it detected the slightest movements all day long (including each online-order delivery and when our porch flag flapped in the wind) was nonetheless a winner. It nicely notified me when the mail arrived the first Saturday it was installed, and then proved a genuinely effective home security device when a weirdo knocked on our door at 3 a.m. the following morning. Though he was rapping loudly, not ringing the doorbell (which would have buzzed my smartphone), I was able to tell him to scram via the doorbell's built-in microphone. Because my porch was well-lit, I got a good recording of his face, in case he returns and I need to contact the police. He left, but the doorbell is staying.
Our tests overall made me realize that using even the helpful video doorbell is, much like conventional home alarm systems, somewhat of a hassle. But if you don't mind getting constant alerts to peer at (usually) harmless footage of delivery drivers, your cats, your husband paying for diet-cheating junk food, etc., using one of these devices to do your own monitoring is an inexpensive and effective option.