Inexpensive DIY Home Security Options
Last updated November 2022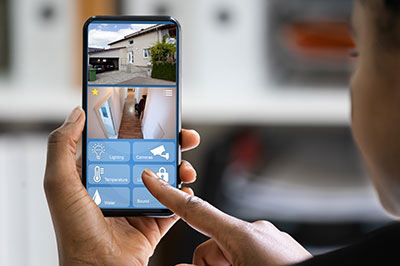 Since the early 2000s, when digital wireless communication became widespread, DIYers could fairly easily set up home security systems—gone was the need to run wiring throughout their homes to connect sensors to a control center. But few were willing to mess with the job.
The internet of things movement has spurred even easier ways to connect various gadgets—including home security components—to a central hub and control everything via smartphone app or similar interface. Dozens of companies now sell security system components that are easily set up and connected to smart home hubs. Sellers include cable TV companies; tech giants Adobe, Amazon, Google, and Microsoft; and dozens of device manufacturers and startups offering a wide array of sensors, cameras, and glass-breakage detectors that you can connect to smart home assistants like the Amazon Echo or Google Nest.
Don't want a full-on alarm system? These companies and others, including Cove, ecobee, eufy, Kangaroo, Ooma, and SimpliSafe sell a la carte cameras and sensors that you can install in strategic locales and monitor for free using your phone. With most of these companies, you can also pay more to get 24/7 monitoring services.
The availability of user-friendly DIY devices has forced old-school home security players to adapt. ADT now sells self-installed products under its Blue by ADT brand, partners with Google to offer services to Nest owners, and bought LifeShield, a DIY outfit. Honeywell and several other companies—SimpliSafe, Vivint, Wyze, and more—also now offer their own DIY home security lines.
All this competition and choice means lower prices. Instead of buying a professionally installed system for $2,000 or more, and paying $500 or more each year for monitoring, for $200 or less you can assemble a basic DIY system and then pay as little as $100 per year to have it monitored—or nothing at all if you do that job.
Consumer Reports tested 10 DIY home security systems and ranked SimpliSafe's The Essentials as the best (although there were several close runners-up). The top-rated tested model for SimpliSafe costs about $200 and comes with a base station, keypad, motion sensor, and three entry sensors; you can monitor it yourself or add standard professional monitoring for $18 a month. Other manufacturers offer similar features and costs. With some, you can get discounts on equipment costs if you contract for monitoring service.
Aside from ease of installation and low operating costs, a big plus of going the DIY route is flexibility: You can easily add or remove components. And unlike the contracts offered by most alarm installers, DIY companies seldom rope you into long-term monitoring pacts. Decide you want to drop monitoring and you can simply cancel.
But there are disadvantages. Some components can be a pain to install. And if you self-monitor, you might miss alerts sent by your system, whereas at least in theory pro monitoring is 24/7.
In our experience trying out these devices we found them—much like conventional alarm systems—to be a hassle. The alerts are constant, especially if you get a lot of packages or food deliveries, open doors to let pets in and out, etc. Many families get so tired of having to respond to alerts that they turn off their alarm systems or don't bother replacing batteries.
As with professionally installed home security systems, there's limited evidence that any of these gadgets deter crime. And all this video surveillance we're setting up might be creating serious privacy problems.