Options for a DIY Move
Moving yourself is hard work, but it does have certain advantages over hiring a mover: It's much cheaper, you can take special care with prized belongings, and you can move when you want.
Renting a Truck
If you DIY, a truck rental will probably be your biggest expense. Rental rates depend on the truck's size, day of the week and time of the month, total mileage, and whether you want to drop off the vehicle at your destination or return it to the rental location. We find substantial company-to-company variation on truck rental rates, so it pays to shop around.
To estimate what size truck you'll need, know that a 12-foot truck holds about three rooms of furniture, an 18-foot truck about five or six rooms, and a 24-foot truck eight or nine rooms. But if you're moving old, bulky pieces or large appliances, you'll need extra truck space.
Always load the heaviest items forward, near the cab. Load belongings so as to prevent shifting, and tie down your load.
Most truck rental companies rent dollies and hand trucks for $5 to $20 each per day. Some provide furniture pads for free; others rent them for about $10 to $15 per day.
Self-Service or Hybrid Movers
If you don't want to shell out thousands of dollars to a professional mover but dread the prospect of driving a large moving truck full of your stuff, you can hire a self-service moving company. Self-service moving companies will drop off a cargo container, truck trailer, or truck at your house so you can load it on your own. Then, at a prearranged time, the company returns and drives the load to the destination, where you unload it.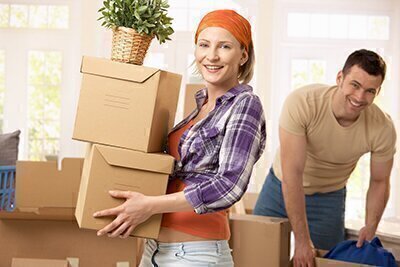 Using a self-service mover is likely to cost more than renting a truck to drive yourself—but much less than hiring a professional moving outfit. For a local move using a 16-foot container, self-service movers quoted our mystery shoppers prices ranging from $250 to $400.
Through the self-service company you can also hire movers on both ends to load and unload the containers.
If you're considering the self-service-moving option, compare costs with those quoted by full-service moving companies, especially if you're thinking about hiring crews to load and unload your container. If you hire loading or unloading help, use the tips in this article to check out the company that supplies the labor.
Also find out whether your homeowners insurance policy covers your belongings during a self-service move. If not, ask companies for their prices of extra insurance coverage. Since self-service movers simply transport, rather than handle, your belongings, they are not considered movers at all, but rather freight carriers. This distinction is important because basic insurance coverage for freight usually is set at only about $.10 per pound—coverage almost certainly too low for your belongings.