Tips for a Smooth Household Move
Our ratings of moving companies will help you find a good one. But getting the best possible service from the one you choose still requires a good deal of effort.
Getting Ready
Pack properly. If you do your own packing, ask the mover for advice. If you don't pack properly, the mover may not compensate you for damage to packed items. Note the contents on the outside of each carton. Tape cartons shut, so on delivery day you can see that they have not been opened and that contents have not been removed.
Prepare appliances. If you're taking large appliances, check owners' manuals for instructions on disconnecting them and preparing them for shipping.
Prepare an inventory. List all important items you're moving, noting any defects or damage. For books, clothes, and other items of no special value, list "box of books" or "box of children's clothes." But list all items of significant value individually. Don't take any chances with small valuable items, such as jewelry, or items of great sentimental value. Just move them yourself.
During the Move
On moving day, be there and be attentive.
Make sure your mover prepares an inventory based on the one you gave them. You'll both need to sign it, and you should receive a copy. It will be your evidence if goods never arrive or arrive damaged.
For a long-distance move, get the name, address, and phone number of the agent you will deal with at the destination. Make sure the driver knows how to reach you if the shipment is delayed.
Read the bill of lading—the contract between you and the mover—before you sign it. Keep it with you until your shipment is delivered, all charges are paid, and all claims (if any) are settled.
While your goods are in transit on a long-distance move, stay in contact with the mover's agent at your destination.
At the Other End
Be present at the destination. On a long-distance interstate move, if you do not show up within a few hours of the truck's arrival the mover has the right to put your goods
into storage and charge you for it.
Unless you have made other arrangements, have cash or a certified check on hand to pay. Because many movers expect to be paid before unloading, make sure you have enough. If your mover accepts credit cards, use one. This eliminates the risks of holding or traveling with a large amount of cash, and gives you rights under the Fair Credit Billing Act and card-issuer policies to dispute a charge if you later find goods are missing or broken.
Check the condition of each item as it is unloaded. You won't have time to open every carton, so focus on inspecting cartons containing
especially fragile or valuable items. The mover will probably ask you to sign a copy of the inventory acknowledging receipt of the goods in the condition described. Don't sign the inventory or any other paper without first noting any damage that has occurred. Signing a document that does not note damage will make it hard to collect for damage later.
If you find damage after the movers leave, notify the company promptly; and keep the broken items and packing materials as you found them in the box, so the mover's claims representative can check them.
Resolving Disputes
If your property is lost or damaged or if you incur expenses because of a mover's delay, you can claim damages.
Local Moves
If you have a dispute with a local mover, first try to resolve it by talking to the mover. If you can't reach an agreement, you can file a complaint with a state agency, the Better Business Bureau, or sue in small claims court.
Long-Distance Moves
If you have a dispute with a long-distance mover, send a claim letter to the mover's headquarters (not its local agent). You have nine months to file a claim. The company must acknowledge your claim within 30 days, and make an offer of settlement, pay, or deny it within 120 days.
No federal agency is authorized to settle disputes between long-distance interstate movers and their customers. If you have trouble settling, you have two options: arbitration or lawsuit.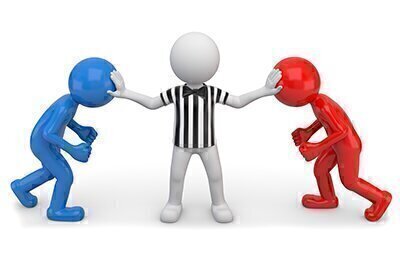 Interstate movers are required by the Federal Motor Carrier Safety Administration (FMCSA) to participate in a dispute settlement program. There are some limitations, however. Disputes that qualify for arbitration are limited to claims of loss and damage, and additional charges billed after delivery of shipment. Arbitration is mandatory only for claims of up to $10,000 on interstate moves of household goods for individual shippers. Claims greater than $10,000 may be resolved through arbitration only if both the customer and the mover agree to the arbitration.
The American Moving and Storage Association (AMSA) offers an arbitration program for long-distance interstate movers and their customers. To participate, customers must send a letter to AMSA within 90 days of the mover's final offer or denial of the claim. If the claim cannot be settled and the case proceeds to arbitration, the customer pays half of the $650 administrative fee for claims of $10,000 or less (for larger claims, the fee progressively rises). After reaching a final decision, the arbitrator may decide to refund all or part of the customer's portion of the fee, depending on the circumstances.
To receive more information about arbitration from the American Moving and Storage Association, visit its website, call 703-683-7410, or email [email protected].
If you decide to sue, you must bring your lawsuit against a long-distance mover within two years of the date that the mover first gave written notice denying any part of the claim. The FMCSA will provide the name and address of the mover's process agent.
Long-distance interstate movers must provide customers with certain information. Along with a written estimate, it must provide written descriptions of its process for handling questions, complaints, and claims, as well as a summary of its arbitration process.