Where to Get the Best Price on Tires
Last updated November 2017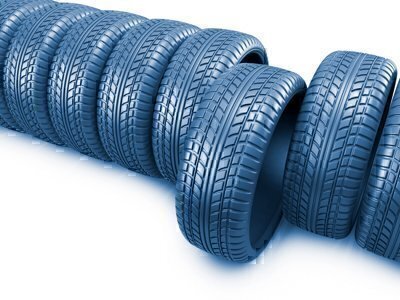 The table below shows prices our undercover shoppers were quoted by a sampling of local tire dealers, including big chains, independents, auto repair shops, new-car dealers, and online sellers, for four specific models/sizes of tires—two for a Ford Explorer and two for a Honda Accord. All of the stores were asked to quote on a set of four tires for each tire model, including mounting, balancing, valve stems, and disposal fees.
The table also reports Checkbook's price comparison score for each store or chain. These scores show how each store's prices compared to the average of all stores' prices for the tires we shopped. We adjusted the scores so that the average of all stores equals $100. A score of $105, for example, means prices averaged five percent higher than the all-store average.
Note that for online-only retailers, which don't offer installation services, we added an average installation fee ($90) to their prices for each set of tires.
Here's what our undercover shoppers found:
Major price differences. For example, prices for a set of four Michelin Latitude Tour tires for the Ford Explorer ranged from $784 at BJ's to $1,519 at the Goodyear Auto Service Center in McLean—a difference of $735.
Among local stores, big chains BJ's, Walmart, Costco, and Mr. Tire generally offered low prices, but we also found some low prices at independent tire dealers, repair shops, and even new-car dealerships.
Not all of the big chains or big-box stores offered low prices. Surveyed stores for Just Tires, Merchant's Tire & Auto, NTB, Pep Boys, Sam's Club, and Sears quoted prices that overall ranged from slightly below average to higher than average.
Although BJ's and Costco offered low prices, a big advantage to using a conventional tire shop is that selection at warehouse clubs is fairly limited.
Online sellers Amazon and OnlineTires.com also offered consistently low prices—with incomparable selection. These retailers will ship tires to your home or to a local shop for installation. (On our price table, we added an average installation fee of $90 to the online sellers' prices.) Among the online sellers, we found that Amazon's prices were the lowest—about three percent lower than prices offered by OnlineTires.com and five percent lower than TireRack.com's. Prices at TireBuyer.com were just five percent better than average when we factored in installation costs.
Stores that had low prices for one tire model tended to be competitive for others, but you can't count on that. Some stores quoted low prices for one tire model but average or higher-than-average prices for others.
When shopping for price, specify exactly what you want. If you want mounting, balancing, and valve stems to be included, make that clear. And because there are so many tire models, many with very similar names and specifications, cite the tire model precisely, preferably by the parts number.
Stores tend to specialize in certain brands, order some upon request, and refuse to handle others. They are likely to offer their best prices for their specialties. Indeed, some of the stores we shopped would probably have looked better if we had shopped for other brands.
Illustrative Tire Prices

Prices are for a set of four and include mounting, balancing, and valve stems. For online retailers, which do not offer installation services, we added an average installation fee ($90) to each set of prices.

2014 Ford Explorer
2014 Honda Accord
Checkbook's price comparison score
($100 = average)
Michelin Latitude Tour HP (88062)
Bridgestone Dueler H/L 400 (133272)
BFGoodrich Advantage T/A (02107)
Goodyear Assurance Fuel Max (738638571)
BJ's
1781 Ritchie Station Ct, Capitol Heights, MD, 301-278-4050
$784
$824
$424
$608
$82
BJ's
6607 Wilson Blvd, Falls Church, VA, 703-286-3380
$784
$824
$424
$608
$82
Amazon.com
888-280-4331
$841
$746
$486
$672
$87
Herson's Honda
15525 Frederick Rd, Rockville, MD, 301-279-8600
$578
$87
Jerry's Ford
6510 Little River Tpke, Annandale, VA, 703-256-5000
$968
$88
Walmart
20910 Frederick Rd, Germantown, MD, 301-515-6700
$986
$710
$474
$652
$88
Walmart
5885 Kingstowne Blvd, Alexandria, VA, 703-924-8800
$986
$710
$474
$652
$88
Koons Sterling Ford
46869 Harry Byrd Hwy, Sterling, VA, 703-430-7700
$854
$887
$506
$587
$89
Quality Discount Tire Pros
4111 Howard Ave #D, Kensington, MD, 301-493-6902
$1100
$812
$528
$488
$89
Costco
2700 Potomac Mills Circle, Woodbridge, VA, 703-490-7410
$974
$828
$508
$90
Costco
2441 Market St NE, Washington, DC, 202-269-8540
$974
$828
$508
$90
OnlineTires.com
877-465-8473
$1034
$705
$642
$90
Piedmont Tire & Auto
14202 Lee Hwy, Gainesville, VA, 703-753-6469
$1033
$774
$525
$585
$90
Firestone Complete Auto Care
7619 Richmond Hwy, Alexandria, VA, 703-638-1743
$532
$91
Alban Tire
7244 Boudinot Dr, Springfield, VA, 703-455-9300
$830
$560
$567
$92
TireRack.com
888-541-1777
$980
$815
$528
$637
$92
Mr Tire
2503 N Franklin Rd, Arlington, VA, 703-653-0689
$1000
$556
$624
$94
Mr Tire
718 Cady Dr, Fort Washington, MD, 301-248-1518
$1000
$556
$624
$94
Radial Tire
9101 Brookville Rd, Silver Spring, MD, 301-585-2740
$1012
$848
$556
$620
$94
Action Al's Tire Company
2515 Bladensburg Rd NE, Washington, DC, 202-529-1900
$1120
$840
$528
$616
$95
Chaney Tire & Auto
3168 Superior Ln, Bowie, MD, 301-262-1007
$1137
$856
$557
$545
$95
Hogan & Sons Goodyear
9580 Main St, Fairfax, VA, 703-323-1044
$632
$95
TireBuyer.com
866-961-8668
$1086
$830
$526
$642
$95
Sheehy Ford Lincoln
901 N Frederick Ave, Gaithersburg, MD, 301-258-1015
$927
$927
$559
$639
$96
Academy Ford
13401 Baltimore Ave, Laurel, MD, 301-419-2700
$938
$924
$662
$97
Rosenthal Fairfax Honda
11020 Fairfax Blvd, Fairfax, VA, 703-934-8500
$1013
$840
$608
$638
$97
Tires Plus
13580 McLearen Rd, Herndon, VA, 703-962-6526
$1040
$817
$581
$661
$97
Goodyear Auto Service Center
12103 Rockville Pike, Rockville, MD, 301-881-1916
$651
$98
Pep Boys
20900-A Frederick Rd, Germantown, MD, 301-540-4686
$579
$647
$98
Pep Boys
7121 Little River Tpke, Annandale, VA, 703-256-8966
$578
$646
$98
Sam's Club
3535 Russett Green, Laurel, MD, 301-604-2060
$1099
$844
$589
$615
$98
Sam's Club
45425 Dulles Crossing Plaza, Sterling, VA, 571-434-8711
$1099
$844
$589
$615
$98
Tire Shop
925 Edwards Ferry Rd NE, Leesburg, VA, 703-777-2255
$1140
$872
$564
$617
$98
Weber Tire
10900 Main St, Fairfax, VA, 703-273-4444
$1112
$918
$571
$584
$98
Merchant's Tire & Auto
4801 Lee Hwy, Arlington, VA, 703-525-5550
$1052
$916
$580
$632
$99
Merchant's Tire & Auto
7851 Old Georgetown Rd, Bethesda, MD, 301-652-9590
$1060
$924
$588
$640
$100
Executive Wholesale Tire
750 E Gude Dr, Rockville, MD, 301-294-8820
$1188
$883
$560
$652
$101
Brown's Arlington Honda
3920 Lee Hwy, Arlington, VA, 703-522-8808
$680
$102
Graeves Auto & Tire
3411 N High St, Olney, MD, 301-924-8473
$1160
$876
$594
$654
$102
BWT
303 Mill St NE #303, Vienna, VA, 703-255-0201
$1212
$869
$610
$672
$104
Sears
11255 New Hampshire Ave, Silver Spring, MD, 301-681-1700
$804
$656
$844
$104
Sears
5901 Duke St, Alexandria, VA, 703-914-2255
$804
$656
$844
$104
Tires of Silver Spring
8000 Georgia Ave, Silver Spring, MD, 301-565-3670
$1260
$616
$104
Tires Plus
8450 Ardwick Armore Rd, Landover, MD, 301-825-8420
$1208
$819
$619
$731
$105
Virginia Tire & Auto
7231 Arlington Blvd, Falls Church, VA, 703-726-7607
$1189
$875
$657
$662
$105
Virginia Tire & Auto
46655 Algonkian Pkwy, Sterling, VA, 703-726-7604
$1189
$875
$657
$662
$105
Admiral Tire & Auto of Bowie
2325 Crain Hwy #D, Mitchellville, MD, 301-249-4300
$1280
$876
$605
$691
$106
NTB
5258 Port Royal Rd, Springfield, VA, 703-321-7811
$1049
$1107
$577
$685
$106
NTB
9011 Annapolis Rd, Glenarden, MD, 301-459-0541
$1047
$1107
$575
$683
$106
Wilson's Goodyear Auto Service Center
18181 Town Center Dr, Olney, MD, 301-570-0704
$1255
$619
$656
$106
Firestone Complete Auto Care
7592 Ritchie Hwy, Glen Burnie, MD, 410-691-3309
$1226
$846
$642
$754
$108
Firestone Complete Auto Care
1492 Annapolis Rd, Odenton, MD, 410-305-7563
$1226
$846
$642
$754
$108
Ashburn Service & Tire Center
44071 Ashburn Shopping Plz, Ashburn, VA, 703-723-9499
$1440
$956
$600
$676
$111
Firestone Complete Auto Care
21800 Towncenter Plz #277, Sterling, VA, 571-612-2127
$1222
$969
$637
$750
$111
Just Tires
3300 Jefferson Davis Hwy, Alexandria, VA, 703-836-6807
$1152
$1000
$612
$835
$112
Crawford Tire
7015 Arlington Rd, Bethesda, MD, 301-654-8555
$1427
$1027
$647
$623
$113
Mac's Tire Service
423 Florida Ave NE, Washington, DC, 202-543-5835
$1300
$1000
$700
$740
$116
Just Tires
7100 Marlboro Pke, Forestville, MD, 301-735-1420
$1436
$618
$835
$121
D & D Tire
4919 Kenilworth Ave, Hyattsville, MD, 301-277-8565
$1360
$1124
$612
$995
$127
Goodyear Auto Service Center
6820 Old Dominion Dr, McLean, VA, 703-356-1005
$1519
$1058
$651
$139