Which Stores Drive the Best Tire Bargains?
Last updated December 2021
The table below shows prices our undercover shoppers were quoted by a sampling of local tire dealers—including big chains, warehouse clubs, independent tire stores, auto repair shops, new-car dealers, and online sellers—for four specific models/sizes of tires: two sets for a Honda Accord and two for a Toyota Highlander. We asked each seller to quote prices for four tires for each tire model, including mounting, balancing, and disposal fees.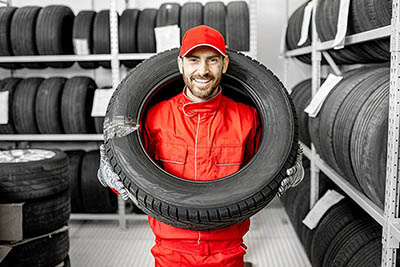 The table also reports Checkbook's price comparison score for each store or chain. These scores show how each store's prices compared to the average of all stores' prices for the tires we shopped. We adjusted the scores so that the average of all stores equals $100. A score of $105, for example, means prices averaged five percent higher than the all-store average.
Note that for online-only retailers, which don't offer installation services, we added a $113 installation fee (that was the average cost for installation quoted by local shops) to their prices.
Here's a rundown of what our undercover shoppers found:
Major price differences, with some outlets charging hundreds of dollars more than others for the exact same set of tires. For example, prices for a set of four Michelin Latitude Tour tires for the Toyota Highlander ranged from $830 at Costco to $1,672 at the Goodyear Auto Service Center in Rockville—a difference of $842.
Among local stores, BJ's and Costco were the winners for price, but we also found deals when shopping at Piedmont Tire & Auto (locations in Gainesville and Haymarket) and some independent tire dealers, repair shops, and even new-car dealerships.
For the four sets of tires we shopped, BJ's, Costco, and Piedmont quoted prices that were about 16 percent lower than the average prices quoted by all stores.
Big chain NTB also generally offered low prices. But not all of the chains offered low prices. Surveyed stores for Goodyear Auto Service Center, Hogan & Sons, Just Tires, Meineke, and Monro Muffler Brake & Service quoted prices that overall were more expensive than average.
Although BJ's and Costco offered low prices, a big advantage to using a conventional tire shop is that selection at warehouse clubs is fairly limited.
Online sellers Amazon and DiscountTireDirect.com also offered consistently low prices—with vast selection. These retailers will ship tires to your home or to a local shop for installation. Among the online sellers, we found that DiscountTireDirect.com's prices were the lowest—about 13 percent lower than the average prices we collected from all the stores we surveyed. Prices at several other online-only outlets were just slightly better than average once we factored in installation costs.
Stores that had low prices for one tire model tended to be competitive for others, but you can't count on that. Some stores quoted low prices for one tire model but average or higher-than-average prices for others.
When shopping for price, specify exactly what you want. If you want mounting, balancing, and valve stems to be included, make sure prices you are quoted include that. And because there are so many tire models, many with very similar names and specifications, double-check the tire model by comparing its parts number.
Stores tend to specialize in certain brands, order some upon request, and refuse to handle others. They are likely to offer their best prices for their specialties. Indeed, some of the stores we shopped would probably have looked better if we had shopped for other brands.
Where can you get great installation service? Considering how technically complicated cars have become, you'd expect general repairs to be much more challenging than just selling and installing tires. Not so. In our surveys of tire-buying consumers, an astounding 25 percent said they did not recommend the stores or shops where they most recently bought tires. The feedback we've collected from local tire buyers should at least help you avoid the worst of the lot.
One way to make sure you get a good price on tires and quality installation is to order tires from a low-priced online seller (in our survey of tire prices, among stores we shopped DiscountTireDirect.com offered very low prices), and have them shipped to a top-rated repair shop (click here for our ratings of hundreds of area shops for quality and price). Not all repair shops install tires, but many do.