How to Shop for Window Treatments
Last updated November 2017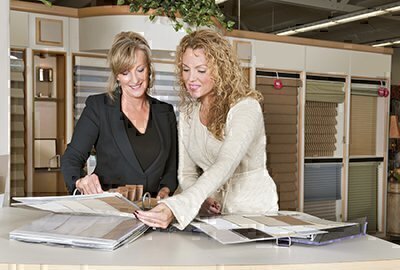 Like most improvements we make to our homes, window coverings serve as both function and decoration, whether as a ray-filtering shade or winter chill-blocking insulated curtains. And when it comes to decking out your windows, you'll find so many choices, optional features, and price ranges that it's easy to get blindsided by the process.
Here's our guide to getting both the right stuff and, in the next article, we discuss how to get a good deal.
Start at a Store
Yep, online window-dressing companies are big business these days, and most offer handy tools that let you visualize what different colors, models, and types of coverings will look like on a generic window. But you may find it easiest to get an idea of what you want if you begin at a brick-and-mortar showroom, where you can touch and compare materials and styles, and try out different types of window treatments and their many configurations. Plus, at the best stores pro assistance will help you pick what works best for your particular windows.
When shopping, gather and take home samples (which should be free) of materials you're considering. A fabric or woven can look quite different in a showroom (or online) than how it does at su casa, and you'll also want to see firsthand what best complements your furnishings.
Figure Out What You Want
There's no one-size-fits-all solution for window coverings (and in spaces where light or privacy aren't issues, you might forgo them entirely). Consider what functions you want your window treatments to perform. Do you want to block out all sunlight and street light so baby Darth can snooze in his nursery? Need insulation for a cold den? Or do you just want an opaque something for your French doors to prevent neighbors from discovering how much time you spend watching Netflix?
In addition to traditional wood or cellular blinds, most window-covering stores also sell plantation shutters, curtains, Roman shades (fabric shades that stack up neatly when you raise them), and roller shades. The last, often crafted from sleek natural woven materials or hip fabrics, have zipped back into vogue recently, thanks in part to trends toward minimalism and improved technology. Not only do roller shades now come in materials far better-looking than those plastic-y jobs you might remember from childhood, but many of them can also block UV rays while still admitting light or, via thin-yet-dense construction, completely obscure outside light.
You can also tell (or show via smartphone photos) store staffers or online sellers what your space and windows look like and ask for advice, which sometimes can even save you money. For example, our editorial director was thinking of installing expensive Roman fabric shades in her living room, but after sending snaps of her windows to one online company she was pleasantly surprised to get suggestions for simpler, less expensive (!) bamboo roller shades that admit more light yet still look swank.
Some stores will also send salespeople to your home to offer advice, show samples, and measure. There's usually no charge or obligation to buy, but check first.
Before making final decisions, collect samples, tape them onto the wall near the place where they'll hang, and over a day or two see what they look like at different times. Also, hold them up in front of the window during the day and night to check how much light filters through.
Getting Good Advice, Service, and Installation
The ratings we receive for window treatment stores for service quality are high, compared to other home services we evaluate. But problems still exist, the most common complaint stemming from delivery or installation delays. We also fielded a lot of gripes about damaged goods, ill-fitting shades, and rude staff.
To insulate yourself against a poor experience, get product descriptions, measurements, and delivery dates in writing, and ask for a written guarantee before paying. Pay with a credit card so you can dispute charges if the store doesn't deliver on promises or correct problems. And compare warranties and guarantees, both for the blinds and for the installation if you're not doing your own install. Many stores offer lifetime guarantees, meaning they'll send someone out to fix a broken blind slat, replace a malfunctioning motor, or even untangle cords. Although you might save money by buying from a low-cost online store and doing your own installation work, keep in mind that this arrangement doesn't provide the free repairs you'd get from a store that offers a customer-friendly long-term guarantee when your kids/spouse/pets/friends destroy the thing.
If you are interested in doing your own installation, it's generally quick and simple. If you read comments on some of the seller websites, you will see that many homeowners who have little DIY experience describe how easy the job is.
Stores should be able to provide instructions for measuring to determine which size to order and then installing whichever brand you buy. You can also get directions at the manufacturers' websites. There will be measurement instructions for installation inside or outside the frame (the outside option is a little more forgiving). One piece of feedback we get from many consumers: Allow an inch or so of extra length on cellular shades because they sometimes don't fully stretch out when let down unless you give them an extra tug at the bottom.
Timing
Many blinds, shades, and curtains are custom-made to fit window sizes. This used to take as long as a month, but increasingly stores can deliver within a few days to a week.
If you're in a hurry, or want to save money, many retailers (including Pottery Barn, Country Curtains, Target, etc.) and home-improvement stores offer pre-made shades, blinds, and curtains. With blinds, some stores can cut stock products to fit, and you might be able to shorten a too-long slatted model yourself. (SelectBlinds.com has good instructions for the latter.) With stock Roman shades you've also got wiggle room if they're too long, but not if they're too short. And if you purchase pre-made curtains, they can also be shortened via hem tape, sewing, or a trip to a tailor.
Options and Safety Features
For most blinds and shades, you'll have many choices on how they function. You can order standard cords, continuous-loop cords, top-down-bottom-up treatments, or cordless operation (simply pull and push the blind up and down as you would a window). Cordless operation is a must in homes with young children or pets, who are at risk of strangulation from traditional hanging cords. These work on a concealed pulley system; you operate them either by pulling a bottom bar or a concealed ring on the back.
The U.S. Consumer Product Safety Commission (CPSC) continues to work with window-treatment manufacturers to eliminate cord strangulation. Check its website and visit the Window Covering Safety Council site for warnings, tips, drawings, and safety videos.
Motorized shades and blinds have become more widely available in recent years; some can be connected to timers or controlled via your smartphone. While these motorized models are cool, and great for use on otherwise inaccessible high windows, these techy add-ons come with very steep prices. We found some stores charge $300 to $500 per window for their automated systems, which to us is way too much money.