Which Window Treatment Is Right for Your Window?
Last updated November 2017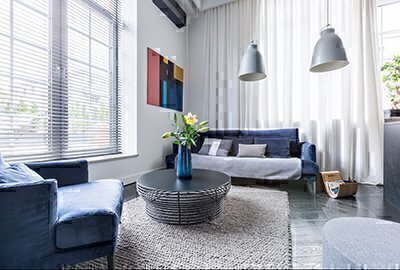 Plantation shutters. Roman shades. Good-old-fashioned curtains. There are so many ways to cover your windows that it's tempting to just tape newspaper over the panes and be done with it. Here's a primer on the best options to block the light, keep prying eyes at bay, or just dress up the joint.
Light Control
If you want to keep out sun, streetlamp glare, or UFO landing lights, the best options include plantation shutters or curtains, shades, or blinds coupled with a blackout lining (you'll often see this feature in hotel rooms).
Privacy, Please
Most window treatments will insure privacy, but if you also want to let in a little light then consider: Top-down shades, which allow you to lower the top portion of the shade a few inches or feet; shades made with woven materials, either Roman style or roller, which admit some daylight while obscuring what lies inside; and unlined curtains (but no sheers), although they'll fade much more quickly than lined versions.
Insulation
Most, but not all, window treatments that shut out light also help block winter's chill and summer's heat. You'll get the most insulation from lined curtains, but cellular or Roman shades also provide some relief from the not-so-great outdoors.
Sun Protection
You can purchase roller shades that filter light and offer varying degrees of UV protection, which keep your rooms cooler and your furnishings from fading while not darkening the space.
Damp Spaces
Laundry rooms, bathrooms, and other spaces subject to a lot of moisture require blinds that withstand water. Choices include faux-wood or aluminum blinds (no, really, some of the new ones look pretty good) and shades and curtains made with an easy-care synthetic fabric, such as Sunbrella.
Most Bang for Your Buck
If you only need to cover a window, readymade roller shades in inexpensive materials (vinyl, synthetics) or metal blinds are usually the cheapest options. For example, vinyl slatted or simple pull-down shades often cost as little as $30 each. Such options might not land you in House Beautiful, though.
If you're looking for more style for the money, ready-made Roman shades come in a variety of widths, and generally run less than half the price of their custom cousins. Whether they work for you mostly depends on how long your windows are; the shades generally come in multiple widths but just a few lengths. It's fine if the shades are a little too long; you just pull them up a bit with their cord. But if they're too short, they won't cover your window. Readymade curtains also come in a range of widths (you generally want to buy ones at least double the width of your window) and lengths; you can simply hem them or hang them at your desired length.