The Great Gas Stove Debate: Why Consumers Are Being Pushed to Switch to All-Electric Cooking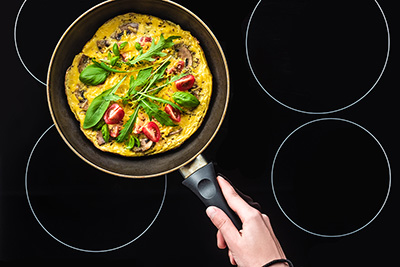 In January 2023, a member of the Consumer Product Safety Commission (CPSC) surprised many consumers when he declared that the commission might crack down on indoor air pollution from gas stoves. A few days later, the CPSC sought to clarify and further explain that it is not pursuing a ban on existing gas stoves; for now, it is merely examining the health risks associated with them.
Too late: How we cook had already become the latest battle in our culture wars.
Is the federal government coming for your beloved gas range? No. The CPSC or Department of Energy might at some point order manufacturers to stop producing new ones. And many states and municipalities have passed or are considering laws that ban gas hookups for new building projects and major renovations. But no one is even proposing to confiscate existing appliances.
While many consumers prefer gas stoves, there are good reasons to consider switching to electric:
Gas stoves can create health problems.
They emit nitrogen dioxide, which is linked to increased risk of childhood asthma—one study estimated that nearly 13 percent of childhood asthma cases in the U.S. were attributed to gas cooking. Gas stoves also release carbon monoxide and formaldehyde, which are linked to various health risks. Using a vent hood can reduce indoor-air pollution when operating gas stoves, but most kitchens have inadequate ventilation.
Electric appliances pollute less.
Gas stoves also release methane gas, a powerfully harmful greenhouse gas. A widescale switch away from gas-powered appliances and furnaces would also eliminate a lot of leaky natural gas pipes and fittings, which are large sources of methane pollution.
Although electric appliances use electricity, which is responsible for 25 percent of carbon emissions in the U.S., those emissions can be lowered drastically by increasingly relying on renewable energy sources. Electric stoves can run on energy generated using solar, wind, and hydro; gas stoves must burn fuel.
Induction is safer.
The open flames from gas stovetops are a special safety concern if you have small children. Traditional electric stoves, which use coils, also pose housefire and burn risks. Induction stoves, which generate energy from electromagnetic fields that transfer heat only to magnetic metals, are far safer.
Induction stoves use less energy.
All electric stoves are considerably more efficient than gas stoves, but induction models are the thriftiest—they are about five to 10 percent more efficient than conventional electric stoves and three times more efficient than gas. But even these big differences aren't game-changers, given that cooking typically accounts for less than three percent of most U.S. households' energy consumption.
New induction technology makes electric ranges powerful and more precise.
Induction burners are very responsive: In Consumer Reports' latest tests, water boiled 20 to 40 percent faster using induction than it did on the best-performing gas or conventional electric burners.
Induction models consistently top CR's lists of highest rated cooking appliances; in its most recent report, every induction model was rated "excellent" for its high-heat test, and almost all were rated excellent for low-heat tests.
Most cooks who convert to induction stoves rave about how consistent and precise they are.
Big incentives to switch.
A major goal of the sprawling Inflation Reduction Act of 2022 was to create incentives for U.S. households and businesses to shift to technologies that consume less energy and cut greenhouse-gas emissions. To meet U.S. climate goals, tens of millions of families and businesses must switch from using gas-fed engines, furnaces, and appliances to vehicles, HVAC units, and stoves that tap into an electrical grid increasingly powered by renewables.
Later this year, new rebates will become available from the new federal High-Efficiency Electric Home Rebate Program. These aren't tax credits; they're point-of-sale rebates that homeowners will receive as discounts when they make approved improvements.
Those who replace gas stoves with electric models can collect a rebate of up to $840. (Another rebate of up to $840 is available for those who install heat pump clothes dryers.) Additional financial help is available to those who must make improvements to their homes' electrical systems to install covered appliances or HVAC systems.
Whether you qualify for the full $840 rebate amount, half the incentive, or nothing depends on your household income. To get the full rebate, your household income must be less than 80 percent of the Area Median Income (AMI); if your household income is 80 percent to 150 percent of the AMI you can get 50 percent of each rebate amount; households with AMIs higher than 150 percent do not qualify for the program.
According to Fannie Mae, the AMI for the Boston area for 2023 is $133,300. That means those with household incomes of less than $106,640 will qualify for the full $840 rebate; those with incomes between $106,640 and $199,950 can qualify for 50 percent of the $840.
As of this writing, this program hadn't been finalized for the Boston area. The law requires the Department of Energy to provide guidance to states, and then each state can set up its own program. Some states might add energy efficiency or other standards; some might reimburse stores vs. operating rebate banks.
Will consumers be convinced?
Most home cooks prefer gas stoves. Getting consumers to ditch them will mean many people will need to relearn how to make gumbo or prep an omelet. They might need new cookware, too. Induction transfers heat only to pans that are magnetic, so some of your old stuff—including aluminum—will be defunct.
Don't want to switch? You won't have to—for a while, at least. Though there's lots of traction in city halls and statehouses for new climate laws, most legislation to lower natural gas use has so far focused on only new building projects. The rebate programs created by the Inflation Reduction Act take a different approach by creating incentives for owners of existing homes: The big discounts are meant to create voluntary demand. But consumers will have to get interested enough in induction stoves (and heat pumps and other devices) for the program to be effective.