Auto Body Shops that Do Bang-up Jobs
The driver on a bender. The distracted accidental tourist. The speed demon who can't stop in time. No wonder auto body shops do such a brisk business: The hits just keep on coming.
While even the best body shops can't undo the accident, our ratings reveal they can undo the damage and restore your car to its pre-accident appearance and performance. But our ratings also reveal that some shops may compound your misery with lousy work. And that prices at some shops are more than twice as high as their nearby competitors.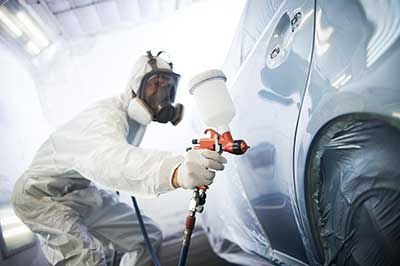 Auto bodywork is difficult to do well. Since any blemish shows on the smooth skin of a car, even ordinary tasks like patching rust spots or blending paint are challenges. Below the surface, precision is equally critical—with an error of less than 1/16 inch in the adjustment of a modern car body frame capable of affecting performance.
Bodywork doesn't require exacting work standards alone. Mechanics also must possess expertise on the properties of metals and plastics; the mechanics of high-tech suspension and steering systems; modern welding methods; the art of paint tinting and blending; how to spot accident-related damage to mechanical, electrical, air-conditioning, and other systems; and much more.
To find a shop that provides top-quality repairs, consider several points.
What Do Past Customers Say?
Our Ratings Tables report how area body shops were rated by their customers. We primarily surveyed Checkbook and Consumer Reports subscribers, but also other randomly selected consumers we invited to participate.
Our surveys asked consumers to rate shops they've used as "inferior," "adequate," or "superior" on questions such as "doing work properly," "promptness," "letting you know cost early," "advice on service options and costs," and "overall quality." For shops that received 10 or more ratings on our surveys, our Ratings Tables report the percent of each shop's surveyed customers who rated it "superior" (as opposed to "inferior" or "adequate") on each of these questions. We also report the percent of surveyed customers who rated each shop "adequate" or "superior" (as opposed to "inferior") for "overall quality." Click here for further discussion of our customer survey and other research methods.
Many of the shops were rated quite highly by their customers. Several were rated "superior" for "overall quality" by at least 95 percent of their surveyed customers. But some shops were rated "superior" overall by fewer than 65 percent of their surveyed customers, with customers often complaining about delays and shoddy work.
Can It Communicate with Your Insurer?
If an insurance company is paying for repairs, you want a shop that can make an articulate case for the repairs you need. Does the shop provide a clear estimate? Can its representative explain and document the need for each element of the job? If so, chances are good that the shop will get your insurance company to pay for all needed work.
Does It Often Work on Your Model of Car?
While most good body shops are capable of repairing a wide variety of cars, make sure the shop has experience working on yours. Even some highly popular domestic car models now require expertise or special equipment to repair.
What Type of Parts Will It Use?
Shops can use new original equipment manufacturer (OEM) parts, aftermarket parts from independent parts manufacturers, or used parts. OEM parts are usually the most expensive option, which is why insurers often push shops to use less expensive aftermarket or used parts.
There is some concern over the quality of non-OEM aftermarket parts. For many years, aftermarket parts from many manufacturers often didn't fit correctly. Some were already rusting when they arrived at the shop, and often they developed rust holes within a year of use.
The quality of many aftermarket parts has improved, and in some cases these parts serve as acceptable substitutes for OEM parts. These improvements are in large part due to the work of CAPA Certified Auto Parts, an independent testing organization set up by insurers. Manufacturers can seek CAPA certification for individual parts by submitting them for testing; if a part meets CAPA standards, it will bear a label indicating that it is of comparable—or superior—quality to its OEM counterpart. Unfortunately, less than one-fourth of parts produced by aftermarket parts manufacturers are CAPA-certified, and quality varies considerably among the non-certified parts.
Most body shop owners told us that the pros and cons of aftermarket parts have not changed much in recent years. They generally prefer OEM parts, and complain that many aftermarket parts are made of lighter-weight metal, have surfaces improperly prepared to ensure paint adherence, and fit poorly, among other problems. In many cases, the shop can make adjustments to correct unsatisfactory parts and absorb the labor costs of the extra work. Good shops simply reject any parts that are not acceptable. One shop owner told us he rejects about 20 percent of the aftermarket sheet metal parts (fender, hood, etc.) he receives, either because of defects or poor fit, compared to rejecting less than five percent of OEM parts.
While shop owners seldom have difficulty returning ill-fitting parts and getting insurers to then pay for OEM parts, such problems can delay repairs. Sometimes the poor fit is not discovered until after considerable work has been done—for example, after a fender has been mounted and a headlight doesn't fit properly.
Used parts usually aren't a problem, as long as they fit well and aren't rusted or dented; if you are paying for repairs yourself and a used part will save you considerable money, there's no reason not to accept it.
Massachusetts law requires shop estimates to disclose which parts are aftermarket or used. If aftermarket parts will be used, insist that your body shop (and the insurance company, if applicable) use CAPA-certified parts.
Is the Shop and Its Technicians Certified? Does It Matter?
The National Institute for Automotive Service Excellence (ASE), a nonprofit organization that certifies auto mechanics, also tests and certifies auto body technicians. ASE's Collision Repair and Refinish Certification Tests evaluate mechanics on four types of work: painting and refinishing; nonstructural analysis and damage repair; structural analysis and damage repair; and mechanical and electrical components. ASE also tests and certifies individuals for skills in analyzing damage and completing estimates.
To become ASE-certified, a technician must pass one or more of the collision repair exams and present proof of two years of relevant work experience. Those who pass the three collision repair tests plus the painting and refinishing test become ASE-certified Master Collision Repair Technicians. To remain certified, technicians must be retested every five years, which forces them to keep up with changing technology.
We asked each shop listed on our Ratings Tables if it employed at least one ASE-certified technician. It turns out that shops employing certified technicians do not have higher customer-satisfaction levels than shops with no certified technicians—which is not surprising since the proportion of certified technicians at most shops is low. Nonetheless, we still believe it's worth requesting that a certified technician work on your car. Among the shops on our ratings table, repair prices at shops with certified technicians were comparable to the prices of shops with no certified technicians.
The ASE Blue Seal of Excellence Recognition Program recognizes shops at which at least 75 percent of technicians are ASE-certified and at least one mechanic is certified in each area of service the shop offers. Blue Seal shops are reevaluated annually to determine if they still qualify for certification. Look for an ASE Blue Seal of Excellence plaque at a shop you are considering for repair work. To find Blue Seal shops, go to ase.com.
Also ask to have your vehicle repaired by a technician who has completed training offered by I-CAR (Inter-Industry Conference on Auto Collision Repair), a not-for-profit organization comprised of body shop owners, insurance companies, automobile manufacturers, and parts suppliers. I-CAR offers a multipart collision repair program, which includes training on restoring damaged vehicle panels; straightening structural damage; repairing heating, cooling, and air-conditioning systems; welding; corrosion protection; refinishing; glass replacement; repairing electrical systems; and fixing steering and suspension systems, among other subjects.
I-CAR awards its Gold Class designation to businesses that have met a specified level of training. To find a Gold Class repair shop, check the directory on I-CAR's website.
We asked each shop if it employed at least one technician certified for completing one or more I-CAR training courses. As with ASE, shops that employed I-CAR-trained technicians did not receive higher customer ratings than shops with no I-CAR-trained mechanics on staff.
Is It Insured?
Ask the shop to show you proof that it carries a current liability insurance policy and that it is bonded.