What Is and Isn't Covered by Homeowners Insurance?
Last updated November 2019
Insurance companies often promote policy features to make their plans seem superior to their competitors'. But most sell roughly the same coverage.
Most homeowners policies cover your house against all types of risks except ones that are specifically excluded. This means they'll pay out for damage caused by fire, windstorms, theft, vandalism, frozen pipes, and accidents. But most don't protect against harm from floods; sewer and drain backups; earthquakes; termites, pets, or other animals; mold, mildew, dry rot, and wet rot (unless the result of a covered peril such as a water-pipe burst); war; and nuclear accidents and explosions. You can buy additional special coverage for some of these non-covered risks.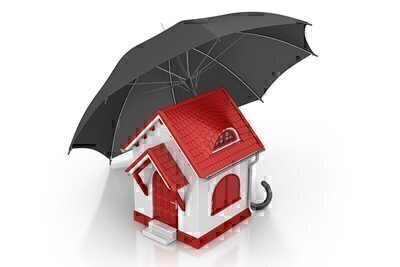 All policies have deductibles, an amount you have to pay for a loss before the company pays anything. You can choose from a range of possible deductible amounts, with lower premiums for higher deductibles.
Here's a rundown of what's covered, what isn't, and optional coverages:
Covered:
Dwelling (Your Home's Structure)
This is the main part of your policy. It pays for repairs to the physical structure of your home—or, in the event of a total loss, for building a replacement—if it's damaged by a covered hazard. Most policies stipulate repairs be made using the same quality and type of materials as what was lost.
It is important to obtain an accurate estimate of your home's replacement cost; that will determine how much dwelling insurance you need. Buy too little coverage and you're not fully protected if there's a total loss; buy too much and you're paying for insurance you can't use.
Renter and condominium policies don't include full coverage for the dwelling itself, which is the responsibility of the landlord or covered by the condo association's insurance. Instead, these policies insure the tenant's belongings and provide liability coverage. Condominium owners can buy coverage for damage to portions of the dwelling—such as carpeting, cabinets, and other improvements they have made. Click here for more information.
Not Covered Unless You Pay More:
Costs to Replace Many Features of Older Homes
Most policies promise to repair or replace what is damaged, but not for an exact replica. Older homes with ornate woodwork and other expensive-to-recreate features might make the cost of rebuilding the home exceed its market value. Some companies won't even cover these old or historic homes. Others will, but you'll have to buy a specialty policy. Some companies (Chubb, Allianz, and a few others) specialize in high-value, older, or historic homes.
Even homes that are just 20 or 30 years old might be subject to another loophole. Insurance policies stipulate they'll pay for what was lost, not rebuild it as it should be. That's a problem if codes for things like plumbing, wiring, or stairway construction have changed since your home was erected. Your insurance might not cover the extra cost of rebuilding your home to the standards required by current codes. You can close this loophole by buying "ordinance and law coverage"; some companies include it in their policies for no additional premium; others charge about $25 to $100 for it.
Not Covered Unless You Pay More:
Earthquake Damage
Earthquake coverage usually adds from $1,000 to over $4,000 to a typical homeowners policy for a house with frame construction, and usually two or three times as much for a masonry house. Most policies come with a hefty 15 percent deductible: If you buy $600,000 of coverage with a 15 percent deductible, you have to pay for the first $90,000 of damage out of your own pocket. Because the coverage offered by earthquake insurance is so thin, few homeowners in California bother buying it. Click here for further discussion on whether you should buy earthquake coverage and how to shop for it.
Covered:
Liability (Bodily Injury or Damage to Others' Property)
This coverage protects you from claims by others for injuries or property damage for which you, members of your family, your pets, or hazards on your property are at fault. Under this coverage, your insurance company will hire legal representation to defend you and pay damages if you are found liable. Your policy won't cover injuries or property damage caused by business pursuits or automobile accidents (the liability coverage in your automobile policy covers this).
The basic liability insurance limit in most policies is $300,000, but you can purchase additional coverage inexpensively. Most insurers offer increased liability coverage at $500,000 for an additional premium of only $10 to $25 per year—a bargain for increased peace of mind.
Want to protect yourself from claims in excess of $500,000? Consider an "umbrella" policy, which provides liability protection in addition to what your homeowners and automobile insurance provide. Besides protecting you from liability claims, an umbrella policy shields you against suits for libel, slander, defamation of character, false arrest, invasion of privacy, and other claims not usually covered by standard homeowners policies.
Covered:
Most Personal Property
Homeowners policies will compensate you for damage to or theft losses of most kinds of personal property (furniture, clothing, appliances, etc.) owned by you and located on or away from your premises. Policies pay only if the damage was caused by a covered peril, but while your home's structure is covered for accidental losses, personal property is not. For example, if you accidentally spill paint on your brand-new leather sofa, or drop your fancy flat-screen TV, the loss is not covered.
Not Covered Unless You Pay More:
Full Costs to Replace Personal Property
Another difference between personal property coverage and coverage on the dwelling structure is in the way reimbursement is calculated. If your roof is damaged, your policy will pay what it takes to fix or replace it (minus your deductible). But personal property is covered at actual cash value—replacement cost minus depreciation. If a bike you bought six years ago for $600 is stolen, you might be reimbursed only $200, not the $800 you'd pay for a comparable new model. If you were to lose several items in a burglary or fire, you'll probably find your insurance company's payout appallingly inadequate.
You can get a special provision that covers personal property for full replacement costs; if your bicycle will cost $800 to replace, you'll get that. This extra coverage usually adds 10 to 15 percent to the policy cost—although a few companies provide it gratis.
Not Covered Unless You Pay More:
Full Value of Expensive Jewelry, Computers, Electronics, and Luxuries
All policies limit payouts for certain categories of personal property losses. Typical limits include:
$1,000 to $10,000 for jewelry, watches, furs, and precious and semiprecious stones.
$1,000 to $5,000 for computers and smartphones.
$200 for money, bank notes, silverware, gold, platinum, and coins.
$1,000 to $1,500 for securities, accounts, deeds, evidences of debt, letters of credit, notes other than bank notes, manuscripts, passports, tickets, and stamps.
$1,000 to $1,500 for watercraft, including their trailers, furnishings, equipment, and outboard motors.
$2,000 to $10,000 for firearms.
$2,500 for property used for business purposes.
Companies sometimes impose similar coverage limits on artworks, antiques, musical instruments, and cameras.
Carefully review policies for any limits that may leave your coverage short. To insure items worth more than these special limits, consider paying to increase the category limit or buying separate coverage.
Covered:
Other Structures on Your Property
Standard policies cover detached garages, toolsheds, gazebos, and so on. The coverage does not apply to structures used for business purposes.
Covered:
Increased Living Expenses While Repairs Are Made
Policies will pay for hotel rooms or a furnished apartment if your family is forced to move out of your house due to an insured loss.
Not Covered Unless You Pay More:
Flood Damage
Homeowners insurance won't pay for damage caused by water entering the home from outside. You can buy separate flood insurance if you live in a community that participates in the FEMA National Flood Insurance Program (800-427-4661); almost all communities in this area participate. Ask your agent for information or contact FEMA. Coverage costs vary widely, depending on risk. Homeowners in designated flood plains pay the most.
Not Covered Unless You Pay More:
Damage from Sewer, Drain, and Sump Pump Backups
With most companies, you can add coverage for sewer or drain backups for $60 to $90 per year. Many homeowners find that a reasonable price to cover potentially disruptive and expensive cleanup and repairs.
Not Covered:
Damage from Termites or Other Animals
Pest control services sell protection plans covering damage caused by termites. Click here for ratings and advice for critter control.
Not Covered Unless You Pay More:
Losses from Identity Theft
Some insurers include identity theft coverage in their standard homeowners policies; others push it as an add-on. Although identity theft is a huge problem, we don't recommend buying extra insurance for it. These policies don't promise to clear your credit history and record; they merely cover the expenses you incur to do so on your own. Although millions of Americans have had their identities stolen, the damages inflicted are not out-of-pocket, measurable costs, but rather time and effort devoted to fixing it. You can't buy insurance to cover your free time.
Plus, you may be able to get free protection against identity theft from another source. Many banking institutions, including credit card companies, offer gratis identity theft protection. Also, you already have protection from fraudulent credit card charges—the most common form of identity theft injury—under the federal Fair Credit Billing Act and policies of credit card companies, which stipulate that victims aren't responsible for fraudulent charges.