How to Assess Furniture Quality
Last updated in November 2016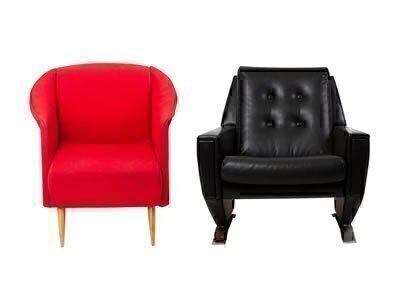 Style and price notwithstanding, you need to make sure you get the quality you pay for. By choosing a store that is rated high for advice and reliability and has received few or no complaints to consumer agencies, you improve your chances of getting honest assessments of the quality and durability of pieces from store personnel. But it helps if you know enough to make some assessments of your own.
Unfortunately, because no reliable ratings of the many thousands of furniture items found in stores exist, you have to do your own product inspection and testing on the spot in each store. Though you may not be able to afford highest-quality furniture, you'll need to make sure lower-quality items are priced accordingly. The signs of quality described here may at first sound a bit abstract, but as you visit several stores and inspect many pieces of furniture you'll get a feel for quality. There are two broad categories of furniture: upholstered goods and "case" goods, which include tables, desks, dressers, cabinets, and other unupholstered items. Each category has its own quality indicators.
Upholstered Furniture
Many signs of upholstered furniture quality are easy to perceive. Indeed, the most important indicator is comfort—which you can test by sitting on a piece for a few minutes. But to check some aspects of underlying construction, ask the retailer for a manufacturer's catalog or other materials that describe, or reveal, what's inside.
Frame
Arms should not wobble.
The frame of a sofa or loveseat should be rigid, and not creak or sag when you lift one corner off the floor.
The best frame construction consists of solid pieces of kiln-dried hardwoods.
The pieces of wood forming the frame should be joined with "dowels"—wooden pegs that connect pieces inserted into holes drilled in the end of each piece.
Corners of the frame should be reinforced with corner blocks that are glued and screwed into place.
Springs and Padding
The entire frame should be covered with padding so that you don't feel hard corners on the arms, seat back, or front edge of the area under the seat cushion. This padding contributes to both comfort and appearance, and greatly reduces wear.
Padding should have no lumps or uneven places.
An excellent construction for the seat beneath the cushions consists of "hand-tied" coiled springs. For the most firm and even response when you sit, springs should be tied to each other eight ways—that is, with twine tying each spring to the other springs or the frame in eight directions. Although such construction is a sure sign of quality, there are other high-quality constructions.
Springs should not compress so much that you feel the hard surface of the frame when you sit.
In the "deck" (the area beneath the seat cushions), springs should be covered by padding.
Cushions
Reversible cushions—cushions that can be removed and turned over—are best because they provide a second surface if the first becomes dirty or worn.
The most common filler for high-quality furniture cushions consists of solid pieces of high-density (at least 1.8 pounds per cubic foot) foam. Springs, down, and synthetic down-like materials are sometimes used in high-quality pieces. Cushions filled with shredded foam don't maintain their shape as well and allow upholstery seams to shift.
The foam, or spring core, should be wrapped with a layer of polyester fiberfill or similar product to soften edges and improve wear.
Beneath the upholstery, each cushion should be covered with a fabric liner, or ticking.
Cushions should fit snugly side-by-side and within the frame.
Fabric
The best fabric is tightly woven—the more threads per square inch the better. Threads should not slip or separate under pressure, and backing should not show through.
Woven-in patterns are generally preferable to patterns printed on only one side. Printed fabric is unacceptable if the print comes off when you rub two surfaces together.
Fabric pilling may be a problem if bits of fabric come loose when you rub a piece of upholstery with an eraser.
Treatment with stain protectors helps fabrics resist soiling.
Trim
Fabric should fit tightly around the underlying frame and padding.
Seams and "welting" (round trim composed of fabric-covered cord) should be straight and cleanly finished, with no loose threads or irregularities.
Buttons should be securely sewn into place.
Better-quality cushions are zippered at the back (but don't remove the covers, as this will ruin them).
Patterns and stripes should be centered and match at seams.
Patterns and stripes should line up from skirt to base to cushion to seat back. If you are ordering custom upholstery, find out whether the manufacturer guarantees such alignment.
Matching arm covers will add to the life of a piece.
Case Goods
It is somewhat easier to judge the quality of case goods than of upholstered items because it's easier to see how they are constructed.
Drawers
Drawers should fit snugly, and open and close effortlessly—even when you push or pull from the right or left end of the drawer. Good-quality drawers have glides either underneath in the center or on both sides.
The sides of high-quality drawers are joined to the front and back with dovetail joints (one piece fits into a series of flared slots on the other piece). Avoid drawers in which the side pieces are just butted up against the front and back.
Side and back panels of drawers should be made of wood at least a half-inch thick.
Drawer bottoms should slip into grooves in the drawers' sides. The bottoms should be strong enough so they don't give significantly when pushed down.
The insides of drawers should be smooth, with nothing to snag fabrics.
Dust panels between drawers are a sign of quality. Although many quality pieces lack this feature, dust panels add strength to the furniture and keep clothes from getting snagged.
Furniture should be constructed with stops to prevent drawers from being accidentally pulled out too far.
Test drawers to make sure they are real, not false fronts.
Doors, Top Lids, and Flip Tops
Doors and other hinged pieces should swing smoothly and quietly, close easily, and latch snugly.
Insides of doors should be finished.
Inset glass panels should fit tightly so they don't rattle.
Long cabinet doors should be hung on piano hinges that run the full length, or nearly the full length, of the door.
Legs
Furniture should not wobble or rock.
Legs are usually stronger if built into the frame, not merely attached to it.
In high-quality chairs, the arm and leg or back and leg are made out of a continuous piece of wood (though this isn't possible with some styles).
Stretchers (pieces of wood connecting two legs near the floor) add strength.
Finish
The finish should feel smooth and contain no cracks or bubbles.
There should be no deposits of excess glue and no streaks or areas in which excess finish material has collected.
Grain patterns and coloration should be similar on all drawers and doors, and should blend with other areas.
Joints should be tight, with no visible space or filler material.
Other
Hardware should be substantial, have no rough or jagged spots, and be firmly bolted from the inside.
In better cabinets, desks, and chests, the back panel is inset and screwed into place, not just nailed or tacked on the back.
Joints that receive stress should be strengthened with corner blocks.
Dining room table leaves should be easy to insert, fit flush, and match the tabletop. If the table has an apron, leaves should have aprons.
Large pieces should be fitted with leveling devices.