What Assisted Living Offers
As you age, you (or your parents, or other loved ones) might suffer decreased mobility and mental agility, and start having trouble doing the tasks that once came easily—dressing, remembering to take medicines, cooking and cleaning. Falls and other accidents may become an issue. Many seniors suffer greatly from loneliness and depression. Whatever their individual stories, older people often need a little (or a lot) of help during their golden years.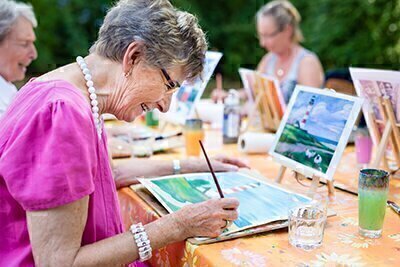 Assisted living is one option for getting needed help. These staffed residences aim to keep seniors as self-sufficient as possible, providing support when needed by offering meals, personal assistance, social activities, and 24-hour supervision.
Assisted living communities offer a wide range of services and function under different operational models, from bare-bones small group homes to plush apartment complex-style digs with hundreds of units. Some are standalone joints; others are part of larger complexes that often include independent living, skilled nursing, and memory care. Some places just offer a room, meals, social activities, housekeeping, and help with daily needs like grooming, bathing, and dressing. Others serve up entertainment (book clubs, wine tastings, trips to museums, baby goat petting sessions—yes, really!), lots of onsite amenities (swimming pools, meeting rooms, multiple dining offerings, beauty salons), and luxurious common spaces.
Most provide the following services plus possibly others as needed. Some include these services in their all-inclusive pricing, at others you pay a higher monthly fee if you need the help, and at still others living care is billed a la carte.
24-hour staffing: Almost all assisted living communities have help on premises 24/7; we recommend ruling out those that don't.
Medication management: Help remembering when to take medicines and assistance refilling prescriptions.
Housekeeping: Daily or weekly maid service; other tasks (fridge cleaning, etc.) can usually be booked for additional fees.
Meals: Plans vary from one to all meals daily, depending on selected pricing plans and/or need. Chow is generally offered in large dining rooms, but many homes also have all-day cafes or multiple options. Meals can be served by waitstaff, cafeteria-style, or grab-and-go. Residences in some facilities have kitchenettes.
Laundry: At most communities, laundry service is an option (and usually included in the monthly fee). Some units have washers and dryers.
Transportation: Most operations have several vehicles with drivers dedicated to ferrying residents to doctor's appointments, social activities, and more. Ask how far in advance you'd need to schedule a ride, and whether all trips are included in monthly costs or you have to shell out per journey.
Assistance with daily living: Think of this as what you'd do to get ready for your day: bathing or showering, grooming, dressing, taking medicine, incontinence care, etc.
Health services: Availability of medical staff and care varies greatly from community to community, as does what is included in monthly fees. Assisted living spots that are part of comprehensive senior-care homes with skilled nursing on-site often include rehab areas, on-staff nurses, and more. Rehab offerings such as occupational therapy (OT) and physical therapy (PT) can be beneficial for clients going through hip replacements or other surgeries. Some also offer dental and podiatry care.
Social activities: Regular and special happenings occur both on- and off-site at most assisted living places. On-site options could include book clubs, bingo, political discussion groups (join at your own risk!), movie screenings, live music, and lectures. Off-site activities, some at an additional cost, include shopping trips, theater outings, and more.
Wellness and exercise: Most assisted living communities have gyms and offer exercise classes.
Miscellaneous offerings: Depending on their size, assisted living communities might house hair and nail salons; swimming pools; movie theaters; private dining rooms; guestrooms for out-of-town visitors; libraries; and general stores selling drinks, snacks, and sundries (soap, toothpaste, paper towels).