How to Take a Big Bite Out of Dental Costs
Last updated November 2019
When choosing service providers, especially for healthcare, you should care most about service quality. But for many patients, especially those without dental insurance, cost matters, too. Fortunately, you can have both high quality and low cost.
To assess dentists' fees, Checkbook's undercover shoppers called each of the dental practices listed on our Ratings Tables and asked them to provide their fees for several common procedures. The table below shows low, average, and high fees for the procedures we priced. As you can see, some dentists charge a lot more than others for identical procedures. For example, fees for a routine examination and cleaning ranged from $60 to $314, and charges for a porcelain crown for an adult molar, including post and core, ranged from $1,000 to $3,223.
We used the prices to calculate price comparison scores for each dentist, reported on our Ratings Tables. Our price comparison scores show how a dentist's prices compare to the average prices at all surveyed dentists for the same mix of procedures. The price comparison scores are calculated so that a score of $100 is about average, a score of $110 means prices about 10 percent above average, and a score of $90 about 10 percent below average.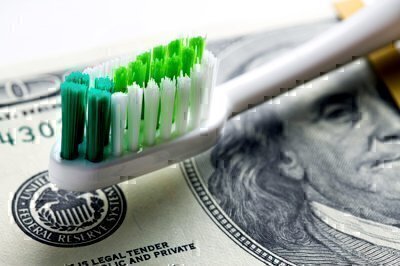 Keep in mind that even dentists whose average prices are lower than the Washington area average may not have good prices for the specific procedures you need; be sure to check them with any dentist—especially for costly procedures.
As our Ratings Tables reveal, many dentists who received high patient ratings on all aspects of care and service also charged below-average fees. In fact, we found little quality-price correlation among dentists.
Regardless of a dentist's charges, the cost of dental care will be high if you are overtreated. Here are some ways you can keep costs down:
Brush, brush, brush.
Good preventive care is by far the best way to save money. Regular brushing, flossing, and professional cleanings will help you avoid future expenses for treatment and restorations. Click here to learn what you should do on your own.
Ask dentists to describe alternative treatments for any condition.
Look also for signs of individually tailored treatment—for instance, scheduling different intervals between visits depending on the patient's propensity for dental disease, and calling for a complete X-ray survey no more than every three years, unless special circumstances require more frequent examination.
When evaluating candidates, ask about fees for a few common procedures.
Many dentists readily provide such information to potential patients. The table below reports some common procedures and low, average, and high costs quoted by local dentists for them.
Our Undercover Shoppers Were Quoted
Big Price Differences by Dental Practices

Procedure
Lowest fee
Average fee
Highest fee
Comprehensive oral exam for a new
adult patient, including cleaning
$55
$209
$500
Periodic oral exam for an established
adult patient, including cleaning
$60
$178
$314
Full-mouth X-rays—complete series, minimum of
14 films including bitewings (digital or conventional)
$60
$161
$321
Bitewing X-rays—four films

$20
$77
$170
Comprehensive oral exam for a new child
patient (10 years old), including cleaning
$50
$176
$347
Periodic oral exam for an established child
patient (10 years old), including cleaning
$40
$149
$291
Topical fluoride application for a
child (10 years old)
$0
$40
$90
Sealant, per tooth, for a child (12 years old)

$15
$62
$140
Two-surface composite filling on an adult molar

$110
$268
$485
One-surface composite filling on an adult molar

$80
$211
$405
Simple single root canal on an adult premolar,
excluding any restorative work
$650
$1,084
$1,971
New porcelain crown for an adult molar, including
post and core, fused to high noble metal
$1,000
$1,800
$3,223
Request written treatment plans and estimates in advance.
Almost all dentists will provide estimates for free. Even a modest fee for a written estimate is worthwhile if it helps you avoid an unpleasant surprise after the work is done.
We'll say it again: Get a second opinion.
Probably the most underused consumer tool in dentistry, a second opinion before a costly procedure can ensure you get appropriate, reasonably priced care. It can also be useful leverage if a dispute arises later. Consult a dentist who is independent of your own, telling him or her in advance that you will not be using him or her for the treatment or procedure. If opinions differ, weigh each dentist's reasons—and possibly solicit still another opinion.
Getting a written treatment plan and a second opinion protects both your oral health and your wallet. Treatment plans and final bills should itemize costs. Dentists should not make it uncomfortable for you to discuss costs, and they should be willing to work out payment plans or alternative treatments if the costs exceed your means.
Consider asking for a warranty.
Only a few dentists offer written warranties; more should—at least for major restorative work such as bridges and crowns. Even if a dentist won't provide a written warranty, discuss your expectations and get him or her to agree verbally to replace work that fails much sooner than normal, assuming you care for your teeth properly. Regardless of what agreement you have in advance, don't hesitate to ask for a free replacement if a restoration doesn't last as long as it should.
If you switch dentists, have the new dentist obtain your records from your previous one.
Doing so may spare you the cost of some procedures. For example, unless your new dentist has a good reason to take new ones, full-mouth X-rays from a previous dentist are usually good for three to five years. Your former dentist is ethically bound to pass along X-rays and other records.
Ask about specials and discounts.
Some dentists offer periodic specials on certain procedures to encourage patients who have been putting off dental work to go ahead and get it done. Others advertise low-priced package deals—including examination, cleaning, and X-rays—to attract new patients. To save time and money in collecting unpaid bills, many dentists offer discounts for payment at the time of service. Some offer discounts to special groups, such as seniors, certain professionals, fire and police personnel, students, persons with limited incomes, etc.
Double-check your health insurance policy for dental benefits.
Determine what coverage you already carry for a reduced or subsidized premium through benefits offered by your employer, your spouse's employer, or another source.
If you have kids, they could already have dental coverage under your family's health insurance plan. Most individual and small-group health plans are required to provide basic dental coverage for children under age 19.
Although most health insurance plans don't provide other dental benefits to adults, it's still worth checking. Some Medicare Advantage plans, for example, include basic dental coverage, and many "consumer-driven" and "high-deductible" health plans let you set aside money for dental expenses.
If you have dental insurance, or are thinking about buying it, make sure you understand the benefits and limitations.
Insurance benefits vary greatly from policy to policy. Most plans include groups of participating dentists who accept a specified fee schedule. You'll probably save a lot by using one of these dentists—and not save much by using a non-participating one.
Fund your FSA.
Whether or not you have dental insurance, estimate your likely out-of-pocket medical and dental costs, and stash that money in a flexible spending account (FSA). By funding an FSA with pretax earnings, you effectively reduce eligible bills by your tax-bracket percentage.
Consider getting treatment at a dental clinic.
To provide their students with hands-on experience, dental schools operate clinics where students treat patients under the supervision of dental school faculty; the University of Maryland and Howard University operate such clinics. We've found prices at dental clinics to be much lower than average prices for dental practices. Keep in mind that if you need extensive treatment, it is likely to take longer at a dental school clinic than with a private dentist.