Need a Swat Team? How to Find a Good Exterminator
Last updated December 2020
Your new houseguests are real pests, from that mouse you saw snacking on crumbs in your kitchen to whatever creepy crawly is chewing away at your back deck (A termite? GODZILLA??).
Evicting some kinds of undesirable lodgers (roaches, rodents, ants, fleas, moths) is often an easy DIY task, but it does require concentrated effort. Cutting off access to food, reducing or eliminating excess moisture, sealing cracks and other entry points, and keeping your home clean will significantly reduce problems. Such simple measures also mean you're less likely to need pesticides.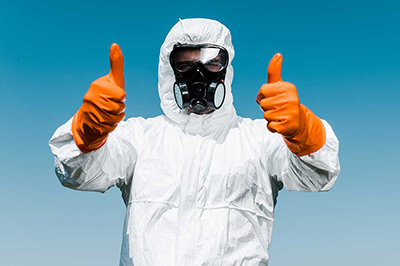 Determining what to do depends on the specific pest. The articles in this section of our website profile the most common household pests and tell you how to get them to bug off.
But if you have a termite or bedbug infestation, you'll probably need a pro. If you have a problem you can't handle on your own, pest control services will happily step in. Our Ratings Tables provide info on the service quality and prices of Washington area companies, or branches of companies. Click here for information on how we collect data for our ratings.
Ratings from Customers
Our Ratings Tables show how area consumers we surveyed rated the companies on several aspects of service. We primarily surveyed Checkbook and Consumer Reports subscribers, but also other randomly selected consumers we invited to participate. As you can see, some of the companies received high ratings. Some were rated "superior" by 90 percent or more of their surveyed customers. On the other hand, some others received such favorable ratings from fewer than half of their surveyed customers.
The most common type of complaint from pest control service customers is that companies don't show up for appointments. But we also often get gripes about sloppily applied treatments that don't do the trick, alarming termite inspections that lead to unnecessary work, inept termite inspections that fail to detect infestations, and salespeople who push expensive annual contracts.
Complaint Histories
Our Ratings Tables also show counts of complaints we gathered from the Better Business Bureau (BBB) for a recent three-year period, the number of complaints on file with local government consumer protection offices for a recent two-year period, and complaint rates relative to the volume of work companies do.
How They Approach the Problem
Different outfits have different strategies for treating, or preventing, pest problems—for example, baits versus sprays or long-term contracts versus one-time treatments. Some companies are flexible, but others offer one approach only. Discuss options with each service you consider, and choose one that makes sense for you.
Guarantees
In pest control, as in most fields, it's good to withhold payment until the work is complete. In the case of termite jobs, however, some firms require partial payment upfront.
Of course, any company that offers guarantees on either termite work or household pest treatment is likely to get your money before its obligations end. In these situations, the main line of protection is a written contract or receipt specifying the length and breadth of your guarantee.
It's important to compare companies' guarantees. For work with roaches and other household pests, many firms offer guarantees ranging from 30 days to one year, depending on what you agree to pay. For termite work, some companies offer a single one-year guarantee, but most let you pay to extend it; most companies charge a yearly premium for a year's extension of coverage and a yearly inspection.
For both household pests and termites, guarantees generally cover continuing service to attack old infestations and new ones while the guarantee is in force. Some companies offer termite guarantees that also cover structural repairs.
Qualifications of Staff
You naturally want the company you choose to send you professionals who are well-trained in pest control. All companies must have at least one employee who has taken classes and passed a state test to qualify as a certified pest control applicator. But a company may employ only one certified applicator and send out uncertified employees to do the work. To obtain some assurance that the operator you get has at least minimum qualifications, tell companies you are considering that you insist on having a certified applicator do your work—and request a certified applicator each time they send someone to your home. If you need termite service, find out whether the company will send a technician who has become a certified wood-destroying-object inspector by meeting the training requirements and passed the test administered by the licensing state.
If you must resort to chemical warfare, take proper safety precautions and find out about possible health effects. If you use a professional, determine upfront how long the house must be vacant after application and how long the chemicals will be potent. Be skeptical about safety claims, and insist that the exterminator follow precautions.
Service Fees
Big price differences exist for pest control work among equally qualified companies.
For household pest work, you can often get price quotes over the phone or via email, and companies that will not quote by phone will almost always come to your house to give free estimates.
For termites, too, most companies give free estimates, although all companies charge a fee for the formal paperwork required for inspections for real estate transactions.
If your problem is cockroaches, our ratings table shows comparative prices. On our Ratings Tables, we report our price comparison score. These scores are based on prices quoted to our undercover shoppers who collected companies' prices to treat for roaches in a single-family home. Our price comparison scores are intended to suggest the price a customer might expect to pay for pest control work that would cost $100 at the "average" company. A price comparison score of $110 for a company, then, means that its prices were about 10 percent above average; a score of $90 means that its prices were about 10 percent below average.
To calculate these scores, we used each company's quoted prices for a one-time treatment for roaches (or the smallest number of treatments the company offers), its charge for an initial treatment plus a follow-up treatment 30 days later, and its charge for an initial treatment plus a follow-up treatment 40 days later.
When comparing prices, you'll find that some companies will let you pay for treatments one at a time, as you need them. Most offer contracts for regular treatment (usually monthly or every other month). Some companies offer only one arrangement or the other; others offer a choice. Unless you have bedbugs or termites, which require special approaches, we recommend paying for individual treatments. But because most companies let you cancel their term contracts without penalty, compare the cost of one or two pay-as-you-go treatments with the cost of paying for a few months of service under a contract.
To get the best plan for your situation, press companies to describe all the available alternatives. The least expensive plan is not always the first offered.
If your problem is termites, you will have to do your own price shopping. Similarly, most companies are reluctant to quote prices for a bedbug treatment plan without an on-site inspection. Because companies charge drastically different prices to solve the same termite or bedbug infestations, get at least three estimates. To treat a small termite infestation, companies quoted prices ranging from $600 to $2,000 to one of our undercover shoppers.
Keep this in mind: Our evaluation revealed no relationship between prices charged for household pest treatments and customer satisfaction. Several highly rated companies charge low prices, and several poorly rated companies charge high prices. In other words, paying more doesn't necessarily produce better critter control.